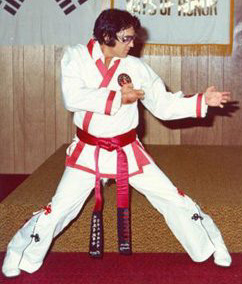 Most of us are familiar with Elvis Presley as a singer, actor, and a tragic figure in the music industry. An interesting side history of the king, though, is his discipline in the marital arts. Presley held black belts in Kenpo Karate and Tae Kwon Do. Presley' interest in the martial arts began when he was an Army private stationed in Germany after he was drafted. He returned from the Army a certified black belt.
While other interests were fads he abandoned as swiftly as he started, karate became a life long fascination for the king. Many of his 1970s stage poses were based on karate stances. On the cover of his gospel album "His Hand In Mine" Presley wore a black belt pin on his lapel. It is ironic that a singer who recorded spiritual music would also be a fighter. But The King was one Christian who didn't believe in turning the other cheek.
Presley was already handy with his fists before he took up karate. In 1956, he punched out a jealous husband in Toledo. He also knocked out a 6'4'' gas station attendant and the attendant's friend. Clearly acting in self-defense, Presley was acquitted of assault charges in both cases.
The King tapped as his life long instructor innovate karate master Ed Parker, a martial artist as rebellious in his field as Presley was in music. Parker introduced Presley to the Kenpo style, a fluid form of martial arts that gave the king the freedom he needed to blend in his own natural athleticism and fighting style. Remember, before he became the king, Presley had to defend himself in nightclubs through out the southern and south western states.
A martial arts background became a major benefit when the king had to choreograph fight scenes in "G.I. Blues," "Wild In The Country," "Blue Hawaii," "Follow That Dream," and "Kid Galahad." Presley's "Kid Galahad" co-star was none other than tough guy actor Charles Bronson who portrayed the Kid's boxing coach. Although The King didn't use karate in his fight scenes, his knowledge gave him an edge.
Anyone who saw The King's fight scene in the edgy 1956 film "King Creole" knows that he had some knowledge of self-defense. Presley's character had to deal with knife-wielding street punks before resolving a dispute with a local mobster.
Presley got a swollen hand after incorrectly blocking a kick on the set of G.I. Blues. His swollen hand can be seen the back cover of the G.I.Blues soundtrack album. Perhaps a slow learner, Presley later had swollen up his hands before a concert because he wanted to show off by breaking bricks.
Presley, in a play fight with Memphis Mafia friend turned actor Red West, broke his friend's arm. The King eventually helped to teach karate to the rest of the Memphis Mafia, earning them jobs as bodyguards. Becoming overweight did nothing to derail The King's passion for karate. He could still hold his own in a sparring match after his youthful figure turned into a middle-aged spread.
Presley also felt obligated to bring karate to the world. He financed the Tennessee Karate Institute, and he also footed the bill for the 1974 U.S. Karate Team's European tour. Plans for a movie in which Presley would portray a karate-trained C.I.A. agent never got past the drawing board. But he was filmed in his gi practicing his chops and kicks. These snippets can be seen in videos and DVDs like "This Is Elvis" and "Elivs: The Way It Is."
The King was obviously too busy with his recording and performing careers to become a tournament level martial artist. Yet, that didn't keep him from the making the most out of his physical conditioning . While filming "Flaming Star," he fell off his horse without injury, and his karate practice kept him in shape for tours. Karate also played a part in the king's divorce from his only wife Priscilla.
It's been rumored that his tumultuous marriage to Priscilla Presley finally went down the tubes after Mrs. Presley fell for her own karate instructor, Mike Stone, a teacher she had met through karate champion and then new film actor Chuck Norris.
Presley choreographed a martial arts dance routine to his song "If You Talk In Your Sleep." The funky, R&B song has a persistent groove, so it lent itself to a dance number. Released in 1974, at the time Presley was booked at The Hilton International in Las Vegas, playing two shows a night, "If You Talk In Your Sleep" became longer with each performance as Presley added more and more karate poses. He even kept moving to drum solos that interrupted the number.
Karate inspired a dance number filmed for The King's 1968 "Comeback Special." This sequence was cut from the final edition that aired in December 1968, but it was reintroduced to the public via the "Deluxe Edition DVD 1968 Comeback Special" recently released on DVD.
As a young man Presley was as interested in sports as any boy living in his North Memphis neighborhood. Some of his football team mates didn't even know that he was the same person whose local single "That's All Right" had become a hit on Memphis radio. In retrospect, it seems that the king, being an athlete and a musician who needed to defend himself in local nightclubs, would be the a prime candidate for the martial arts. It is no wonder that the 22 year old star was fascinated with Judo demonstrations he saw shortly after becoming an army private.
There are two things that The King made clear during his time on earth: Not only could Presley rock your world with his songs. He could also punch, kick, and chop his way out of a bad situation.