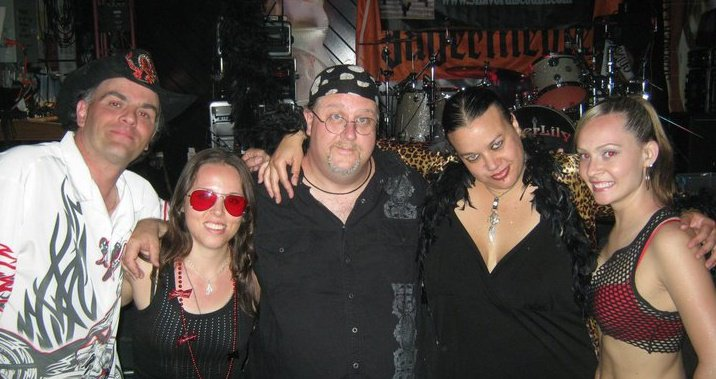 5 Flavor Discount have come a long way in a relatively short period of time. This five-piece band from Providence, Rhode Island, have in less than two years become a busy, six gigs a month, in-demand cover band. And there's a reason for their quick rise to popularity: They rock! The band features vocalist Robin Soares, guitarist Jon Hathaway, bass player Steve Cafaro, drummer Angela DeFazio and go-go dancer/backing vocalist Capri Lanning.
Singer Robin Soares and her boyfriend/guitarist Jon Hathaway spoke to a music journalist at Whippersnappers in Londonderry, New Hampshire about their cover band's success. "Just a lot of hard work, being on the phone and e-mail all the time," Soares said. "Just sought after every great club in a hundred mile radius and I didn't stop until we got in."
The band was recently named Best Cover Band at Motif Magazine's annual award show in Providence. 5 Flavor Discount have eight regular rooms with a six to eight-week rotation. They even scoffed up two coveted rooms in New Hampshire: Whippersnappers in Londonderry and Jillian's in Manchester. They have a big New Years Eve's party scheduled at Jillian's.
Soares said the music they select and how they perform it also accounts for their success. They try to be a little bit different from other cover bands. "I think when people see us they realized the level of musicianship is pretty solid," she began. "We have a female drummer, and the dancer helps too. As far as the music, Jon, the guitar player is just so versatile. He can play rock. He can play funk. He puts his own twist on everything. I think I have a really wide range with my voice. I can do a lot of different styles. Our bass player, the same thing. He can funk/ He can rock. We really work hard. We rehearse every week. We never miss a rehearsal. We work hard to sound good."
At a recent New Hampshire gig 5 Flavor Discount charged into their first set with a mix of Aerosmith, Led Zeppelin, Sly And The Family Stone, and Parliament Funkadelic. Soares said it's all music that band member's love and that the musicians are in sync with each other, switching seamlessly between rock, funk, reggae, disco, and back to rock again.
"They know what they're gonna do next. They're always watching each other. They're focused. We never have too much to drink that we can't focus on what we're doing. I think that has a lot to do with it," she said.
The other noticeable thing with 5 Flavor Discount is the outfits they wear on stage. They seem to always think it's Halloween. Cafaro always dresses like a 70s funk musician. Lanning is either half-naked or sheathed in something skin-tight. Soares has been spotted in hospital garb with stethoscopes. Hathaway looks like he just stepped out of a 1970s music magazine, and DeFazio has a thing for feathers, big hats, cheap, plastic sunglasses, and rubber duckies. The stage set includes props and a large colorful banner.
"My inspiration for the decorations and the outfits is a friend of mine's band was playing at kind of a dive bar in Providence," Soares said. "The walls were all ripped, torn, and tattered wallpaper, ripped up rug on the floor. The guys were all in jeans and dirty tee shirts. I thought how nice it would be to have a nice look, where everybody looked good and appealing to the eye, exciting, some stage decorations, just to dress it up a little bit, and it's worked really well. We enjoy it. It gives us some individuality. We really aim to stand out from everyone else. It's a very high standard, but we're trying."
5 Flavor Discount are still hearing back from clubs they'd like to play. "We play Fox Woods for the first time at the end of the month, two nights in a row, a Friday and Saturday. I stayed on them until they gave me the time of day," Soares said. "I called every week. I wouldn't leave the guy alone. I think he finally just got sick of hearing from me. But I think at the same time, too, he thought we had something a little different to offer. Because they don't just let anybody in there. So, I was proud of that."
Compliments from enthusiastic audiences during breaks have become routine. "A lot of musicians come out to see us," Soares said. "The musicians appreciate what we do more. They see what's going on. They know that we are different from what's out there. And they appreciate that."
She also keeps an eye on her competition. Bands from her area, when she club hops on Thursday nights, often have the same songs on their sets lists. "I go and check out our competition, and I'm usually very pleased."
"A lot of times I find they're not rehearsing. They're not spending the kind of time on the music like we do. And they look sloppy. They're kind of there with their heads down. They're not engaging the crowd. They're not looking like they're happy to be there. And that's huge. That's huge. You can feel our passion for music because we let people in. We look at them. I talk to them with the music. I communicate with them."
Personnel changes are coming up for 5 Flavor Discount. Bass player Steve Cafaro, and his new wife, Capri Lanning, the band's accent dancer and backing vocalist, will eventually be leaving the band. Cafaro wants to make it big while he is still a young man.
"He's 21. He's young. He's got stars in his eyes, I think," Soares said. "I think he just wants to try something else, some original stuff, some poetry-jazz stuff he used to do before he joined us. He's being very flexible. He's giving us plenty of time. Hopefully, in that time, we can convince him not to go."
Responses Soares has been receiving from her Craigslist ad have been coming from several older musicians, and she is looking for someone younger with a high energy level. "It's going to be very difficult to replace Steve. He's jumping all over the place. He's happy to be up there. You get these more seasoned guys; they're kind of sedentary. They don't move around; I don't mean to stereotype everyone. And we're not looking to hire a hired gun. We want somebody who wants to be part of what we do. We'll wait a year if we have to. We're not going to settle for anybody."
The band's Craigslist ad became a story in itself. Somebody wrote a nasty reply claiming that the band's standards were unfairly too high. Soares eventually figured it was a musician she screened out after a telephone interview.
"I didn't give him a chance to audition," she said. "I go through a very rigorous screening process on e-mail and on the telephone. So, we don't waste our time on auditions. We get so many responses. We're a heavy working band who has a lot to offer. But we get a lot of responses from people who don't have the chops."
Soares had to cut short this article interview to take care of some band business before she had to get back up on stage. After the second set 5FD guitarist Jon Hathaway came over to the reporter's booth to jaw over his guitar techniques and to answer the question on everybody's mind: How has 5 Flavor Discount come so far in a relatively short period of time?
First, his guitar prowess. Hathaway taught himself to play by picking notes and chords off his vinyl records. "I learned by myself. Like almost everybody in my generation, we had to sit down with a record player and hack away at it and kill your records until you figured it. I could have taken lessons back then. But lessons as far as I was concerned it was all going to be 'Mary Had A Little Lamb' in some book. I knew nobody I was listening to learned that way."
Hathaway freely admits he was a weak musician in his early days and that he had to bust his butt to get himself up to par. "I could clear rooms when I was a kid. I sucked for a long time. All my old friends would be glad to tell you how much I sucked."
On how the band came so far in a short time, Hathaway credited Soares: "Robin was relentless. "The fact is, you don't have to be that good of a band to be successfully, realistically. It just takes somebody to hammer away at it. Don't get me wrong. The band can deliver."
Hathaway differed from Soares on whether their song selections made the band popular. "We play a big variety. For people that are into music, they like the fact that we do a lot of songs nobody else does. But the average Joe in a bar, I get the sense that a lot of them would rather hear the same old stuff as everybody else. At least it's pleasantly comfortably and predictable. If we tread the common ground that most bands tread, it would probably be to our advantage to some extent. That's my feeling anyway. Robin might disagree."
Hathaway focuses on bands that have a tendency toward high musicality. He digs Led Zeppelin, Living Color, Coheed Cambria, and Mars Volta. "There's some good stuff out there, but that's not usually what you find people playing in a bar."
On Al Greene's "Let's Stay Together" or Stevie Wonder's "I Wish" Hathaway plays the keyboard and horn parts on his six-string. He gets a lot out of a limited range of effects, echo, delay, distortion, wah-wah. He has a chorus effect built into his JC120 amp. He is also big on sense of humor. He's known to throw in the Twilight Zone theme or even "Rudolph The Red Nosed Reindeer" at Christmas time.
During 5 Flavor Discount's rendition of Chic's 1978 hit "La Freak" Hathaway plays a powerhouse guitar solo that does not appear on the original record album. He puts a lot of echo on his guitar sound that gives him a big wash to fill the void and simulate a wall of sound. "I play some fast notes, but a lot of that I'm just holding big chords and moving them around. I have to fill it up in any way I can because we don't have keyboards. Van Halen used to do that in their early days. They did a lot of covers, and he did whatever he could do to make it sound good with the three pieces that they had."
Hathaway gets a lot of positive feedback from other musicians for his improvising. But he also likes to play by the book. "If I was going to do 'You Shook Me All Night Long' by AC/DC, I won't even presume to take any creative liberties with that. It's great the way it is. Some of the songs are more open to interpretation than others. If I do 'Walk This Way' I take some liberties in the solo, but I make sure I'm playing in the style that song calls for. I don't want to start going crazy with something and making it different. Some things you can mess with more, some things you can't."
When Hathaway plays "Sympathy For The Devil" he only messes with the ending ride out. "I do the exact solo pretty much in the middle like Keith Richards did. Getting out of it, I take the song out. I just go off at the end. It's stuff that I still feel captures that voodoo vibe of the song, but it's not on the record. I just do something that fits, but it's my way."
Hathaway has an acquired taste for versatility. As an aspiring guitarist, he sought out a vast array of bands to work with. He did not do much with the Led Zeppelin inspired FM rock of his youth.
"When I was young I went out of my way to do many things that I wasn't already used to," he explained. "I hit the road when I was 19 years old. I used to play these roadhouses in Alaska from ten o' clock at night until 4:00 in the morning, five nights a week. Those were six-hour gigs every night. I was the only white guy in an all black band. I played reggae. I played a lot of stuff that would broaden me. I never played a lot of this rock stuff until now. I never played a lot of Zeppelin in a band because I was always doing something different."
Drummer Angela Defazio called to add her own perspective. She believes the band has done well because they had a game plan at the beginning. "Everyone has a drive, especially Robin. She's got a great business demeanor. When she wants something she goes and gets it. She will not take no for answer, and that goes for the people in the band as well."
Being in a band that plays five different types of music can be a challenge. DeFazio said if there is a certain type of music that she doesn't play regularly it's up to her to learn it. "Every musicians should be well rounded. It only curbs you if you're not," she said. "I don't play reggae that much but we do reggae stuff so that was something I really had to sit down and focus on because as simple as it sounds, it's not."
DeFazio can handle the 5 Flavor Discount roller coaster ride from rock to funk to reggae to pop to disco in one set. She's rooted in rock, but she eventually fell in love with funk and Motown and she can pull from all genres and stay in the pocket. "We're like a well-oiled machine at this point. We just do it so much," she said. "You have to think quick on your feet, regardless if you have the set list there. You're going from a reggae tune to a slow tune, and you have to have that tempo in your head."
DeFazio is a fan of a handful drummers who have influenced her over the years, John Bonham, Matt Cameron, and James Brown's drummers. She is also influenced by entire genres of music like Motown and funk even though she grew up in the grunge era. Most importantly, she learned from people she works with. "Someone like Jon Hathaway has been playing forever, and you have no choice but learn something from the guy all the time. You can only get better by playing with people that are better than you."
Being a girl drummer can be a double edge sword. Sometimes she gets more attention being a girl drummer. Other times she can be overlooked. On some nights someone who has been watching the band all night might ask her if she is with the band. She then has to tell the person she was the drummer for the last three sets.
"I'm short. I'm in the back. A lot of the stages we play can be kind of small and you have a wall of people in front of you. That's one of the beauties of music. If I were to play on a CD, you wouldn't know if I was a guy or a girl. Music can be gender blind and. colorblind. Occasionally I might get a little more attention."
DeFazio said she doesn't have "much of an ego" and she does not take compliments well. She thanks people kindly but feels she is her own worst critic. She often has had to work harder so people will see her as more than a novelty. "I've run into situations where a guy drummer is trying to tear me apart as far as my playing goes. It's typically because he's intimidated by me or he knows I'm better than him," she said. "I don't like to look at music as a competition. Everyone's good at their own way of playing. Everyone plays different. I don't like comparing like that. I definitely will put in the extra time on certain songs, especially like Zeppelin stuff. I will not go out there and mess that stuff up because I'm going to be under a microscope from other musicians and crowds. I don't like hearing 'She's pretty good for a girl.' That's a running joke with me and the band because I'm not just good for a girl, I'm good for a musician because I'm a musician.
During the show DeFazio wears a wide black hat with rubber duckies glued on top. She bought the hat at I-Party and added the duckies. She changes hats during the shows but the rubber duckies hat is her favorite even though the rubber duckies sometimes get more attention than she does. "That's always the hat I have with me regardless of what gig it is. I feel it's become a good luck charm."