It's time to clear my desk of CDs that bands give to me long after they recorded and released them. Because these CDs are still new to people who have not heard them yet, which is often the case with local artists, I think it is well worth our time to take a retrospective look at them.
Raising Scarlet
Feel No Guilt
Self-Released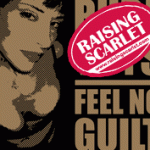 This CD was originally released as a Rude Toys CD. In fact, band name Raising Scarlet is on a red sticker placed over the original CD cover art where the previous band name was printed. Raising Scarlet is fronted by guitarist/vocalist Mike Myles and his wife, vocalist Tammy Schatz Myles. A band with a wide scope of styles and timbres at their fingertips, they pull a lot out of their bag of musical tricks. Opening number "Discount Lovers" is a bouncy, easy going pop song featuring both on vocals. Next song "Sly" is more rocking, edgy and compact, with Mrs. Myles's vocals much more aggressive here. The song's guitar chord progression is just as tough. The chorus, though, manages to be catchy amidst all this toughness. The guitar bridge is nicely rugged. Boy, this is a really good rock and roll song. "Sorry" offers a funky guitar riff and it becomes a firm, mid tempo rocker in which Mrs. Myles's forceful voice moves around the chords like a wiry cat moving through a dark alley. She can be as tough as Pat Benatar and as sophisticated as Natalie Merchant (10,000 Maniacs) at the same time. "Harm" is a fresh salad of acoustic and electric guitars with Mrs. Myles singing beautifully over a warm undertone from Martha Colby's cello bowing. "Pentad" is weird, idiosyncratic fun. Its never ending guitar phase winds through and around a vast array of sound effects. A bunch of intercom voices make this instrumental piece an eerie, haunting echo of Pink Floyd from the early 1970s. It sounds like an emergency is being reported to rescue workers, yet it is hard to tell what the crisis is, and that makes it even more hectic and intense. "Sixth Wave" reminds of Blondie's better pop hits because Mrs. Myles's vocal approach to the chorus is steeped in fun, girl band kitschiness. There is also a rolling rhythm track that makes me think of someone skipping along and whistling down the boardwalk on a bright sunny day. The rhythm section of bassist C.J. Cunningham and drummer Martin Lewis are equally steeped in styles and quite talented. The end of "Sixth Wave" and the beginning of "Break It Up" show the bass and drums in a brief spotlight. Mr. Myles kicks some serious ass on his electric guitar too. The whole Feel No Guilt CD goes over like a smooth lite beer after mowing the lawn on a hot summer day. It is just such a smooth blend of 1980s new wave songwriting and 1970s driving guitar classic rock. The album could easily gain traction with a wide array of music fans. "No Romeo" comes off like something The Motels and 10,000 Maniacs might have come up with back in their day. Mrs. Myles's girlishly sexy, silky smooth voice graces over the forceful drive of this work. She is quite charming singing over the edgy, funky rhythm guitar on "Not Alone." The contrast between sweet girlish voice and aggressive guitars is one of Raising Scarlet's primary strengths. The sheer talent and easy reach into many different approaches to voice and guitars is a close second. "Rolling Along" brings it back to acoustic guitar backing Mrs. Myles beauty of a voice. This song could work well in a motion picture travel scene. I can hear the song playing in a scene in which a woman on a train is in deep thought while the scenery passes by her in the window. It is an emotive, moody number that makes me feel that something important was going on when the Myles wrote this together. "Us Against Them" features Mr. Myles's spiraling guitar sound and his aggressive chord progressions that he has forged into a unique cohesive sound over the years. "Back In My City" finds the couple doing some more hard driving stuff and doing it well. They close it out with "Kommunikation," another sound effects laden track with ducks and other forms of what sounds like wetland wildlife in the quiet morning. There is no music until near the end, but the ducks are definitely communicating with each other. The Myles were definitely cool when they made this Feel No Guilt CD. These days, they're looking for work in Manchester, New Hampshire area cover band rooms. Based on listening to this 2007 album, booking agents and club owners would be crazy not to give them a chance. They can definitely rock most people's socks off with their talent and variety.
The Tokyo Tramps
Tokyo Gumbo
Self-Released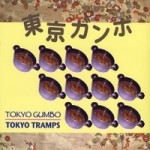 The Tokyo Tramps put a lot of heart and soul, time and effort into this, their second to last album. Although they have released another CD since Tokyo Gumbo, Tokyo Gumbo, released in 2008, documents an outstanding blues trio, these Boston-based musicians who originally came from Japan to study music in America. Opening with the gentle electric strumming of "Giant Steps," Yukiko Fujii's vocal smoothly flows over the mellow sing-song bass line she plays on her Gibson four-string. Fujii's guitarist-husband Satoru Nakagawa chimes in with the perfect, easy-going guitar bridge to buttress the vocal flow of this track. "Lonesome In My Hometown," sung by Nakagawa and featuring his mix of acoustic and electric guitars, is a breezy piece with reflective lyrics that anybody who's been away from home can relate to. Nakagawa's guitar playing is so spot on and so tasteful here that it is impossible not to be won over by his sound. "Chicken Teriyaki" has an oldies feel in its jazzy guitar phrases, and this makes it refreshingly different and fun. The straight forward music combined with the amusing lyrics about their favorite Asian dishes give the Tokyo Tramps their niche as songwriters. Nakagawa reels out another impressive guitar break, and it makes you think about how much he has to offer in his repertoire. "Big Time Blues" finds Nakagawa playing old vintage style blues on acoustic and slide guitar. He knows how to play the blues for real, and when Fujii answers his call and response before joining him in the chorus another layer of talent envelops this tune. "Since I Got You" is country blues with lyrics about falling in love over a two-step shuffle. Nakagawa plays a down home guitar chord progression underneath it that makes me picture The Tokyo Tramps tapping their feet in a barn, wearing straw hats, and stomping to the beat. His phrase in the middle is pure country flavored, and it gives insight into his knowledge of American roots music. "This Bird Must Fly" is a Fujii sung ballad with a persistent acoustic guitar strum and a cagey electric guitar phrase under her beautiful voice. Her vocal approach has a faint trace of early 20th century jazz chanteuses like Billie Holiday, Mae West, and others from that period. Her singing is uncanny. The old-fashioned vocal style she has fashioned finds itself so at home in the edgier American roots music. Nakagawa is no slouch in the vocal department either. His vocal turn on "Owner Of Heart And Soul" equals Fujii's and they blend charmingly and perfectly during the chorus. "Love Power" has a nifty late 1960s hippie rock quality that seems quirky in today's music world, but The Tokyo Tramps get away with it because the talent flows so well. "Baby, Please Come Home," steeped in blues lyrical genres, gets a compact guitar sound treatment that can put it on modern radio. Like a lot of The Tokyo Tramps' songs, the blend of Americana roots music eventually forms into something fresh. That is probably why they titled this album Tokyo Gumbo. "Till The End Of Time" sounds like acoustic singer-songwriter fare with gentle acoustic picking and a gentle vocal approach that makes you want to concentrate on what he is singing about. "Johnny Guitar" gives Nakagawa another chance to shine in the spotlight with his subtle nuances on the electric. Again, the pair sing well together on the chorus. The drummer on this Tokyo Tramps CD was Toshio Tanaka with percussionist Kosei Fukuyama backing him up. Fukuyama has since become the full time drummer for The Tokyo Tramps, playing all the drums on their latest CD With These Hands.
Beyond Blonde
Famous Last Words
Self-Released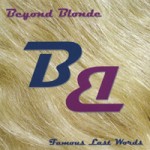 This Rhode Island based band was unbelievably hot when they released this Famous Last Words CD in 2003. The singer, who still fronts the band, and the rhythm section at the time, were all gorgeous blonde women, each dripping with sex appeal and talent. Opening with "Take A Picture," Beyond Blonde reminds of all those classic rock bands from the mid 1970s to mid 1980s. Heart, Cheap Trick, and Kiss, it's all here in the rocking attitude. "Take A Picture" has lead singer Lisa Firda belting out a take no prisoners attitude with willful abandon. "Win You Over" is a little bit funkier with bass player Joyce Sampson bumping it along with her heft of low end notes. Here Firda belts this one out during the chorus, and she makes clear she is one aggressive singer. Lead guitarist Bill "Suckey" Suckeforth pays out the right kind of lead guitar phrase, expressive and just underneath Firda's belt. Firda, who can hold a note forever, has a raw raspy voice that many rocker chicks can only dream of being born with. Firda wrote most of these songs with Sampson's help. All three women wrote the arrangements. "My Interpretation" features some of Sukeforth's best guitar playing on the CD. He's a barn burner when the time comes, and he keeps the rhythm solid when he's not soloing. His phrases have the kitschy cool rock guitar of party bands with sophistication in how he applies a fun vibe. "A Little Touch" is standard rock radio faire. The compact musicianship behind Firda's belt gives this song a quiet before the storm feeling to intro the instrumental workout. Then, there's an subtle interplay that shows Beyond Blonde's chemistry. That is the secret formula for success. The musicians play very well together, almost as if they were born and destined to meet up and form a band. "Religion" is a forceful song in which Firda makes clear how she feels about bible thumpers knocking on her door. This song makes it on clever changes as well as on Firda's unequivocal views and the way she twists her vocal phrases. "Somewhere Down The Line" starts with Firda's arena strength assertiveness and Sukeforth's gentle lead guitar playing making an appropriate atmosphere for her aggressive build up. Sukeforth can certainly whip up a nice clean guitar phrase with the greatest of ease, or he at least makes it seem easy. "Barin' Mah Bonz" shows Sampson moving the song along with her funky bass line. Drummer Donna Compos brings in some snappy fills and from there this number just makes you want to dance. Firda's frank attitude makes her sound like one of the toughest women in rock and roll. "Life Through Images" is indirectly about Firda's interest in getting her thoughts down on paper and out through the microphone. It is one of her earlier songs and her lyrics are cool, twisty, and descriptive. "Get It Back" is a true rocker and close out "September Skies" is a rangy piece of art. By the time this CD is over, it is hard to imagine how the big labels missed this band. Music this melodic, catchy, with arena sized anthems, played and sung by three gorgeous, photographable blonde women could have easily found a place on FM radio.
Don Campbell
American Garage
Self-Released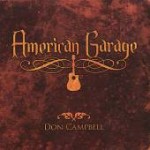 Don Campbell is a singer-songwriter with witty perceptive lyrics about American life. He is also a solid country-rock musician who knows how to make his tunes fun as well as meaningful. This singer-songwriter played bass, piano, harmonica, guitar on his CD. One guitar solo was supplied by Sumner McKane. Andy Happel played fiddle. Todd Richard played drums, shakers, congas & hand percussion. Lonnie Wilson added some additional drumming. In his opening cut "Tilt-A-Whirl" Campbell compares the old-fashioned carnival ride to the planet spinning on its axis. The ride carries children safely while giving them a fun ride. Yet, our world is fast changing because of man-made problems. Campbell sings in a warm plaintive voice, as if he's asking nicely, reminding us of what is at stake in his words. His soft, gentle acoustic strumming, the gently pressed, sweet electric notes combine in a swirl of soft musical colors, making his social statement land in the listener's emotional soft spot. "Cut Off My Ear" moves at a quick country pace, like a 57 Chevy pickup cruising down the back roads. Its weave of acoustic guitar and fiddle over a movable beat gives it a lift, like a parasail over a beach. Everything cut on this CD has vitality in its take off. Well-crafted song structures, well-played, and well-recorded, make this American Garage CD a highly polished affair. Campbell's voice here sounds more confident and smoother than ever. He is also the voice of the heartland of America. His song "Red, White & Blue Heart," a tribute to Pat Tillman, celebrates the American spirit of voluntarism and of doing what you think is right even though you could be making a lot of money doing something you love. "Beautiful Rain" finds Campbell's voice used as an handsome instrument, as smooth as honey. With only acoustic guitar accompaniment, he makes this song sound as if it had a full band behind him. "Faster Than Lightning," with its cagey lyrics about a young lady's man, has a snappy melody on electric guitar that makes you picture him chasing the girl. For further proof of Campbell's songwriting skills, check out "My Old Garage." Every married male homeowner's refuge is his garage. Campbell milks this theme for every truth-ringing detail. His workbench, tools, Daisy rifle, broom, and old AM radio are all found in his favorite room. He unfolds this American male anthem with a manly take-your-time, say-what -you've-got-to-say approach. "The Hero In Me" is about fatherhood and being perceived as a hero by your own boy. The heart-felt song comes across sincere in Campbell's warm, down home voice. Only a true talent could make this sort of song come alive with the power of his own voice. Campbell gives it the right inflection to project his insight into a man's role in the life of his own children. "Let It Show" is another thoughtful reflection on relationships and offers further testimony to Campbell's witty understanding of human nature. Likewise, "Finding Your Way Home" is a very compassionate outreach to people who have reached the end of themselves and are ready to forfeit the most precious gift they have. And, again, Campbell puts it forth with utter sincerity. His honey smooth voice makes you feel what he must have been feeling when he wrote the song. "Heavens Open Up Now" makes you understand why Campbell bought a home in Nashville and went for the gold. The song has a very catchy, memorable chorus and the song has an irresistible rhythm. Campbell closes out his CD with clever, inventive covers of songs by Tom Waits and Meatloaf. These are first-rate interpretations, respecting the essence of the songs while finding new ways to convey their emotional impacts.
Chapter In Verse
Wicked Smile
Self-Released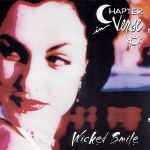 Chapter In Verse's 1999 release Wicked Smile opens with "Fly With Me," a breezy piece with acoustic guitar-backed choruses and an edgy electric guitar break, the trademark mesh of Chapter In Verse's music in the late 1990s. 1990s guitar rock and a Lilith Faire acoustic singer-songwriter sensibility came together to make Chapter In Verse one of Boston's most popular club bands at the time. "Fly With Me" is an upbeat, driving folk-rock song that can reach a lot of listeners. Two female vocalists, Brenda White and Rachel Clayton, duet and or back one another's lead vocal, giving a lot of texture and variety to these eight tracks on Wicked Smile. "Beautiful Face" rocks right out on acoustic and electric guitars, and Clayton's haunting vocal makes this song come alive with a frightening edge. Clayton can hold a note forever with her svelte voice and swagger. Title track "Wicked Smile" chills out and moves at a graceful pace, with Brenda White's sweet, smooth voice drawing a lot of melody out of the lyrics. Clayton's harmonica adds an extra layer of melodic texture and Richard Cramer's lead guitar brings in the minor chord contrast that frames and accentuates this song perfectly. "Newspaper Song" is a bit pedantic lyrically. If you listen to the words, the songs basically sounds like older people from every generation past their prime complaining, "What is this world coming to?" The lyrics also talk about finding a new way. It takes on Aids, religious bigots, and man- made disasters, things that turn our society into an unfriendly place. Then they try to turn it into a song of hope by saying we can make it better. Bob Dylan they're not. Yet, the song manages itself well musically. The two women, as always, sing very well together on the chorus and the mandolin is pleasing while also giving drive. "Leaving" is a decent mesh of acoustic and electric instruments and the two women sound fantastic and catchy on the chorus. The song also boasts more of Cramer's aggressive guitar approach. The winning combination of edgy guitar and acoustic singer-songwriters carries this Wicked Smile CD well. "Sky" is a musically clever song with nifty twists and turns. The changes in the beginning between acoustic and electric is enticing. I hope this tune got radio play on local Boston stations during its day. It's action-packed. Drummer Steve Tobey executes nice moves during the bridge and bassist Chris Tilden can move a tune along with an understated bop. "Prison" is another hip mix of electric and driving acoustic guitar. Before anyone reading this starts comparing Chapter In Verse to Heart, don't go there. These women used the acoustic guitar in their own way, with chord changes, tempos, and accents that do not show traces of classic rock as much as their contemporary singer-songwriters who had to use the acoustic guitar to back themselves in all different kinds of song structures. Listen to the easy going electric guitar and the steady acoustic strumming of "Don't Cry," a tune with a lot of notes from a few instruments making a tapestry of sound. This music was constructed by people with an advanced knowledge of composition, even if the smooth flow of music makes for an easy going feeling. Closing out with "Anything," Chapter In Verse leaves the listener with an evenhanded finish, blending all their acoustic and electric and vocal elements together, forging the close of a document while also pointing to the next step their future direction.
www.myspace.com/chapterinverse
www.myspace.com/brendawhite