Archives by date
You are browsing the site archives by date.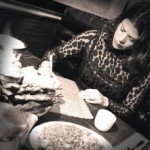 By Bill Copeland on July 28, 2010
Jen Kearney & The Lost Onion released The Year Of The Ox within the last year to great fanfare. Every music mag ran a positive review and Kearney and her Onion headlined numerous music festivals. The Year Of The Ox is a concept album of sorts. It was inspired by Kearney's visit to a Chinese […]
Posted in CD Reviews | 1 Response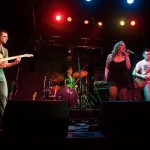 By Bill Copeland on July 26, 2010
For a band that has done well in blues band contests, Soul Alley has done a credible job transforming itself into a respectable R&B outfit. Their new CD should be dropping in a matter of days, and they have a solid gig schedule keeping them busy throughout greater-Boston. Their show last weekend at Stella Blu […]
Posted in Live Reviews | 1 Response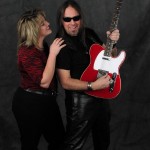 By Bill Copeland on July 25, 2010
Being married to a professional musician can often be a challenge. When both husband and wife are professional musicians and play in a band together, the disadvantages can often outweigh the advantages. Take the case of guitarist Scot Gibbs and his vocalist wife, Amberly Gibbs. The greatest challenge is for Mrs. Gibbs to get respect […]
Posted in Featured Articles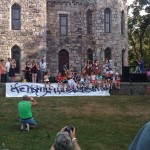 By Bill Copeland on July 25, 2010
Big things have small beginnings. The first ever Eve Rising Music Festival was sparsely attended in the first hours but quite a few people started trickling in later in the day, when the full bands took over from the acoustic acts. A celebration of women in music and an event to support self-empowerment, the festival […]
Posted in Live Reviews
By Bill Copeland on July 25, 2010
It might be a good idea to invite a lot of big name talent to a blues jam. They get to share the stage with many different players. But during a three hour show, it can be a disorganized mess to have too many people on the list. A three hour gig cannot accommodate as […]
Posted in Live Reviews | 2 Responses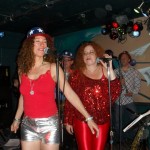 By Bill Copeland on July 23, 2010
Booty Vortex is simply a high energy dance band. There is nothing on the level of high achieving artistic endeavors. Booty Vortex only want you to have some fun, and they provide the soundtrack. A review can't really consider this band on the finer points of art. You have to rate this band using your feet, as in how often they got you on them to move them. That is where Booty Vortex showed themselves to be groove kings and queens.
Posted in Live Reviews | Tagged Acton Jazz Cafe, Booty Vortex, Kit Holiday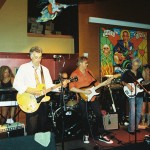 By Bill Copeland on July 23, 2010
There are not too many David Bowie tribute bands around. Bowie recorded music that is difficult to play in concert. There is orchestration without pretension. Drama without send up. Uniqueness amidst familiar idioms. A south shore tribute band Diamond Dogs found the proper balance Bowie always maintained between rock and roll idioms, his own unique […]
Posted in Live Reviews
By Bill Copeland on July 23, 2010
Live Review: Hurricane Alley returned to Whippersnappers in Londonderry NH; served up the fun By Bill Copeland BillCopelandMusicPress Hurricane Alley is a cover band that plays a broad cross section of classic rock material from the late 1960s to around the early 1980s. Band leader, Dave Shaheen, sings lead vocals on about half the songs […]
Posted in Live Reviews
By Bill Copeland on July 23, 2010
Jen Kearney And The Lost Onion continued their Toad residency with wild funk abandon last night By Bill Copeland BillCopelandMusicPress Jen Kearney and the Lost Onion slammed the funky, jazzy, Latin rhythms home at the Toad in Cambridge, Massachusetts last night. Toad is a small room, but it is long from front to its stage […]
Posted in Live Reviews