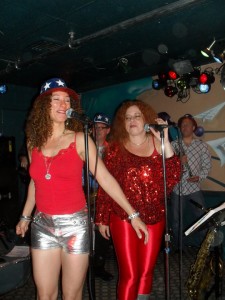 Booty Vortex is simply a high energy dance band. There is nothing on the level of high achieving artistic endeavors. Booty Vortex only want you to have some fun, and they provide the soundtrack. A review can't really consider this band on the finer points of art. You have to rate this band using your feet, as in how often they got you on them to move them. That is where Booty Vortex showed themselves to be groove kings and queens.
Performing at the Acton Jazz Café in Acton, Massachusetts last night, this ten piece horn band from Boston turned the listening room into a free for all funkfest. In fact, singer Ginger Snaps renamed the room Acton Funk Café for the night. She was on the money as her band kept the dance floor crowded all night.
Opening with the hand-clapping rhythm of "Car Wash," bass, drums, guitar, keyboard, percussion, and horns strutted their stuff with that 1970s groove, pulling everybody in attendance onto the dance floor at once. The high energy dance band soon had everybody dancing fast to Sly And The Family Stone's "Dance To The Music" and the full house was attributed to the following Booty Vortex used to have at the now defunct Sit N' Bull Restaurant in Maynard.
Booty Vortex brought out the almost forgotten disco hit "Ring My Bell" before the bass guitarist voomed into "Jungle Boogie," and there the funky drums and bass opened the space for glorious horns, keyboards, and textured percussion. Booty Vortex was like a funky intergalactic space ship, soaring in and out of those song structure twist and turns. The keyboard player with funky sunglasses goes by the moniker Goldfinger and the stunning percussionist lady is PiXi StiX. Sister Nancy is the saxophone player in the three-piece horn section which includes Doc Voodoo on trumpet.
The two girl singers, Ginger Snaps and Honeychild, sounded perfect on classics like The Jackson Five's "ABC" and 1970s disco hits like "Freak Out." "Freak Out" featured the horns and keyboards together in one huge wall of sound for the ears while drums, bass, and percussion kept people moving on their feet. Ginger Snaps is really Kit Holliday from the greater-Boston scene, and in this band she drops her soulful rasp for a sweeter turn at the vocals. But hey, she does this band for fun. "Superstition" by Stevie Wonder brought Holliday closer to the material she usually does and it was all good as she does well in either genre.
The singers announced at the beginning of the second set that they were going to do "hard core disco." They admitted that they weren't sure what "hard core disco" is but they made good on their promise with a medley of tunes by K.C. And The Sunshine Band. "Get Down Tonight," "Shake Shake Shake," and "That's The Way" were repeated with rapid fire rhythms and percussion. "Got To Be Real" came off well with Honeychild's svelte falsetto reaching those sweet highs.
Booty Vortex hit their artistic high with the Ike And Tina Turner version of "Rolling On The River" before moving onto those recognizable dance tunes from the 1970s. The audience, always into it, called them back for an encore of "Boogie Fever."
www.bootyvortex.com