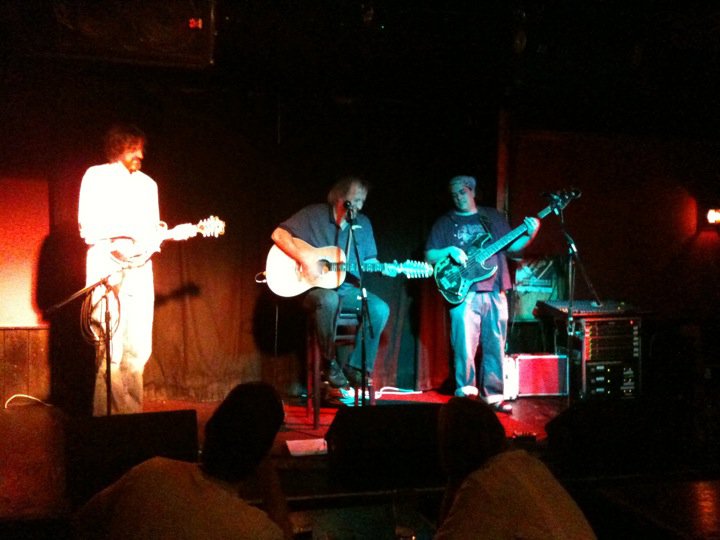 Last Sunday night at The Burren in Somerville was a typical anything goes atmosphere at this popular weekend nightspot. At least that's how Sunday night host Tom Bianchi explained it before introducing the first act.
Amy Schmidt from Lincoln, Nebraska opened the show with a set of original tunes and she used a quite, graceful charm to win over the Sunday night crowd. Schmidt never asserted herself vocally or on her acoustic guitar. Instead, she let her music take its time and it grew on people. She laid it out like a huge landscape. Her music is like the great terrain of the Nebraska countryside she hails from, beautiful, expansive, and pristine.
Schmidt pulled gentle chords out of her acoustic on her fun, unwieldy and charming "Fireworks In The House." She is confident enough in what she does that she doesn't need a take charge approach at the microphone. Schmidt displayed an ethereal quality through out her set. That was pretty impressive for her first day in Boston.
Next up was Long Island, New York acoustic rocker Ernie Meditz, father of Burren employee Jaime Meditz. Mr. Meditz has a sandpaper voice that wrapped warmly around a set of tastefully selected songs from a folksie and folk rock repertoire.
Meditz waltzed into John Lennon's "Beautiful Boy" (from Lennon's swan song album Double Fantasy) with perfectly accented mandolin backing from Sean Staples. I liked how warmly Meditz sang this song. His daughter being in the room must have made it easy for him to feel the way John Lennon must have felt when he wrote this song for his then five year old son Sean.
Bianchi got up on stage with his electric bass guitar to add an anchor and some extra colors and textures to this merry go round ride of pleasant songs from memory lane. Country classic and one time bluegrass hit "Born In My Sweet Baby's Arms" came off with plenty of grit from Staples' mandolin and Meditz's handsome vocal. Meditz also brought a lot of magic vocal oomph to Mr. Bojangles, his voice constantly rising to the occasion of this four generations popularly, touching, personal tune.
Segue into "Broke Down Palace" from The Grateful Dead and voila, Meditz shows another shining example of Americana to showcase his interpretive abilities. Staples used this tune to launch a tasteful mandolin solo.
"Mother Natures' Son" by The Beatles and "Sweet Melissa" by the Allman Brothers got a special treatment as Meditz proved you don't need an electric guitar to have fun with popular music. What he did at the end of "Me And Bobby MaGee" was to offer up plenty of vocal and guitar and melody in a song that eventually becomes more challenging to perform
I had to leave after Meditz finished his set so I could catch the Red Line back to where I parked my car. But that was my night at The Burren in Somerville.
www.facebook.com/burrensundays

Follow me on Social Media!