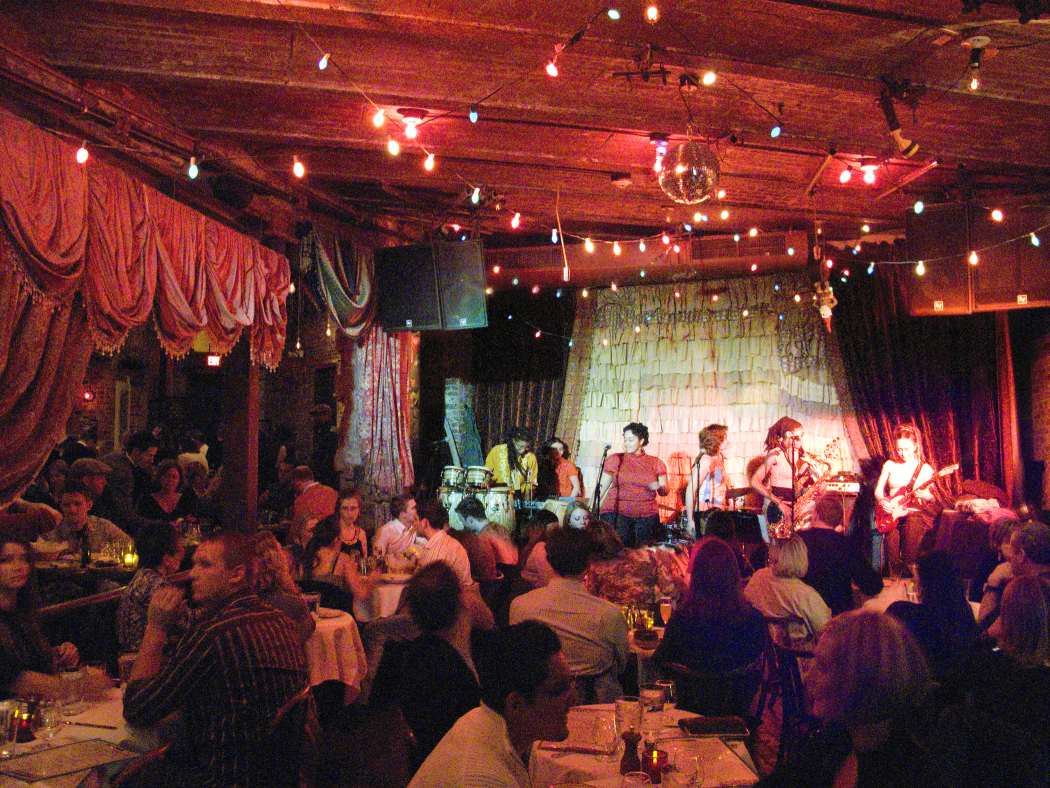 This Is Soul Sunday is held every Sunday night from 8:00 p.m. until midnight at The Bee Hive on Tremont Street in Boston. This Is Soul Sunday features essentially the same "house band" every week with a rotating cast of lead singers. The service was good last night. The walls are decorated with paintings that look like they could be from a modern art museum. You can practically feel the vibe just from looking at the picture that accompanies this Buzz piece. It is NOT from last night's show. It's just an example of what the room looks like on a music night.
Boston-based guitarist Brad Faucher developed the idea for the Sunday night program This Is Soul, and he hosts it every week. He usually has the same gathering of musicians with a different featured singer each Sunday.
Last night at the Bee Hive, Faucher had singer Philip Pemberton fronting. Pemberton has his own band named after himself and he became the singer for Roomful Of Blues last spring. This vocalist's soft timber sounds a lot better live than it has in some amateur videos recently posted on Facebook.
The band last night was Bruce "The Goose" MaGrath on tenor sax, John "Blue Horn" Moriconi on trumpet, Lee Lundy on bass, Shinichi Otso on keyboard, Louis West on guitar, and Roscoe Hammer on drums. Faucher was on lead guitar.
The Beehive is an upscale restaurant with brick walls and low lighting and a pricey menu. When the band starts playing, you know you're in one of the finer places to hear blues and soul. Moriconi starts the magic with a flow of mellifluous trumpet notes before MaGrath takes over with his swinging tenor sax. Put both together and you have a band as upscale as a place that charges 12 bucks for a glass of bubbly.
Moriconi can also sing and he gave it his all on "My Girl," and did it justice. Faucher seems to prefer singing lead vocal on blues tunes, and Lundy is one of those heavy bass players who can do a lot with those four strings, bringing it down into the mysterious realm of the low end.
Pemberton came on after the band warmed up to sing "Let's Stay Together," and "Use Me" and "Can't Get Next To You" and at one moment was singing without the microphone in front of him and he could still be heard. He also let loose a good Stevie Wonder-like scream on "Superstition."
The best number of the evening might have been Slim Harpo's "Te Na Ne Na Nu" as it gave the band some clever rhythms to work with. The Beehive has music throughout the week
The Beehive is located at 541 Tremont Street
www.beehiveboston.com