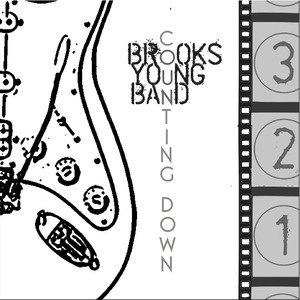 Brooks Young Band has released a satisfying debut CD called Counting Down. There are many good things that can be said it. The band manages to put out a quality sound by being tight with each other and then from there they just expand everything to make a huge, thick pleasing mix of styles into one big sound.
There is a such a smooth flow of notes in each song, indicating this band has been playing together for quite some time. Young's smooth as silk singing voice graces each track like a pleasant guest who shows up on time and keeps the day interesting and fun. He has a charming, likable, down-home something in his timbre that makes the listener feel like he's sitting down talking with Young in his living room.
"I Believe" opens Counting Down with an full-bodied R&B feeling from the keys and rhythm section that pulls the listener in and immediately involves him in its layered sound. Young's voice is so honey-flow smooth you like his sound right off the bat. This breezy, melodic, swaying tune has the earmarks of Adult Alternative radio hit all over it. This is definitely the work of a band on its way up.
The tune "Here For You" has a sweet contrast from edgy guitar phrases and Young's silky vocal taking its time unfolding this gentle love song. There's a sincerity in his vocal that makes you believe his proclamations to his beloved, and that alone could make female listeners take note. The Brooks Young Band is also a genre-defying act. They cannot be easily pigeonholed into any one music category. They have a rock and roll backbone, an country and western heart, an R&B fullness, and a bunch of other intangible qualities that is simply their own talents.
Title track "Counting Down" with its soulful organ, grooving rhythm section, tasteful guitar playing, and Young's softly sung chorus becomes something more than a possible hit song. It becomes very good music structurally as well as good in the catchy chorus, winsome melody of a popular song. Other musicians will dig this band as much as fans.
Young excels as a lead guitarist. "Last September" finds Young doing his thing in fine style. After a considered build up, he pays out a lead phrase that impresses for its edgy elegance. His six-string is a force to be reckoned with, one he keeps confidently understated.
"Pushing Up" gives keyboardist Dan Vitale the chore of filling sweet, washy, synths into whatever space he can find in this sweetly appealing pop-rock ditty. After Vitale's sweet joy, the listeners get another mountainous build up from Young. "Wake Up, Molly" gets its catchiness from an R&B groove backing Young's fast talking vocal approach, making it one cool song.
"By My Side" was written for the ladies. A slow dance vibe and earnest words of devotion will make every girl in the dancehall rest her head on her fellow's shoulders. Young turns in an restrained emotive guitar lead that makes you feel it more because of all that's restrained.
Young comes right into his "Back On The Ground" with a bristling guitar line, continues to pierce with melodic phrases that remind of Brad Paisley. Young 's influence as barely perceptible, which makes his music simultaneously recognizable and fresh. "Forever Now" reminds of late 1970s Eric Clapton. The melodic phrases are mildly bluesy but expansive enough to capture a more populated audience. Dual keyboards too remind of Clapton's extra layers of sound from three decades ago. Yet, Young doesn't wear his influences on his sleeve. He has forged his influences into his own individual creativity.
"Dream Away" slows the pace a little to give a breather in between rockers. Young composes these mellower pieces with as much craftsmanship.
Credit must also be given to one of New England's best backing bands: the flexible, rangy bass from Rachel Green; the adept, in the pocket drummer Blake Wayman; the dual keys attack of Jeff Leroy and Dan Vitale. Brooks will further his up and coming status with this CD. www.brooksyoungband.com