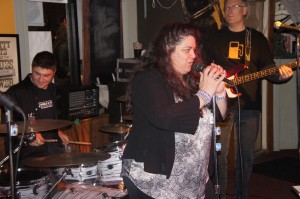 Lisa Marie & All Shook Up blues band provided the entertainment at the annual Halloween bash at the Village Trestle in Goffstown, New Hampshire last night. Lisa Marie was in rare form last night. Her voice has developed a raspy edge of the last two years and her she has expanded her repertoire of songs too.
She opened with "Little Red Riding Hood" with her bluesy voice sounding low and guttural, a little bit of a spooky feel to notice the Pagan holiday we all know and love. Her guitarist for last night's shindig, Silvertone Steve, lived up to his stage name by playing some of the best rockabilly lead guitar phrases in the area. Jim Lamond uses his nimble bass playing techniques to really bump these songs forward, with a little bit of groove circling around each forward marching smack.
Together with drummer Dana Bonardi, Lamond put out some heavy thumping grooves through out the night, giving dancers plenty of oomph to move their feet to. Just when you find yourself admiring the rhythm section for a while, Silvertone Steve would glide back in with another gorgeous lead phrase, a phrase dipped in rockabilly, oldies, blues, and a whole lot more.
Lisa Marie sang "Blues With A Feeling" in the way the song's title suggests, with plenty of lift from her rhythm boys while Silvertone Steven just kept picking off some tasty blues slide guitar notes. Lisa Marie has a song called "Hey Bo Diddley" on her CD that she threw into last night's show. Needless to say, Dana Bonardi whipped up that infamous drumbeat, a bumpy two-part ride of beats, and the rest of the band held their own against Bonardi's impeccable timing.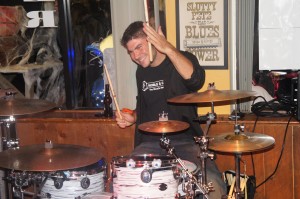 Lisa Marie found just the right moments in the space to sing out "Hey, Bo Diddley," and Silvertone Steven and Lamond worked in their own personal touches too.
The second set was marked by Lisa Marie's interpretation of "Mean Woman Blues," a tune once popularized by Elvis Presley. Silvertone Steve's rapid picking did justice to an oldies style boogie and "I'm Walking" gave Lisa Marie another chance to strut her stuff as she finessed her way around the groove of this song. The third set came after an interesting costume contest. A local resident won best costume for creating an exact replica of Elton John's top hat, sunglasses, red, white, and blue tuxedo that came with bright blue lights that were turned on all night.
Bass player Jim Lamond did a fine job singing lead vocals on Johnny Cash's "Folsom Prison Blues," his vocal phrasing full of similar down home grit as the original.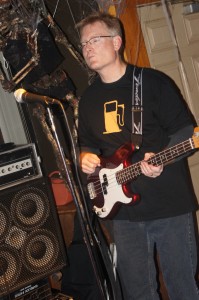 Aside from the band, there were many funky things going on at last night's Trestle Halloween bash. The Trestle's co-owner, Steve Pascucci, constructed a guillotine on the porch in front of the nightclub. Complete with blade, rope, and a bucket to collect from those who lost their heads, Pascucci had his head lobbed off every time he gathered enough people to perform his act. Later on, Pascucci used a harness and hoist to lift himself four feet above the floor in front of the band. He then hung himself using some special effects to make it look like he was really hanging by his neck.
Lisa Marie and All Shook Up closed out with a straight-forward take on The Beatles' Twist And Shout, a punchy number that got people moving their feet one last time.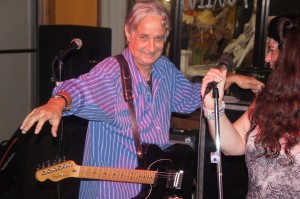 www.myspace.com/thevillagetrestle