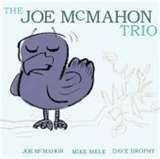 The Joe McMahon Trio have released a thoroughly enjoyable CD that makes the most of colors and tones as well as technique and feeling. Most of the originals and standards on this self-titled album are like a kaleidoscope of colors, different shadings that come into play at just the right moments. Each piece creates a vibrant sound portrait that informs how the artist felt while composing or arranging them.
McMahon opens this CD with his "Cosmic Coma," his own instrument, upright bass, leading the way. He uses a subtle application of his low end notes that only hint at the power and range he could pull out of those four strings. At the beginning, his numbly picked bass notes move gently, but steadily forward. The tone and steadiness allow guitarist Mike Mele to play his sublime, tasty melody line with each note having a life of its own.
Drummer Dave Brophy is in fine form from the opener too. He whips up plenty of color and tone playing around the low end's pulse. Brophy, like an artist using just the right brush strokes, carefully crafts his contribution to the sound.
Standard "I Didn't Know What Time It Was" moves along with a skip in its step as the even-tempered energy takes it time unfolding. McMahon's bass tap dances around the melody and the drum brushed percussive sounds. It's amazing how well Mele can create a personality in his guitar melody. His instrument politely introduces itself and walks its guest around its garden.
"Alice In Wonderland" feels like a children's story with Mele sing song guitar melody sweetly tip toeing around a gentle beat. McMahon really knows how to create an accurate backdrop for the melody instrument to traipse across. There is such firmness to McMahon's playing that it gives this tune a feeling of parental narration, and, his colors and tones create a feeling of make believe world possibilities.
McMahon composed "Dizzy Days" as a tribute to 1930s trumpet player Dizzie Gillespie. There is no denying the Gillespie influence in the vast number of notes being picked and smacked. The piece is an adrenaline rush as you try to follow what each of the three are accomplishing here. Mele is the drag strip racer, steering his up-tempo notes carefully around sharp curves.
Possibly inspired by political intrigue and national turmoil in West Africa, "Appointment In Ghanna" has an opening tone suggestive of furtive glances and down turned fedoras. The musical mood soon turns to festive jubilation. Adept guitar picking and nimble bass plucking simmers down in intensity but keeps something brewing just below the surface. Drummer Brophy's prolonged drum solo is a masterwork of technique and feeling.
Dexter Gordon's "Cheese Cake" gets an inspired treatment. Bass and guitar strut assertively forward. There's a rock and roll feel in this number. Aggression and edge are good things here, forcing the improvs to keep up with each other. This creates sparks as McMahon and Mele continue to pay out their notes.
Another McMahon original "Waltz For Dorothy" has a sprawling sound and gentle feeling. In this brushed drum number, McMahon conjures a sense of largeness in his fat, thick low end notes, each carefully chosen for fullness, a fullness that builds to a greater whole with Mele's sweet, high melody. The melody has a sense of largeness that makes you able to picture a hundred pairs of feet dancing slowly in a huge dancehall. The piece is further testament to what this trio can do with colors and tones and shadings.
This CD closes out with "Yaeko." McMahon keeps a low rumble as a backdrop of soothing tone. Over it, a breezy guitar melody glides with a sweep that's pushed by that same backdrop. It is amazing how often this trio constructs the perfect sound in this manner. At the end, you feel you've been treated to seven minutes of technical craftsmanship and beautiful artistry. There is a never a lull in craft, feeling, inspiration, and color on McMahon's CD.

Follow me on Social Media!