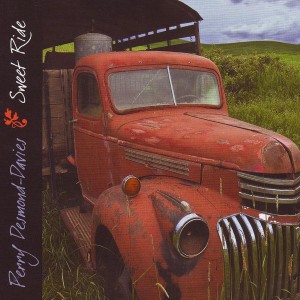 Perry Desmond-Davies writes and sings some of the best acoustic singer-songwriter material to come out of her home state of New Hampshire. After working up her courage to sing publicly, Desmond-Davies embarked , 14 years ago, on a very fulfilling career. One listen to her voice will make a believer out of anybody. She simply launches one of the most powerful, heartfelt vocals this side of the Mississippi.
Her latest CD Sweet Ride is a cruise through her life story, each song a road stop at her personal historic landmarks.

Her title track is graced by her sweet, honey vocal flowing around Matt Leavenworth's joyful fiddle. Combined with Seth Connelly's banjo and guitar, this creates a thick twisty mesh of acoustic beauty. This singer's country flavored vocal is like the shiny cherry atop a sweet confection. The song just take you along with it as it glides along with an easy going grace

Desmond-Davies covers Karla Bonoff's "Lose Again" with a mellow piano ballad approach. Desmond-Davies voice has true lift, rising above the emotive piano. She holds a note and takes her song into that level of art where songwriters wish to be.

The very meaningful song "Nobody Cares" finds Desmond-Davies showing more of her heart. Her voice is full of compassion for the people she sings about. The scene is a support group for women afflicted with health issues and it is clearly a cause that cuts close to home.

Desmond-Davies executes a flawless a cappella number "Eyes Wide Open" and also gives an earnest reflection of single life. The listener can feel the singer's yearning and regret. She also entertains with her voice as it carries this tune all by itself. Her voice is pure and powerful, recounting her explosive and mystical interaction with the right person. Listeners will be stunned by the forceful reckoning.

"Lost Time" is solid for Desmond-Davies beautiful instrument of a voice over her piano and acoustic guitar. Her voice, so full of beauty and emotion and expression, you believe her when she sings the line "I want the world for you."

Contemplative and thoughtful, "Beautiful Child" blows past the ear like a warm summer breeze. Desmond-Davies's vocal, more plaintive here, pleads with the listener to share appreciation of tender aged people. The intertwining acoustic guitar notes that support the vocal track build into their own arcs at the right moments and the sensitivity of the playing styles is uncanny. Bernadette Weimer's pristine, sharp backing vocal gives this song another layer of art and beauty. Weimer hits the refrain and it's like magic.

The steady, even-handed, confessional "Irresponsible" expresses a single adult's need to be in the moment of anticipation and joy for one long night. The song is honest and universal and the singer puts it across with direct sincerity. The "I am what I am and it is what it is" philosophy comes through loud and clear. The sound quality also shines here. You can almost visualized Desmond-Davies hitting each note with her pick as it sounds so sharp. Seth Connelly supplies an edge with his pristine guitar line that forces the music to double back on the lyrics to reinforce the rugged truthfulness.

Her love song "Longer Than You Know" finds this singer again wearing her heart on her sleeve. Her voice is full of the lament of unrequited and unspoken love and she makes you feel it. A forlorn piano melody grabs you by the heart while the singer informs you about what's been going on. Again, the singer makes a powerful impression with her vocal ability, sustaining her emotive notes, wringing them out for all their worth, and they're worth a lot. Connelly's piano and Desmond-Davies's guitar do not support the voice track as much as add layers of perfection around it. This voice doesn't really need support. It is like a wind instrument with a lot behind it.

Another interesting cover is Sonny Boy Williamson's "One Way Out." Desmond-Davies is quite strong on this bluesy-roots rendition. Employing a mild rasp, her voice flirts playfully with Hatrick Gallagher's thoughtful harmonica line. It certainly doesn't hurt that Connelly anchored this entire duet of winding voice and slip sliding harp with a graceful, persistent bass line.

Instrumentation counts a lot too on this album. Connelly's banjo on the sarcastic "The Happy Song" is worth its weight in gold. Those quick, brief notes just push forward with earthy, rootsie aplomb.

There are three worthwhile bonus tracks too. Yet, the strength of Sweet Ride is the power of Desmond-Davies voice and a lot of tasteful instrumentation from Seth Connelly and some other fine players. Connelly produced, recorded, and mastered this album at his Humming Lake Studio in Brookline, New Hampshire. The sound he captured for Desmond-Davies should fill his inbox with more business from other acoustic-based artists.