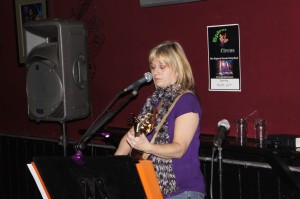 Sandy Lee Casey just turned in a fine Sunday night performance at Whippersnappers in Londonderry, New Hampshire. Going it alone with an acoustic guitar, Casey got by on some solid strumming and the sheer power of her esteemed vocal ability.
This singer only offered one original song but her take on numerous well-known cover songs showed her to be several cuts above standard-faire. That was because Casey has been singing in well paid bands for many moons.
Casey came out of the gate kicking with Loggin's & Messina "Even Though We Ain't Got Money". It's a treat to hear a singer who has such a strong voice and can do so much with it. Her timbre was rich and slightly rasped, in good form for someone who had just performed the two previous nights with her dance-party-band Synergy.
There was a persistence in her voice that made "Sounds Of Silence" into a killer anthem. Casey displayed much range riding up parallel to the chord progression in "Angel From Montgomery." She also nailed the music, picking melody and low end notes with a high degree of musicality.
Casey is a natural born entertainer, confident, comfortable in her own skin. Her stage presence allowed her to gently dominate the easy going Sunday night vibe. She fit right in with the crowd who were likely unwinding after a fun weekend.
A sensitive artist, Casey was most at home with singer-songwriter material from the 1970s. She went into Carly Simon's "That's The Way I've Always Heard It Should Be" with elegant and precise vocal phrasing, controlling the arc of this long, moody work. At this point, several toddlers and small children approached the microphone to greet Casey, mid-song. Casey paused to acknowledge them and laugh, as there wasn't much else she could do. A season performer, she went right back to where she left off.
Sheryl Crowe's "Are You Strong Enough To Be My Man" gave Casey yet another chance to show her musical muscle. Her svelte voice cruised through the plaintive lyrics as she also did on Shawn Colvin's "Sonny Came Home."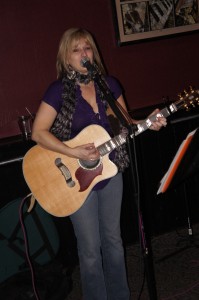 Don't think for a minute that Casey can only tackle material from female singer-songwriters. If she gets a hold of any sensitive, emotive song, she can make it her own. She captured the forlorn sadness of Neil Young's "Needle And The Damage Done." Much like a theatrical actress, Casey embraced the emotion of the song, launching it across the room to effect anybody who has ears and a heart. Likewise, she nailed the strident urgency of "Ohio," taking the protest song to new places by focusing on how the song makes her feel and bringing it to a stature beyond protest.
Casey combined eloquence and power during a host of songs, like Elvis Costello's "Alison," The Beatles' "Norwegian Wood," and Snow Patrol's "Chasing Cars." It doesn't matter which song or what decade the song comes from. Casey can feel it and bring it forward. She can also move from moody material like Simon's "Legend In Your Own Time" to driving songs like KT Turnstall's "Black Horse And The Cherry Tree" without losing the oomph particular to each. She finessed the words to Joni Mitchell's "Big Yellow Taxi" with surprising control over her dynamics before moving into Robin Lane tough girl material.
It should be noted that Casey's daughter, Casey Williams, had joined her mother for quite a few of these numbers and has a powerhouse voice for age 12. All in all it was a night good entertainment and a high degree of musical and vocal integrity.