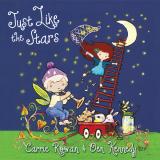 Carrie Rowan and Oen Kennedy have put together a delightful collection of new songs for a children's album titled Just Like The Stars. Rowan's sweet, supple voice could likely find a welcome home in the eardrums of little listeners. Her acoustic guitar playing too lands softly on the listener, making this a mellow album for older listeners to enjoy.
Kennedy, on his numbers, puts across his educational tales so they can find a fascinated audience among school children and just about anybody who likes good acoustic music. His voice reaches new heights of sensitivity as he sings of interesting animal life to children who may be learning for the first time about anteaters and rhinos.
Like on the better singer-songwriter albums, Rowan and Kennedy offer the solid strumming and the paced build up of a song that lets each story have its affect on the ear before settling into the heart. When Rowan holds a note, it is candy for the ear. When these songs unfold with integrity, they respect the listener's intelligence.
"Ladder To The Stars" finds Rowan applying her girlish voice to an astronomy lesson and she sings an especially appealing ode to a bird on "Great Kiskadee," a species with a beautiful yellow belly and chest. Rowan, backed by Lori Diamond in the vocal department, offers up a lovely, detailed description of this bird and she makes you picture his flights in the way she unravels her view of it in the open blue.
"Pangolin" is a salute to the anteaters one would find in East and Southern Africa. Kennedy, in his sing song approach, narrates a tale of these scaly critters and paints an interesting picture of the little fellow. Children will surely be moved to sympathize with the pangolin as he searches for something to eat. The song also goes into Pangolin's relationship with his mother. Oen builds this song with a mighty strum that creates a sense of respect for the anteater's great uniqueness.
All of these songs, despite the lyrical themes, are constructed on a level of songwriting architecture. "Quiet Night On The Moon" is a fanciful treatment of a neat-o science lesson that Kennedy sings with an enthusiasm that will get youngsters motivated to check out the moon. The song's percussion patterns are intricate and sparse, making a patter that brings the tune into a level of musical respectability. Percussion here also lulls the listener in without distracting from the gravity of the song. Gravity is the subject matter and Kennedy wraps it up in warm, fuzzy images, like being weightless enough to jump over a crater.
Rowan reminds children that it is all right to clap, finger snap, and dance to music in "My Body Is An Instrument." You can picture the children in an elementary school class learning about rhythm as they move to the sound. The song uses a lot of fun rhythms to get the point across about slapping one's knees and several other ways to keep time.
"The Bee Song" probably should've been taught to Oscar The Grouch before he grew up and became so unfriendly. "The Bee Song" is about being nice as well as how bees make honey. The vocal is inviting, sincere, and never patronizing as it explains to children that they need to spread love around as bees spread life to each living thing in their world. Coos, backing vocal, and the guitar are all tastefully applied, and this one could be used as a call for world peace as well as a colorful story song.
My personal favorite on Just Like The Stars is Oen Kennedy's "Mr. Rhinoceros." The tune has an irresistible country flavored strumming style and a clever two-step shuffle. The rhino character is well described for young listeners and a rolling bass line will help kids to picture the stumping, lumbering footsteps of this huge animal.
"Armadillo" glides by the ears with the gently loving tone of a lullaby. Kennedy puts a special caress in his vocal and in his appealing whistling. It's about a baby armadillo who needs her nap, and who dreams while in her mother's care. The armadillo's dream sounds more like a human child's dreamscape of clouds and other warm inviting images.
Rowan closes out the children's CD with a lesson about the similarities between the stars and people. We are all made of the same atoms and Rowan graces this we-are-all one theme with her lovely, sustained coos. Her piano underneath the vocal could work as a lullaby in its own right. Regardless of what genre she writes and records in, Rowan has a one in a million voice that kisses the ear with silky smooth grace and warmth.