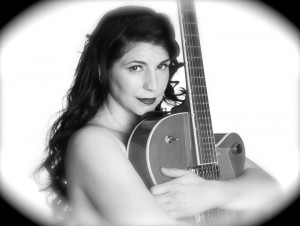 Malyssa BellaRosa has been heating up Providence nightclubs, off and on, since the late 1990s. After a decade fronting all kinds of bands, BellaRosa is now a solo artist working on a CD to be released under her own name.
BellaRosa's years of hard work have been paying off lately. She's been nominated Female Vocalist Of The Year and her duo project Fall And Bounce has been nominated for Best New Act by Motif Magazine in Providence, Rhode Island. Fall And Bounce, with music partner, Bill Reed, formed when they met less than a year ago at the now defunct Everyman Bistro. Fall And Bounce are already working on their second CD, due out this summer.
"I feel really good about it because, especially with Fall And Bounce, we've pretty much just started, so to be noticed this early on is very encouraging," BellaRosa said. "I love to sing so that to me is a huge honor and a lot of the other nominees I know and I've know for years out there. I feel honored to be with such a great group of women that I really admire, truly."
BellaRosa started her career in the Providence area playing in a band called S & M for a few years. She's also a solo acoustic performer, belonging to Risa(Rhode Island Song Writes Association), for whom she also plays gigs.
"It's really good for singer-songwriters," she said, "because you can get out there and be with anyone from people who are just beginning to people who have been doing it for 20 to 30 years. You couple up and do gigs with singer-songwriters, and they're usually good venues, and people are going expecting to hear original music."
BellaRosa was playing organ before she reached middle school, and she sang in school chorus. Growing up, she had an older sister who is also a singer. BellaRosa started writing songs at a young age, as she was navigating life's twists and turns and emotions. "Music's always been very cathartic to me. Its always been really helpful in getting through tough times," she said. "If I walk into a store, the first thing I notice is what they're playing," she said.
BellaRosa has been inspired by singers like Donna Summer, Pat Benatar, Karen Carpenter, and Carly Simon. In the 1990s, she got into PJ Harvey, Portishead, and Nirvana.. Nirvana inspired her to pick up guitar. "I was at the perfect age for it too, very angst," she said.
As someone who remembers always writing songs, BellaRosa looks at music from a songwriting perspective. Her next CD might be named Music Is My Soul, after one of her songs. The CD will have a range of moods, from song to song.
"I feel like it's really in me, and I applaud people who do music," she said. "I'm very enthusiastic with it. I like supporting other people. I like hearing original music. Anybody who gets out there and does it, and is pure and honest, I have total respect for."
Once BellaRosa started playing guitar, she just started writing songs. At one point, she attempted to play covers but she couldn't stay focused on those hit songs that everybody already knows. But whenever she sat herself down to write her own material, she'd have a few new songs in a couple of hours.
"It wasn't planned, it just kind of happened that way," BellaRosa said. "My lyrics are inspired by life and things that have happened to me and other people and anything I just needed to get out. I've always written poetry, just to kind of get it out on paper and it was kind of melodic and rhythmic."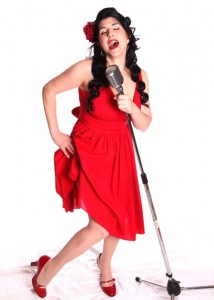 BellaRosa performs only a few covers in Fall And Bounce. She sings her own style and arrangement of Culture Club's "Do You Really Want To Hurt Me." and she and her partner Bill Reed throw in a few Led Zeppelin covers.
Her own music is hard to label. One of her Fall And Bounce songs, "M," is a folk rocker and her own tune "Hide Yourself" is a hard rocker. BellaRosa just expresses herself based on how she is feeling at the time. "I don't ever start out to say 'Oh, I'm going to write a folk song or I'm going to write a heavy song,'" she said. "Everything is written on the acoustic guitar and later on it's more of an electric song. The band I was in way back when, it was alternative rock. It was heavier music, but you can always break it down to the acoustic, and that's usually how it originates too."
BellaRosa still manages to weld her folk-rock and hard-rock into her own individual sound, despite running the gamut of emotions and moods and genres. "It's got a common denominator," she said. Her voice is what she feels holds the whole thing all together.
BellaRosa has a specific plan as she records her upcoming debut solo CD. She is working with a producer who can play every instrument. Producer George Dussault, owner of Galilee recording studio in Cumberland, Rhode Island. BellaRosa tapped him for her project after she heard the backing tracks for his band Viking Jesus. "We're on song number six, and it's just working out really well," the singer said.
Having a one man band as her producer is a boost to BellaRosa's new found freedom as a solo artist. Previously, she was the singer-songwriter of a band, but she is now more comfortable without needing the whole group behind her. Still, she likes to do both formats, herself with just a guitar as well as fronting a band.
"It is really nice to have a band because I feel more free," she said. "If I'm playing and singing, I have to really focus on everything, the music and the vocal. If I have people backing me up, and If I have their energy, you have chemistry."
Her project Fall And Bounce with Bill Reed plays out as an acoustic duo and also with a band behind them. Reed writes the music and BellaRosa writes the words. They hit rooms like The Apartment in Providence in their band format and they'll be hitting the Newport Sunset Series as a duo this August, 2011.
When asked to site a memorable moment on stage out her many memorable moments on stage, she said they're were just too many to choose from. Instead, BellaRosa just focuses on good, solid performances. Two weeks ago, BellaRosa and Reed did a Fall And Bounce show with "the whole band and everything just went really well," she said.
There is a simmering dramatic build up in a Fall And Bounce song titled "Controlled Tension Time Bomb" that BellaRosa wrote the lyrics for. "I love dynamics," she said. "I don't like listening to things that are always all the same," she said.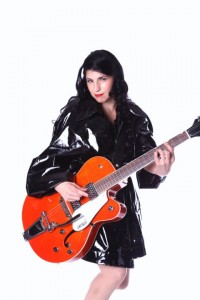 Many say that BellaRosa is totally "on" once she gets up on stage. It comes natural, she said, since she can't do it any other way. "That's why I don't do cover songs, because I don't feel the way the songs feel. I have to be in the moment, or it's not going to be authentic, and I can't not be real. It's not worth it to me. You have so many things in life you have to do. This is something I don't have to do. I don't find it like a duty type of thing. It's more of a release, and I have to have that release. It balances out everything else."
Aside from singing and playing, BellaRosa has taken up gypsy dancing, a new hobby of hers, along with her old hobby photography. In some of her publicity photos, she can be seen wearing a red shawl that is twirling around her as she was moving. The pictures are from a show she performed at The Dancing Spirit in Tiverton, Rhode Island.
She was performing a free style gypsy veil dance. BellaRosa is being mentored by a friend named Belladonna, who also plays percussion in a Middle East music styled rock band in Providence. "She's a belly dancer and shes' been guiding me in that," BellaRosa said. "I started taking it as fitness and then we just started getting together on off nights. It's just another very freeing, fun experience."
BellaRosa is singer-songwriter-guitarist on a mission. Her zeal to pursue her art should pay off in spades when she finishes up her debut solo CD.
www.reverbnation.com/malyssamusic