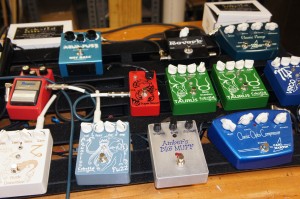 Celestial Effects has only been around for about a year. Yet, the new company that manufactures guitar tone pedals has already sold their pedals to clients around the world. They are also half way through designing and marketing their first line of products.
A division of 40 year old Thermalogic, designer and manufacturer of high end temperature controls and temperature sensors, branched out into guitar pedals when company engineer Domenic Mancini approached Vice President Joe Grein with the pedal idea.
Mancini had been modifying effects pedals and building his own for 25 years. Mancini, a devoted gear head, also did some custom work for local musicians like Chris Fitz and Gino Caria of GC Sinner. His friends had been telling him for years that he should build his own products.
"I've been modifying since I was 18," Mancini said. "I'm always on the quest" for the perfect tone.
Grein, who once played keyboards for surf-rock band Spy, pondered it, did his market research, and studied his manufacturing logistics.
Celestial Effects was then born, as a subdivision of Thermalogic. Celestial Effects is marketed as its own independent company. Mancini designed the new products around components the plant already stocked. "We're still making circuit boards, putting them in a box," Grein said. "A pedal is no different than a thermostat."
Celestial Effects started its new product line called the Zodiac series. Each of 12 pedals will be named after signs of the Zodiac. Five pedals are currently on the market: Taurus Blues Overdrive; Virgo Rock Overdrive; Capricorn Rock Distortion; Scorpio Super Boost; and Aquarius Fuzz.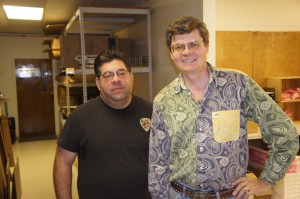 New product Aquarius Fuzz has been very popular among bass players. "It's our second best selling pedal. It's been on the market only six weeks now," Grein said. Bass players have been snatching them up.
In the works is the Gemini Vibrato Tremolo Reverb Pedal. Celestial Effects relies on the same production standards as the durable products they make for the military. "We're building all of our pedals to military specifications," Grein said. "Next year we plan to come out the with the next six pedals, which will be the other six signs of the Zodiac."
An ambitious division, Celestial Effects will also plan to build, in 2013, integrated pedal boards with integrated power supplies. Some pedal boards will be small with five or six pedals. Others will hold up to 24 pedals.
After the Zodiac series is complete, Celestial Effects plan to launch a custom pedal division, catering to high end musicians who want to get a pedal built exactly the way they want it or a combination of pedals. "Maybe they don't like the Scorpio the way it is and they want a Scorpio and a Taurus in one package in a blue case," Grein said. Thermalogic has always believed in custom made products that meet customers' specific needs.
Celestial Effects products are designed, engineered, and manufactured right at their Hudson, Massachusetts plant, and the products are sold online from their website store. The unique business model is convenient for the customers. "We're basically shipping the day you ordered," Grein said.
To date, at least 200 musicians have purchased pedals from Celestial Effects. The Celestial Effects website has a list of some of the artists(and their bios) who use their products in live shows and or in recording studios.
"What's great about it is, they want to be up there. They love using the pedals," Mancini said. "They found something that they enjoy using."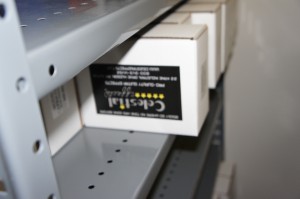 There is no formal endorsements between Celestial Effects and their customers. Grein said Celestial Effects is not interested in endorsement deals that would obligate artists to use their stuff exclusively. In fact, Celestial Effects will tell customers where they can find products that they do not carry.
Celestial Effects will soon be marketing their products more aggressively to artists around the country. The pedal makers have been advertising locally but come October, Celestial Effects will running their advertisements in Guitar Magazine, Guitar Player, and others. Boston has been a test market for these products.
"We've actually shipped to 24 states," Grein said. "As a matter of fact, we've sold more pedals outside Massachusetts than in Massachusetts, and we spend all of our money advertising in Massachusetts."
Celestial Effects was initially going to be called Zodiac Effects, but Grein's wife, Scarlett Star Featherfoot, came up with the Celestial appellation so it could encompass more, as the Zodiac is only going to cover 12 product names. They might eventually name effect pedals after planets or figures from Celtic mythology.
Celestial Effect's parent company, Thermalogic, constantly receives contracts that put pressure on the company to get orders done within a timeframe. Yet, Celestial Effects does not operate under that demanding pressure. Grein recognizes that Mancini is a creative being who cannot work within the same timeframes as the parent company's. "I have to love it. My artists have to love it. It's got to be different," Mancini said.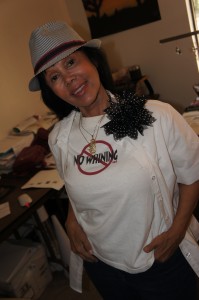 A tour of the Thermalogic plant found a few dozen employees at their work stations assembling circuit boards. There were also several rooms with shelves loaded with wires, circuit board materials, and Dom's workspace, which had guitars, a pedal board loaded with pedals, and some things still under construction. At one point in the tour, Grein showed a device that controls the temperature used by Levi Strauss to pre-wash their pre-washed jeans. He had another device that controls temperature to one tenth a degree so a firm could cut electrons.
"When Dominic started designing the pedals we already had all this inventory lying around," Grein said. The Thermalogic assembly staff work all day assembling circuit boards. The pedals are another product for them to assemble with circuit boards.
For the body of the pedals, Celestial Effects designs them and provides the artwork and then has an outside firm construct the shells. In house staff artist Kathleen Donahue was on duty and Grein said the artwork comes "from her mind." She blushed.
Grein and Mancini prefer to be a factory direct business because they do not want to consign merchandise to a large retail chain. If each store in a chain wants ten pedals up front, Celestial Effects would be laying out several thousand dollars worth of merchandise and then having to wait for the retailer to sell them to customers before they got paid for their product. "I'd have to tie up all that money with them," he said. "I chase the money for Thermalogic as it is."
Grein said his company prides itself on making everything in the USA. Celestial Effects also has a 30 day money back guarantee no questions asked and they have five year warranty.
Clearly, Grein, Mancini, Donahue, and Featherfoot are going to be as busy as the guitarists and bassists who have a ball with their pedals.