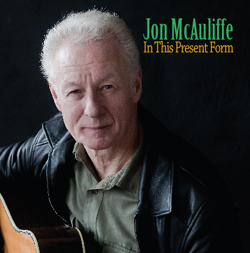 Jon McAuliffe has found communality among Americana roots music, and he infuses the songs on his new CD with plenty of spiritual ebullience. In This Present Form offers plenty of thoughtful lyrics and pretty melodies. McAuliffe is a reflective, progressive minded man with serious spiritual beliefs.
Songs like "I Am The Stone" and "Jack Jack" reflect his interests in literature and in a spiritual life. McAuliffe also makes clear his concern with hyperactive but shallow modern day religious prophets and preachers. Yet, instead of condemning, he celebrates all that he sees with his keen observational eye, knowing that human aspirations always walk hand in hand with human misfortune and weakness.
In This Present Form opens with "Southern Special," a pedal steel enforced tune in which McAuliffe reveals a smooth pleasant timbre that he easily rides over the melodies. He maintains a careful balance between singer-songwriter reflection and roots musician groove, succeeding at both.
"Gotta Get Back to Memphis" mixes cool honky tonk piano with a gentle vintage blues guitar. Riding along at a jaunty pace, McAuliffe puts true feeling into his longing for this once great music city. "When The Lights Go Out" begins as a bopping, quiet blues number that McAuliffe eventually builds into a rocking lounge tune with feisty electric guitar.
Gently piano ballad "Once Upon A Time" unfold with many layers of emotion, lyrically and musically. When McAuliffe shifts dynamics or holds a vocal note, the listener is drawn deeper into his meaningful lament.
Don't think that because McAuliffe is a singer-songwriter that he is too serious to have some fun. "Tear Down Every Wall" is a smashing combo of blues, gospel, and social protest. Brimming with energy and vigor, McAuliffe swings into action when he calls for people on different sides of fences to get together as people, not to divide themselves into different camps based on race, gender, religion, and political party. Don Croad's drums, Seth Connelly's guitar and bass, and harmonies from Robin Winter, Bernadette Wiemer, and Jenny Jones turn this number into something, like a great soul song, that jumps and shouts with soulful abandon.
"Let Your Light Shine" is a tighter spiritual cry than "Tear Down Every Wall." McAuliffe's lead vocal builds like a lantern turning up its flame, its oomph just as strong but less layered, more compact that the previous number. "Maria" breezes by like a warm summer day. The pedal steel melody from producer Seth Connelly is a gentle reserve of emotion that McAuliffe, with his mellifluous lead vocal, glides majestically over.
"Head In The Clouds" is marked by Rebecca Cline's beautiful piano playing and Patti McAuliffe's lush harmonies. "Jack Jack" is a fun but heartfelt ode to Lowell, Massachusetts native and novelist Jack Kerouac. The warm harmonies on "Patti's Song," McAuliffe's ode to his wife, has a special freshness to it, not imitating any other kind of love song.
"I Am The Stone" is one of the more layered tunes on this CD. Bass, drums, Hammond organ, and harmony vocals from Lyn O' Conor-Ferguson and Stuart Ferguson drape this number in dollops of tender notes and gently rhythms. You can't help but to try and dissect this song by each instrument or voice to see how each is contributing to such an overall pleasing effect.
"On The Other Side" is an ode to McAuliffe's mother who has become safe from emotional and physical harm when her soul comes to reside in a better place. Seth Connelly's mandolin ticks with nice emotional heartiness beneath McAuliffe's loving vocal embrace. Talk about a song that has heart and soul, recalling a loss with joyful hope rather than sappy, maudlin sentiment.
In This Present Form should go over well with fans of the singer-songwriter and roots genres as well as those seeking spiritual enlightenment.