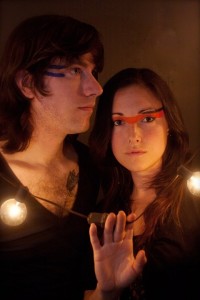 Nikki Dessingue, of Stereo Telescope, an electro-pop duo with Kurt Schneider, is a natural born performer. Growing up, she was an athlete, a dancer, and a gymnast.. Aside from her vital stage presence, Dessingue is also a synthesizer player and she has formed a dynamic partnership with multi-instrumentalist Schneider.
Stereo telescope started off year and a half ago. Both were into two other Boston bands at the time. They'd known each other for a while, playing shows at the same venues. Schneider invited Dessingue to add some vocals to some pop songs he was writing for publishing.
"The song we worked on ended up being Stereo Telescope's first single," she said. "It's called 'Geography.' We just went from there. We just loved working together. Within four months we went on a first tour together. We just kind of threw it together. Both of our other bands were breaking up at the time. My band was supposed to head out to South By Southwest. His band broke up and my band ended up canceling the tour because the drummer couldn't go."
"Kurt and I were just like, 'Well, we've got all of these shows all the way to Texas, so let's finish up our last set and go.' We've been nonstop with this band ever since."
It was a bold venture in mid-winter 2010. "We took Kurt's band schedule and we contacted all the venues and stuff and we turned it into a Stereo Telescope tour, probably only four months since Kurt and I had started working together. We went on tour with maybe six songs."
That was last year. Recently, Stereo Telescope just came back from the 2011 tour of South By Southwest. Things have been moving pretty fast for the duo. The two have been nominated for a few honors around Boston within the last year.
Dessingue sings and play keyboards. Accomplished multi-instrumentalist and technician Schneider Kurt handles all of the programming, plays guitar and bass and some keyboards and co-lead sings with Dessingue.
Since graduating from Holy Cross in Worcester, Dessingue has done a lot of work in Boston, playing in city bands Where The Land Meets The Sea, The Campaign For Real Time, OK Thursday, and a few others. Her mother has told her she started singing as soon as she could talk.
"My mom said I could always hear a song and could sing it," she said. "In high school, I was in the concert band and I played alto saxophone. That's the only instrument that I've ever trained on. I played that for about eight years."
It was in high school that she decided to sing in a band, as she had previously only been a solo singer, singing the national anthem and ballads with the school orchestra. She always wrote her own songs, melodies, and lyrics. "I could always play things by ear a little bit on the keyboard," she said, but I was never trained because I was an athlete through all of my spare time. I was always a tri-sport athlete."
She started teaching herself keyboards in college. Instead of going down the road toward singer-songwriter-piano player, she became interested in synthesizers. She envisioned using synths as an addition to a band instead of her and an instrument. "It was a different way of doing things, but I just taught myself enough to be able to add to a band," she said. "I formed a band in college for a little while, and then moved to Boston, and now it's all I want to do."
She now owns a few "machines" and her duo mate Schneider owns a few too. She feels she has come pretty far but only considers herself "still definitely just mid-level self-taught." Singing and writing was always her true passion.
Most of her inspiration for her keyboard playing has been modern guitar rock bands that feature keyboards, Tom Petty and the Heartbreakers, The Cars, and Bruce Springsteen. Growing up, she heard in the house her father's classic rock record collection from the late 1970s, in her tiny little village in upstate New York.
"There's not a lot of a music scene there. I started getting into indie rock and pop-punk in the middle of high school," she said. "I discovered bands like the Get Up Kids. When I left for college, that's when I started getting into more of the indie side of things. I fell in love with Eric Smith."
She never took to other instruments. She tried guitar a few times but much preferred singing and playing a synthesizer underneath her voice. "I guess I just liked the knob-turning effect of it," she said. "As a musician I'm very melody and lyric-driven, and I always found the synthesizer to be the most reflective of an actual voice. When I hear something in my head, I don't think in chords and backbone structures like that. I think in words and melodies and some lead lines here and there. I kind of went backwards. I didn't learn the basics. I started with trying to transcribe things I heard in my head onto the keyboards. A lot of the things I come up with are often very vocally based. I think that's why I really like the manipulations of a synthesizer is that it kind of felt like singing."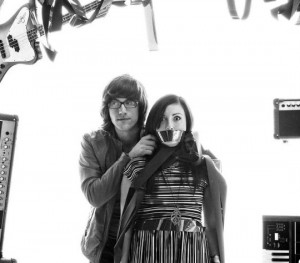 At the present time, she is trying to learn some cover songs by The Lyres, The Modern Lovers, and The Cars, for the upcoming Boston Phoenix award show. She will be playing keyboards for the evening's house band, The Bodega Girls, which requires her to learn 18 songs to perform that night at Brighton Music Hall, June 15, 2011 at 8:00 p.m.
It is a challenge for her because she is such an unorthodox keyboard player. Because she doesn't' have the background of other keyboard players, she has to transcribe several songs from those old Boston-based bands from the 1970s. Those bands, except for The Cars, never became household names, and their material tablature is not available online.
"You just have to listen to these old tape recordings and try to check out what they're playing," she said. "It's a really fun, sometimes frustrating, but very challenging project for me to be doing. I'm learning a lot of organ, which I'm not that familiar with. I'm learning a lot of multiple keyboard songs where I get to use three of my keyboards at the same time. I can't give away the whole set because it's a surprise."
Aside from playing with the awards show house band that evening, her band iss also nominated for some awards to be given that evening: Best Electronic Band and Boston's Best New Act. Stereo Telescope were listed in a January issue of a writer's Top 11 Bands in 2011 article. Stuff Magazine named them Boston's Best Electronic Band and the duo were nominated for a Boston Music Award.
Some music fans and critics dismiss electronic pop as soulless, but Dessingue feels that the amount of soul that is in any project has more to do with the players than their equipment.
"We're lucky to have access to so much different technology to create more and more sounds capes to express ourselves," she said.
"This band has opened up probably the most emotive period of my creative career. This is definitely my most soulful, the most emotive I've ever been, and I think it has to do with who you're working with and what topics you're broaching, rather than what medium you're using. You can get just as technical with guitar pedals, and amplifiers, and sound equipment as you can with the type of equipment that we're using. It's just another benefit to create new sounds and new rhythms and try and do something a little bit different. It really allows us to have lots of different processes when we're creating something. Each song is created differently. Sometimes we start with a beat. Sometimes we start with a vocal melody. Sometimes we'll just build an entire instrumental and then add vocals. There's so many different possibilities. Sometimes we do start organically. We've got songs that we just wrote with a guitar and a voice. You create an electronic backdrop. You can do anything you want. Having two very emotional and self-aware writers in the band, you're going to come up with something soulful not matter what you're using to write it."
The duo uses a custom built computer with Ableton Live, which they use for looping, tracking, and drumbeats. They also have a midi board called ABC-40, a midi controller. Dessingue plays a micro Korg, a small (analog model) digital synth. Schneider plays guitar, bass, and a Roland Juno keyboard.
Dessingue and Schneider have released a few singles since beginning in 2009. Schneider is currently on tour, running sound for Brandon Perry from Dead Can Dance and Robin Guthrie from The Cocteau Twins. Once he returns to Boston, Stereo Telescope will go back into the studio to lay down more tracks.
"We have a lot of songs in the holster just waiting to be laid down in the studio," she said. "That will be the next step for us, to get a bunch of things tracked and mixed. We're hoping to get something this year."
Dessingue intends to take Stereo Telescope to the distance. "I'm throwing everything I have into this project, and into becoming a better performer, because ideally, I'd like this band to become what I do for the rest of my life. I would really like to be on the road the majority of the year. I'd love for us to put out albums. The possibilities are endless because it's just the two of us and we're a really close partnership. I trust him whole-heartedly, and we're both really inspired by each other's perspective. I would ideally like this to go everywhere. I'd love to travel all over the world and just play this music."