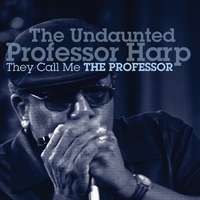 Professor Harp's debut CD introduces the veteran Boston singer-harmonica player with its cool title, They Call Me The Professor. And "professor" is a title Hugh Holmes has earned. Muddy Waters, during a Boston gig, called Holmes "the professional of the harp" and Solomon Burke, when he too was in town, called Holmes Professor Harmonica. With those accolades from those legends, it made sense for Holmes to combine his monikers into one easy to remember nickname.
Of course, Holmes has been displaying his musical credentials in the greater-Boston area for several decades. He has made himself a popular staple in the local blues scene, well-respected by critics and fans, feared by some music business types who made the mistake of trying to do him wrong.
The most striking song on They Call Me The Professor is "Fightin' The Battle," a tune written by Holme's guitarist Tom Ferraro but inspired by the professor's life story. Not only does the song reflect Holme's frustrated rage with the racial injustice he has obviously suffered, it expands thematically into an expression of the tortured soul of black America.
"Fightin' The Battle" waltzes majestically in like a bucketful of soul and blues carried by icy cool piano melody, a determined rhythm section, and heavy drops of nimbly picked guitar notes. Holme's electric harp here can match the powerful timbre of a B3 and his voice, heavy with emotion, carries a lifetime of scars within its richness. The song, at once beautiful and harsh, reaches the level of poetry in its direct language and frank scenarios of racial discrimination. No wonder the professor has so much fire in his belly.
Opening title track "They Call Me The Professor" is another Ferraro-penned original that captures the ideas and voice of Holmes. This track is chockfull of Professor Harp's rich low tenor as well as his huge aural melodic structure on harmonica. It is just the way his heavy harp melody cruises over the bopping rhythm section that makes you go, "cool."
A Holmes instrumental original "Texago At Doyle's" will be familiar to longtime fans of the professor's live shows. It's got a fun, danceable, driving beat that keeps it moving in solid momentum. The professor blows a storm of notes all the way through, like he has something he wants to get off his chest, and he expresses it with huge, heavy gusts of chords.
"Sugaree," contributed by Marty Robbins, is structured around nifty stop-start rhythms, and that motion keeps the guitar rocking, its lightning strikes of blistering notes setting the bridge aflame. Drums and bass play almost faster than the feet can dance to it, and Harp comes in with his hefty drawling vocal then his speedy, three-dimensional hurricane of notes. You feel like you're caught in the perfect storm of blues instrumentation. Not for the faint of heart.
Holmes chills a little on Del Gordon's tune "What You Do To Me." This mid-tempo oldies rocker allows the professor to showcase his beautifully rich vocal abilities. His timbre is so full of emotion in its big, round roughness. Just close your eyes when you're listening to this one, and you'll hear shades of all the wonderful voices of yesteryear, Otis Redding, Sam Cooke, and more blues singers than you can possibly imagine in one sitting. The professor's influences are quite clear. Yet, you also hear the distinctly personal touch of Holmes. His personality far too strong to settle for copycatting, he forges something heavy, new , and muscular with his amicable vocal vibe.
"Wild Weekend" can best be described as early 1960s surf-rock ala harmonica. With the harp subbing for Farfisa organ, popular in the day of Jan And Dean, the professor shows his musically lighter side. I'm not sure if Holmes was ever a surfer, but he certainly has a handle on the music associated. This one just rocks right out with an early 1960s vibe that conjures images of teenagers jumping out of their convertibles and racing to the water, board in hand.
Holmes shows a lot of vocal character in his co-written piece "Sly Black Fox." The professor sings this one in a voice from the low register, and it is spiked with a toughness you don't always hear in roots music. Don't get wrong. The soul and the magic is certainly part of the blend. But the professor really rips it up with emotive vocal sustains in this particular approach. His harmonica playing here has a melodic fullness usually associated with baritone sax. He just makes those notes groove around at a pace he defines within the attitude of the story he is singing.
Holmes wrote his life story song called "My Life: An Exercise In Blue." Here, the professor sings about his own long life by enriching it with a comparative to young men killed in overseas war, dead before they got a chance to build themselves up into something special. The harp is low and grooving here. It is chromatic, slow blues, and the professor grinds it out with the hip attitude and cool precision of a lead guitar player in an R&B band. Thick, zesty harmonica notes swirl around like joyful madness and keep the ears glued to every note within their multi-faceted textures.
"It Just Comes Natural" pops into our attention when Tom Ferraro's lead guitar notes spike in and out of Keith Munslow's loungey piano stride. From this melodic structure comes Holmes's wonderfully smooth tenor voice. The professor is all class here, increasing the warmth of the chorus with each line. This is pure rock and roll in a solid 1950s vein.
Holmes closes out his CD with an ode to his idol, the late George Harmonica Smith, which is fitting, naturally, as Holmes is big enough to point out his debt to the key players who came before him. Respect is something hard to earn from someone as tough-minded as Holmes. Yet, here he is, undaunted, showing his appreciation for an earlier legend, giving it his all on his electric, layers of chromatic notes rising up and cascading, tasty dollops of colors and tones moving around like brush strokes creating a masterpiece.
There is much on They Call Me The Professor for any blues, rock and roll, and roots fans to sink their teeth into. Professor Harp is clearly a complex man and a complex musician, and he shows his many different musical and personal shadings on this debut CD.

Follow me on Social Media!