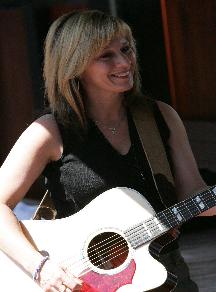 Sandy Lee Casey has been on the greater-Boston cover band scene for about 30 years now. With three decades of growth and wisdom, Casey is now playing out as far and wide as she can, and she is doing it for the sheer joy of it.
She brings her music out to the masses via an acoustic solo routine as well as with a five piece band. Her acoustic solo presentation she takes to Whippersnappers in Londonderry, New Hampshire, The Hard Cover in Danvers, The Athenian Corner in Lowell, and The Sunset Café in Cambridge, Massachusetts.
And her solo gig is working very well for her. "It's exactly where I want it to be," she said. "I only play places I actually like. I don't depend on this for a living. So I like to spread myself out so different friends can come see me without having a long drive. I try to be strategic about where I play solo. It's the kind of thing I most like to do, and I don't want to make it like a job."
Casey also belongs to Top 40 cover band Synergy that is now wrapping up a tour of Chinese restaurants in western Massachusetts. "I didn't want to play close to Boston if we weren't ready. I think we're starting to be ready," she said.
Casey started out in a church band when she was a child. At age 18, Casey began her professional career in a country band, playing the country circuit for three years until she moved onto a Top 40 dance band. She's been doing this popular music routine regularly ever since. "I have a couple of originals. I've recorded a single here and there, and I work on other people's original projects. But I don't have a lot of original material to speak of," she said.
Influenced by everyone from Freddie Mercury, Linda Ronstadt, to Bonnie Raitt and Etta James and Eva Cassidy. She goes for these vocalists because she feels they put true emotion into their voices. "There's a ton of singers out there who have ranges to die for but I'm not feeling what they're talking about," she said. "Rhianna is really talented, but I would never buy a Rhianna album, not unless I want to work out or dance."
A Somerville native, Casey went to school with the son of the owner of Johnny D's in Somerville, Massachusetts, and she got into talent competitions there. "After winning week after week, they just asked me to join the house bands," she said. "I'm definitely a Boston girl. I went out to LA for three years and decided it wasn't my cup of tea."
Casey, while living in LA, worked at Warner Brothers recording studio for two years, and she met a lot of fascinating people, but she felt she was out of her league. "Even the gofer out there was somebody who had more talent in his pinky than me," she said. "You didn't meet anybody who wasn't trying to make it out there. I just felt like a small fish in a really big ocean. I didn't think I was talented enough to deal with the competition. I didn't have that killer thing that other people had going on where they want to play for nothing."
Casey's work at Warner Brothers office found her billing the big stars for their studio time, their limos, and their lunches, anything that had to do with their sessions. "Sometime I'd get invited in to sing back up vocals," she said. "I sang with Metallica on some crazy song. At the time Metallica wasn't anybody special. They were still up and coming; same thing with Poison and Stryper. All these bands were playing in there who weren't popular yet. I did back up vocals for Metallica."
Casey does not know if the Metallica song she sang on ever became a hit, and she can't remember which song it was. She had no idea the project she was singing on had such a huge destiny before them. "It's funny that they became that big," she said.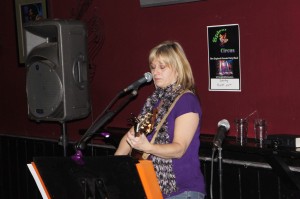 Casey left music for five solid years because she married and she had two babies. Her then husband was the artist relations manager for Zildjian symbols. "I spent a lot of time being the arm piece and the wife of the guy who played up to all the famous drummers," she said. "So we went to a lot of concerts and spent a lot of time backstage. But I didn't' have his support as a musician. He didn't even want me to tell these people that I was a singer. I just decided that that marriage wasn't right for me, somebody who doesn't embrace your talent or your dreams was not the right person for me."
Casey came back to Boston and joined another Top 40 band called Synergy(not the same Synergy band she has now). She soon tired of it and left. "If you're in a band with people for too long, either you get along or you're don't. Either you're stoned or you're breaking up," she said.
Then Casey decided she should try making money at music so at that point she joined a wedding band called Double Vision. The gig lasted 15 years. She only quit them a year and a half ago. The wedding band experience seemed overwhelming in the beginning. Eventually, she became an old hand.
"At first, I thought I was in over my head," she said, "because I'd never done a wedding band. It takes a lot of versatility vocally to pull it off. When I first joined I was like, 'Wow, I'm playing with people so much better than me. But a few years into it, I really got a knack for it. I just got really comfortable, and I got up to that level and surpassing them. I felt like I was the one with the chops by the time I left."
Double Vision lost their ambition for getting good gigs. They would never play a club, and they were all older than Casey. Paid up to $10,000 a gig, Double vision refused to lower their fee when the economy soured. Needless to say, they played out less often.
This lead to Casey, and some musicians from Fitchburg-Leominster, forming her recent new version of Synergy, a band that uses sequences in place of a bass player to give themselves a unique sound. They also use the sequences to cover percussion parts. "It really sounds exactly like the radio version of the song," she said.
"People don't mind the tempos. It's just very consistent tempos and the musicianship has to be dead on. There's no room for error when you're playing to sequencers. If you don't go with it, it's unforgiving. You really have to be on your game. You can't have a bad night. Otherwise, you're going to be running into train wrecks or stopping the song in the middle."
Casey, after 30 years in the business, has a huge fan base. Many fans of her solo act will also come out to see her full band. E-mail and Facebook allows her to draw in people she hasn't seen in months or years. "It's freaky," she said.
As an added bonus, Casey brings her daughter, Casey Williams, an aspiring 13 year old singer, to her solo gigs as a co-star. "She's a genius. She finds her own harmonies," Casey said. "She has really good pitch and she has a really good ear." Daughter Casey Williams get her first name from her mother's last name and her last name from her father's last name. "I thought it was fair," Casey said.
Playing Chinese restaurants has given Casey a chance to chow down on more Chinese food. The quality of the food at her venues plays into her marketing strategy. She likes to mention in her e-mails that the good is great. But, cleverly, she doesn't mention the food in places where she doesn't think the food is the greatest.
Casey has had good luck with Worcester's Sakura Tokyo, the best of both worlds, a place with impressive food and receptive audiences.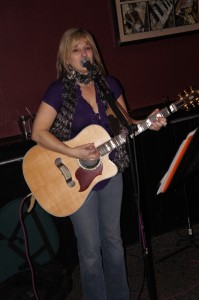 For the future of Synergy, Casey will be putting together a video by the end of July. Synergy will also record a demo CD. Casey will launch an ambitious project to shop Synergy around to clubs she longs to play in. "I really want to play at Whippersnappers," she said. "But we won't be the kind of band that can go in on a Monday night(weekly jam) and pull it off. We have computers to set up and electronic drums." So, instead of demonstrating Synergy at the club's open mike/jam, she'll be able to give the owners a demo CD.
By day, Casey is a trade show manager for a robotics company. She helps sell Explosive Ordinance Disposal robots like the kind seen in the film Hurt Locker. She has to travel to conferences around and outside the country. "It can wreak havoc with the band's schedule and with my solo schedule," she said. "I travel sometimes two to three times a month."
Casey has had quite a career and she continues to play out solidly. Ambition is her middle name so it is likely you will not have to go to far to hear her. She will likely land a room right near you.