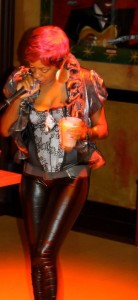 Pretty Poison has been a rapper on the Boston scene for 14 years. After being named Best Female Rapper by Urban Music Awards last year, Pretty Poison is now debuting her own label, Street F.e.l.o.n.s. Enterprise, to showcase other urban music artists. Yet, all of Pretty Poison's accomplishments came after years of hard work and dedication. She grew up in the hard scrabble Roxbury area of Boston, and she lived in the infamous Academy Homes projects.
Pretty Poison got her start in the Boston rap scene when an artist who was signed to a label asked her to enter a talent show with him. He wanted to bring her on board with his label. Last year, Pretty Poison received recognition in a major way when she earned that Best Female Rapper from the Urban Music Awards.
"It was a big achievement for me in my city," she said. Pretty Poison, since then, has started a label to help build more of a launching pad for other rap artists in the Hub. Despite having many clubs that offer rap and many fans who seek out the music, Boston doesn't have any of the major industry support like New York City and Los Angeles. "I wanted to set a foundation in my city. There's nothing major here. So, one of the reasons is I'm trying to make it so we can have something to go to within the Mass. area."
Pretty Poison has another reason for starting a label. She can promote and sell her own music on it instead of chasing a major label and letting them sell it for her and take a big chunk of her money. "That's how (the big names) started out. Before they became majors, they were independents, so that's basically what I'm trying to do," the rapper said.
As an artist, Pretty Poison gets her own songwriting ideas and inspiration from events that went on in her life or in the lives she has witnessed. Her tune "Look Both Ways," a rap now getting airplay, is about her reemergence onto the scene after being away for a little while. "That was like one of those 'I'm back' type of songs and 'Here I am, this is what I do, so watch out.," Pretty Poison said.
Her song "Rock Steady" is a fun tune in which she tells her city to rock with her. She wrote "In Da Hub" about partying and traveling. "Still Sleeping" is about people who sleep on what is going on around them and so she is telling them to wake up and get what is going on. "Poison World," the title track from her upcoming album, is about her sexy side. "I'll Be Your Freak" is a relationship song regarding what type of person she is looking for.
A singer as much as a rapper, Pretty Poison got her earliest training in a church choir. Rapping, she said, either comes natural or it doesn't. "I don't think a person really could learn how to rap. If it's not for you, it's not for you. It's just like I don't think anyone can just learn how to sing. You've got to have a voice."
She also said a rapper has to have a good voice for rapping, be able to understand word play, be able to keep up with beat tempos, and most importantly, the rapper has to have something to say. "They have to have something to say that people can agree with and be able to say 'That happened to me before.'"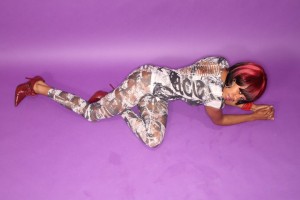 Growing up in the projects in Roxbury, Pretty Poison lived among drive by shootings and strove for something better than where she came from. "I believe that that plays a lot in my life," she said. "I'm a very strong person now. I came across a lot of things where I had to start all over. I had to deal with people who weren't what they say they were." To relieve the boredom of being stuck in the house her brother and sister used to have their own rap competitions. That started her childhood on a path to rapping.
Today, Pretty Poison is, in addition to being an artist, a show producer, an artist manager, a talent recruiter, and she has multiple artists on her label. She hosts the Cambridge cable access TV show Tell Them Why You're Hot on CCTV.
"We talk about the music scene," she said. "We bring local artists on there. We give them the opportunity to tell people what they're about, hear their music, see their videos. It's basically a foundation where local artists can come and talk about up and coming shows and mixed tapes that might be out, albums. We talk about the music scene itself."
On October eighth Pretty Poison will debut her label, Street F.e.l.o.n.s. Enterprise, to the public in a multi artist show called Forever Legends On The Streets at Max's Blues Café in Brockton, Massachusetts. An experienced show host, Pretty Poison will present some of the better known rap artists in the Boston area, Seven3EZ, WeirdoOo, Mike Biggs, Sarita, Greatness, and many more.
Pretty Poison is confident her label will fill the void of rap related industries in Boston. "I think it will be great," she said, "because I feel that a lot of people will embrace it once they see what I'm doing and the type of events that I'm bringing. They'll hear the name and see what we're all about and will want to come on board, even if it's helping behind the scenes, not even as artists. I already have a lot of artists just seeing how I promote and seeing the things I've already done. They hit me up all the time on Facebook asking me to be their manager. I think this would be a good place to launch my record label because nobody has anything here."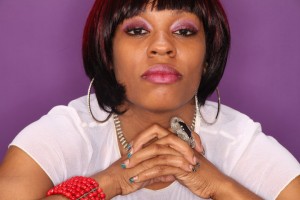 After her Legends Forever show in Brocton on October eighth, Pretty Poison will present shows that will be even bigger, going beyond rap into bands, dancers, and comedians. The experienced show host started her hosting career when she was partnered with someone from Fact Family Records who made her the host of a show they put together called Fact Family Music Festival at Franklin Park. She went on to host a whole series of shows on Monday nights at The Dublin House in Dorchester, gaining a lot of notice for the showcases she presented. She met many people there that she still continues to work with.
Aside from rapping, Pretty Poison trained as an actress, and she has been seen in commercials and has modeled in print ads. "Music is my main thing in life, but I'm pretty much into anything that's entertaining, though," she said.
Her next career move toward greater recognition is finding more sponsors, gathering street team volunteers, getting more promoters, and building up her label. "As of right now, it's moving really well for me to have just started it," Pretty Poison said.