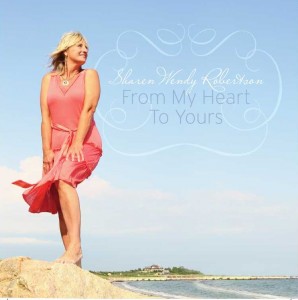 Sharen Wendy Robertson is something of an internet star. The Massachusetts South Shore native receives thousands of hits on YouTube and her CD s sell like hotcake on the web. Robertson recently released her first CD of commercially viable songs. From My Heart To Yours is loaded with genre bending, genre crossing, ear tugging tunes that will find fans among all sorts of music fans.
Although Robertson may seem like a musical split personality to some, she actually gets away with it when she changes genres from one song to the next. It is her overall soothing vocal presence and the quality of her songwriting that lets her pull it off. Plus, we live in an age where we don't have to let a radio station dictate what kind of music we listen to. We can pick and chose what we like on line and Robertson was born to play to this age of song over genre.
Opening track "Sway" features Boston area's Chris Fitz on lead guitar. Robertson here has an irresistible tenderness in her vocal timbre. She almost breathes the music out as much as she sings it. It's a natural thing, and Robertson knows how to caress a note with her voice. The piano and rhythm section provides a pretty presence behind a pretty voice and the effect is quite catchy.
"Funky Time" is Roberton's ode to dancing. Her backing band plays a combo of disco and early R&B. The beat is infectious and the lead guitar cuts through the bopping beat with laser like precision. Over all this, Robertson sings it with focus and self-restraint. She knows just how to keep her voice in check so she serves the song without dramatic vocal gymnastics. That keeps the song steady in the groove and very danceable.
Courageously, Robertson tackles the painful, personal issue of abusive relationships. "I Won't Cry" finds her facing down the angry glare of men who filled her life with fear and injury. She is direct in her lyrics about the abusers who always blamed her for their rages, but her assertive vocal technique on this one keep her from sounding like a self-help pamphlet. Check out her coos on the ride out, and you might have an idea why Robertson keeps selling CDs on the internet.
"Free And Clear" bops it way forward with a danceable backbeat while the horns, organs, and Robertson's vocal swings around it. There's an old time musical charm on this one that makes you wonder exactly which time period in American music inspired it. There are shades of 1940s pop, Broadway, and R&B filling the wide colorful sail of sound. It is uncanny how Roberton's smooth timbre and gentle approach can go toe to toe with a skillful saxophone player like Bruce McGrath and hold her own through out the tune.
Robertson covers The Beatles' R&B flavored "Oh Darling" with some full-throated bluesy belts. She doesn't stray too far from the original arrangement, other than a sax line from Mike Zucco Jr. tackling the melody originally played on guitar. But she adds her own husky, sultry vocal interpretation to great effect. She is just a powerhouse on "Oh Darling" and I think any Beatles fan would give her a thumbs up for it.
"Hold Me" is another Robertson original swing but this time she gets a little bit huskier in her delivery. The band behind her is all class, and Robertson rises to the occasion with a technique that includes holding a slightly rasped vocal note just beyond the beat. It is hard to describe but it works well for her.
Just when you think that Robertson probably belts the blues and R&B in upscale restaurants, she switches gears and goes into the 1970s ABBA inspired "We Danced." I know what you're thinking: The lady is nuts. That might be true, but she is nuts in a fun way. While this song might make you picture Robertson strutting around on stage in a sparkly, spandex bodysuit with silver boots under a disco ball and light show, she keeps it respectable with a skilled band and vocal flourishes. Her vocal flourishes are quite artistic in their showy echoing of 1970s disco. Throw in some vocal harmony from Mary Robertson Campo and you have something that will make you feel like a time machine has just blown you back into the Jimmy Carter years.
Robertson gets serious once more with "Give Us Back," a protest against the BP gulf oil crisis of last year. Her voice is powerful enough to carry this hard-hitting anthem over the gutsy rhythms and piercing lead guitar of her backup band. There is a little bit of arena rock in the guitar, but Robertson can't seem to help going off the rails now and then. And like in her previous songs, she seems to hold it all together with the overall effect of her voice and in her determination to kick out something gripping each time. Credit must also be given to producer Joe Merrick who arranged, recorded, mixed, and mastered these tunes to a high polish shine at Guilty Dog Studios in Hanson, Massachusetts.
www.sharenwendy.com