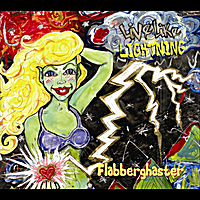 Flabberghaster's new debut CD Live Like Lightning is loaded with golden nuggets of tasty musical passages. Punchy and spirited, there is plenty for fans of jam bands and fans of good, old-fashioned classic rock to sink their teeth into. This five piece from Vermont weave a multi-textured sound of colors, tones, expressive phrases and groovy low end. Live Like Lightning will surely cement Flabberghaster's status as a regional band that can eventually dominate the northeast.
From the opening drum beats on "No. 2 Funk Tunnel" to the last raging phrases on "Space Chase," this Vermont jam band are full of fun and full of surprises. They offer a large tray of musical orderves, from the classic rock mode, to the blues inflections, to jazz's loose, improvisational feel. And, of course, they are very funky, not dance floor funky but the kind of funky that can have an entire field of people swaying to their sounds.
Bass player Elliot New stands out the most on the opener, "No. 2 Funk Tunnel,' his twangy excursions pushing the quintet with power and finesse through the jazzy, jammy twists and turns. On top and sometimes underneath New's low end lines are guitars rocketing around the skyline and Marcel Leclaire's freewheeling drum fills, rolls, and whatever else he is pounding out.
Title track "Live Like Lightning" has the sonorous texture of rain and thunder, and not just in the special effects at the track's beginning. Evan Lincoln and Tucker Corry play their guitars in a tap dance of notes, interweaving technically, contrasting in the colors and tones. Each section of the song pulls you through another phase of a storm. Sometimes rain falls lightly. Sometime heavily. Sometimes with thunder and lightning. Sometimes with just flash around the light rain. The persistent drive to this title track inspires the imagination to picture some kind of huge combustion engine. Lead singer Lincoln graces this one with his looming vocal presence. He seems to be singing downward from a high perch, filling in everything beneath him with his hearty sandpaper gravel.
"The Heat" offers a look at Flabberghaster's laid back side. Inside their gentle sweep they offer subtle nuances on guitar and Lincoln's jazzy keyboard loosey-goosey flow of notes. Lead guitarist Corry glides through with his high pitched notes played greasy and fast, like something that might slip through your fingers if you don't grab it fast. It is the sense of motion that makes Flabberghaster fascinating to listen to. They make it sound easy to build this huge mountain of sound then take it mobile.
The boys get a little bit funkier on "Belly Dancer From Mars." Like a dancer on a low gravity planet, Flabberghaster gently glide around with surefootedness over an unanchored surface. They don't just play over a beat and a time signature. They seem to pick up and walk around with the beat and time signature and carry it along with the rest of the instrumentation. A mellow guitar phrase spirals mid-tempo over a groove, and it can best be compared to a series of sparks that float over warm air.
"Lemme Tell Ya" comes on like a high powered sports car, cruising in with only a third of its power but with enough purr to let you know there's more oomph under the hood. Funky drumming and guitar riffing are the order of the day in this song. The group is as loose as Phish and as funky as the Isley Brothers. "The Machine" begins with some heavy drum rolls and the hefty thump becomes the beat for Lincoln's rap. He sings his rap more hippie than urban with more texture around him than traditional rap. Yet, the singer makes his rap real and happening. The heavy duty rhythm section and incisive lead guitar make strong musical statements. This band might actually find its strongest fan base among A.D.D. patients. They whip up, in each song, a series of musical flourishes that can suddenly change direction like a jazz band or change colors like a kaleidoscope.
Their "Green Mountains" homage to their home state offers gritty guitar phrases and sleepy vocals. Lincoln oozes easy going grace when he lets his lyrics flow out of him like he was born to spout-sing neo-hippie poetic passages over improvised energy. The drums and guitar play harmoniously together, with a result almost like someone invented a new instrument.
Mellowing out on "Long Walk To Nowhere," the boys offers a lush arrangement of sweet guitar notes, acoustic strumming laced with nimble electric picking, making for a latticework of art and beauty. There is nothing like a band that can show the loud and the quiet in music with equal aplomb. Flabberghaster remind me here of Led Zeppelin's first album, when "Babe, I'm Gonna Leave You" in its quiet mode could affect a listener as much as the raucous "Good Times Bad Times."
This Vermont band also offers a good amount of improvisation for a studio effort. "Step Outside" rides a down tempo pace but packs a lot of self-restrained undercurrents of power. When a guitar erupts into a feistier phrase, it is well planned for and offers a heavier view of a theme. "Up High" gets flinty in its guitar picking rhythms and swift drum fills. This lets the band fill the song with a lot of bumpy, twitchy notes while Lincoln launches his smooth honey flow voice into an unpretentious croon. The lead guitar takes the listener on a flight of fancy with its inspired bending and sustaining of notes, carrying us into the stratosphere with tremendous lift.
The boys go into a chill vibe on "See It Through," carrying us along with their breezy changes. Closing out with "Space Chase" the band shows what it can do with a keyboard driven piece. Sounding like it's being played on a 1970s mellotron, the melody sets the tone for a host of driving phrases to come. The organ kicks in underneath a lightning attack of guitar and the two instruments have a contest of rage before the keyboard gets funky, expressing something spiritual while the guitar bolted raw blinding power. The influence here would likely be Deep Purple and The Doors for sheer organ audacity. The boys also show that they can keep rocking out in many portions of an album without ever losing their steel.
Flabberghaster has come up with one hell of a debut CD. This stuff is wildly loose and expressive, even for a jam band. They also hold fast to their heavier rock influences, and they maintain a bold, artistic surefootedness no matter what musical terrain they cross. They're probably a blast live.

Follow me on Social Media!