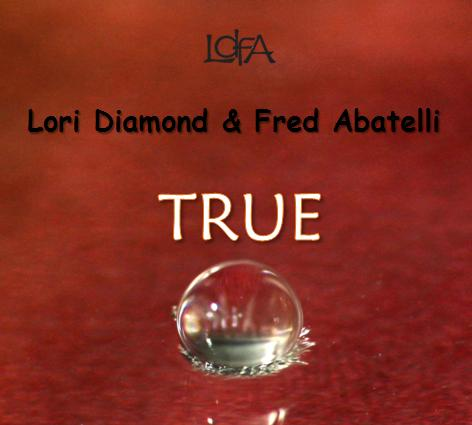 Lori Diamond and Fred Abatelli have combined their talents to release their duo debut CD True. True features Eleven singer-songwriter tracks written by both artists and the pair do a fine job keeping each other at the top of their games.
True has a warmer vibe than Diamond's previous CD Mystery. True also has a wider, more rangier sound too. The disc opens with "The Inside," a sweeping view of a relationship that has ended even though two still have strong feelings for each other. The melody and the vocal reaches far and wide in its sound and in its emotive expressions. Kristen Miller guests on cello, running a secondary emotion through the song within a distant forlorn feeling stirring in the background. This all creates a three dimensional song structure that works wonders by being so involved. The song's sprawling emotional outreach makes a grander approach in its first track than Diamond achieved last time around, Mystery being darker and somewhat emotionally and musically confined.
Title track "True" has a gripping chorus that Diamond pours her heart and her lush vocal coos into. "True" will make you want to sing along to it, and you might even find yourself comparing Diamond and Abatelli to the looming artists from the 1970s in their ability to create music that could remain popular over the decades. Diamond's mountainous assurance makes this song into something large and Abatelli puts heart and soul into his flowing, effective run of bass notes. He underpins what Diamond is doing but also gives it lift.
"All Comes 'Round" finds Diamond going into this one with a steady, earnest vocal approach, assertive and vibrant. She is just full of life here and Abatelli's note-riddled melody line is loaded with attractive spikes in his feisty acoustic picking. Percussionist Tara Greenblatt slaps out a very enticing rhythmic patter underneath it all that not only supports the sound by expands it with fulsome drum pieces.
"For You" is a lovely piano ballad with Diamond's vocal taking the listener along the music's peaks and valleys. She uses dynamics to build an arc in each verse, and you feel you're being carried along by a loving guide. Her voice just glides on its own special wind, sounding uniquely herself and yet as familiarly comforting as any down tempo piano ballad you've grown up with. Diamond simply has some beautiful coos in there that could pull in listeners with the most discerning tastes.
The beat underneath "A Girl Like Her" creates a punchy atmosphere in this easy going piece. The contrast of solid bottom from drummer Linc Merrihew and bassist Abatelli keep an inner tension burning all the way through. It is as strong and lasting as the girl the song is about. So painterly in its musical, vocal, lyrical details, you can picture the hot and cold, feisty psychology going on.
"Never Too Late" is destined for air play on adult contemporary radio. Catchy as can be, Diamond gives us a truckload of heart and soul in her chorus, with support from Nancy Josephson, Kathleen Weber, and Aly Paige of the Angelband filling out the vibe on backing vocals. Abatelli is as much responsible for this beauteous sound, applying a sweet electric guitar line, plucking deeper bass notes that run smoothly, floating you down a river of discovered joy and uplifting hope. Every note just resonates with something pleasant.
"Choosing Peace" is a song about loving one's own life and severing the ties, at least temporarily, with someone who has become a problem. Diamond embraces this philosophy and wraps it in a caressing vocal while guest guitarist Stuart Ferguson adeptly picks a delicately sweet melody. "Choosing Peace," aside from sounding pleasant builds up its heft with a soaring progression. It moves like the wind, and it makes you realize the singer means business as you feel her strong presence in the music.
"Diamond and Abatelli construct songs so that they are packed with emotion. "Your Face" is a bittersweet departure song. A woman who longs to feel closer to her man has to say goodbye once again as he travels a lot. This time around, the departure sounds permanent. Diamond's vocal fully embodies this forlorn emotive quality within her beautiful colors, tones, and timbre. Her piano is quite expressive in its understate melancholy. The song makes you feel the ending of this pair's relationship while you rejoice in the woman's newfound courage to move on.
"Perfect Moment" finds Diamond building a tower of feelings in her piano while her pretty voices reaches an almost cooing approach. She soothes the ear with her gentle croon. Harmony and backing vocal guest Kim Jennings creates a beautiful texture behind the persistently effective piano and Diamond's lead vocal. Diamond's voice cuts through the lush atmosphere straight to the heart of this song.
Diamond And Abatelli close out with "I'm Here," a piano ballad with gorgeous low end notes on the piano lifting all the prettiness above. Abatelli applies an interval of subtle acoustic guitar notes in the backdrop, adding that extra dimension of emotional conversation in the background.
It is amazing how all the guests on this CD add so greatly to colors, tones, textures, and feeling Oen Kennedy, John Leone, Phil Punch, Louise Grasmere, Perry Desmond-Davies, Lyn O'Conor-Ferguson, and Carrie Rowan are also along for this Diamond-Abatelli journey into melodic and harmonic bliss.
This is a CD that fans of the singer-songwriter genre will want to purchase right away.

Follow me on Social Media!