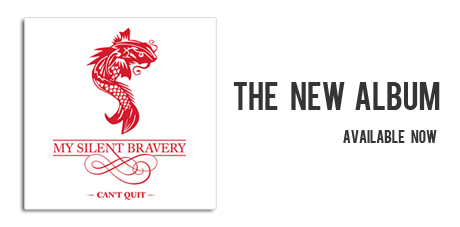 My Silent Bravery, the moniker under which Matt Wade (Shwachman) records and performs, just released a barn-burning sophomore CD, Can't Quit. To say this band could make it big would be a reasonable prediction, especially to anyone who has heard its first track, "Four Years." The funky cool opener jumps out at you like a sledgehammer break at a pool table. The song literally kicks the door down like an action hero and proceeds to take out everyone in the room.
"Four Years" is destined for a lot of radio play and could make My Silent Bravery the next biggest act out of Boston. Aside from its irresistible beat, "Four Years" has a guitar that will funk you crazy and Wade's voice has that kind of mass appeal charisma and it pivots with distinct style around its surefooted groove.
There are other golden nuggets on Can't Quit. "Alright" makes you feel its swirl of instruments like a carnival ride that makes you feel momentum. The guitar, bass, and keyboards don't play around the beat as much as they seem to form a web of sound around it that lifts off and takes the beat with them. The keyboards are wildly original, motivated, and twitchy, making every note and chord interesting and fun.
Title track "Can't Quit" is a mellower yet no less expansive take on My Silent Bravery's intricate pop-rock sound. Those frisky keyboards and guitars are still on colorful display, yet the music sinks into a gentle depth. Wade, with his creamy smooth croon emoting heavily, is more haunting than dominating this time around, and it works. His vocal gives the breezy melody enough of a visitation to show he can run the show without the lion tamer's demeanor of the previous two. Wade's fertile imagination allows the songwriter to come up with this looming landscape of sweet melody and forlorn vocals contrasting with an edgy guitar phrase. It's like he architects sounds rather than just composes music.
"Burnt Out" exhibits a nervous guitar blurting out unique phrases beside Wade's smooth, rangy vocal. "Burnt Out" gives you a feeling that the song is going somewhere. There is a sense of destination, journey, travel in its purposeful pace, a forward momentum that take you as far as your imagination will let it take you. The singer is giving a description of his current state of exhaustion while also pulling you into the dreamy state of having only enough energy left to live inside himself.
Chunk full of groove and percussive motion "To Give," guest starring recording artist Matisyahu, bops around a warm territory of embracing keyboard melody and hipster guitar riffs. Matisyahu adds a warm texture to Wade's chorus, and the whole song welcomes you like a firm handshake. The positive, life-affirming lyrics are projected onto a large screen by Wade's and Matisyahu's grand vocal delivery, a sound so wide it invites in all around it.
The sweeping sway of "Ms. Definite Maybe" will lull you into the fickle world of the song's title character. The cheerful melodies and the persistent groove belies the uncertainty plaguing the singer, making the dilemma more dramatic and humorous. "Last One Left" makes the most of Wade's vocal lift, his croon pulling along the multi-textured sounds in his wake, all combining into another infectious swirl of sound.
The quirkily titled "Today Is Tomorrow's Yesterday" gets its character from Steve Sadler's mandolin, dobra, and bass guitar. Wade's finesses this one with gentle aplomb. He caresses the lyrics with a gentle application of his smooth timbre, gliding just over the gritty melody and gorgeous low end notes. The singer, songwriter, acoustic guitarist closes out classy with his song reaching a dream-like feeling in its flowing pace and ethereal vocal.
There are acoustic versions of "Burnt Out" and "Can't Quit" with synthesized backdrops that showcase Wade's creamy smooth voice with less adornment than the electric renditions. Focusing on his voice will only produce more evidence of his potential. The CD is brought to vivid life by studio wiz Anthony J. Resta in his Bopnique Studios. Resta captures every nuance of quality here, and he also makes room for Wade's stellar cast: Rob Holmes, Jeff Calder, Richard Gates, Charlie Farren, and Cameron Stone Cello Quartet.
It is easy to picture Wade going places with his My Silent Bravery project and his new sophomore CD Can't Quit.