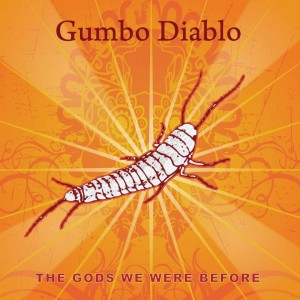 Gumbo Diablo have come up with a lively, entertaining sound on their new CD entitled The Gods We Were Before. Roots, Cajun, rock and roll, and the coolest accordion work around combine into something fun, edgy, and inspiring. Whatever influences are brewing in any song, Gumbo Diablo never scrimp on structure, style, and talent. Most of the music is written by accordionist-keyboardist Ken Hiatt and lead vocalist-accordionist Wendy Kinal
"Spirits Of Louisian'" finds girl singer Wendy Kinal skating her voice around a two-step waltz. Accordion melody fills the air with its lively appeal and restless spirit. This music does what it wants to do unselfconsciously. This band is not afraid to indulge itself in its own eclectic tastes. Edgy lead guitar phrases come into play and work well with a speedy drummer whose pattern is simple but fast.
Kinal sounds like more of a Latino torch singer on "Cumbria Oscura." A Cuban influence showing in the accordions, which dance a musical tango with each other over a very Latin beat. Drummer David Langhoff must have had a lot of fun playing this bumpy beat pattern. Again, some assertive electric guitar leads come in at the break and packs a punch.
"Little Discomforts" features a sing song accordion melody. Latino drums and percussion create a zesty pattern reminiscent of Tito Puente and other drummers from Central and South America. Kinal's voice here is as sensuous as the waving accordion work. There is mischievousness in the interplay between the beat and the accordion that gives this tune a sly, feisty personality.
On the more ballad-paced "Let Me Be The One" Kinal croons with a tender grace and easeful range that injects unaffected emotion. She puts her vocal melody just above the tasteful electric guitar chording and nimble note picking from Glen Reilly. The contrast between her running vocal line over that crunchier guitar makes both sound equally good. A plucky bass line gives some smooth flowing muscle and combined with those accordion notes, it becomes a sweet tapestry of unusual artiness.
"The Hard Sell" is bubbly accordion fun with interchanging male-female vocal leads. The story pace gives the accordion a lot of space to develop a thicker, more colorful melody line, one that carries the song well. Producer Doug Batchelder gives this one a burst of lead guitar action and the traditional melody goes well with the modern, more rocking guitar beside it.
"Building Alters" features more of Kinal's more tasteful vocal touches, especially in the beginning when she's singing over a lone drum. Crunchy guitar chords, feisty lead phrases, icy electric piano notes, and a marching bass line combine into something special here. It's almost as if the band puts songs together by finding the right sound before they focus on structure. Once they know what sound they want per song, everything else falls into place for them, like easy architecture. "Building Alters" focuses on the mystery of life and so the music gets an eerie, edgy glow, suggesting to the listener something majestic, larger than life, and all consuming.
"Do The Math" has an infectious racing beat that forces Kinal to sing her verses and chorus with a swift grace. She pulls it off without ever losing her breath and she had be having fun singing over that shuffling beat and bumpy bass line. The accordion is pretty and smooth and it makes you want to bob your head to its sweet, flavorful notes.
"Silverfish" gets assertive and dramatic, twitchy guitar chords and palpable danceable low end notes give Kinal a chance to get funky. Kinal wraps her vocals around Keith Lewis's dance bass feel, finding just the right moments to inject her sustains. Even the accordion gets funky here, suggesting 1970s soul marrying Louisiana Cajun. The sound here expands, widens into something larger than life, or at least larger than the sum of all the musical influences that abound in this piece that takes a few interesting, unexpected twists in it presentation.
Kinal is more a belter in the funky, electric keyboard inspired "Make Me Lose My Mind." The lead guitar from Doug Batchelder cries out with emotion, and the rhythm section, creative and inspired, makes you want to shake it on the dance floor. This one just builds like the pressure inside a volcano and is impossible to ignore.
Kinal is strong on the slower, more profound "My Only Request." Her vocal lines are full of feeling and colors. You can picture a world of activity in her voice and she has no trouble filling a lot of space left open for her by the quieter drums, backing vocal, and piano.
Gumbo Diablo close out their disc with a cover of Luiz Gonzaga and Nelson Valenca's "O Fole Roncou." Kinal sings in Spanish and gives the same zest she gives the English language songs. She gets right into the lyrics and pulls out the exotic flavor in them. And again, the accordion is really cool as it evaporates the barriers between Spanish, Cajun, and American roots music.
Gumbo Diablo have much to be proud of. This album The Gods We Were Before doesn't just have a little bit of everything from Americana roots; it plays each influence well, and the band reaches that point where influences do not matter nearly as much as the fetching originality they have created.