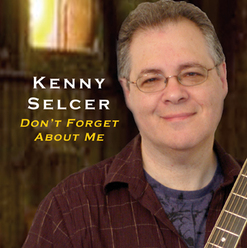 Kenny Selcer has released a fine CD in Don't Forget About Me. The entire work is one warm vibe that you ride through on the strength of Selcer's pleasant, mellifluous vocal. He also applies his abundance of talent, colors and tones, and layered instrumentation. There is something new to be discovered in each listening.
Selcer's title track Don' Forget About Me opens the CD with an amicable guitar melody and the smoothest, most unobtrusive vocal timbre around. Selcer's voice and music reminds me of Al Stewart and Gerry Rafferty, if only in the feel and tone. Selcer's backing vocal layers nicely around his guitar and the whole thing is politely peppered with subtle percussion and drums. The sonic polish is so clean that Selcer's guitar sounds like it's singing to you underneath his ride out vocal.
"Goin' Home Now" gets its chirpy notes from Jimmy Ryan's mandolin picking and its smooth flow from Selcer's friendly vocal approach. There's a lot of pleasant melodic traction here to keep the ears glued. Those mandolin notes tap dance around a plucky run of bass notes and the two step shuffling beat makes you want to tap your feet as you picture scenes from your own experiences of going back home.
On "Massachusetts Morning," Sprightly melodies from electric and acoustic guitars and harmonica delight the ear while a palpable low end joins forces with a gentle adept drummer to politely nudge this piece forward. The twists and turns are subtle. Selcer puts in the roadways but doesn't need to race around them on two wheels to give his listeners a sense of motion and movement.
Selcer presses folkie electric notes on "Even To A Shining Star" while his vocal breathes life into his words without ever becoming overbearing. There are not too many artists around who can put this much muscle and fulsomeness into his songs without coming up with something too aggressive and heavy handed. Selcer has certainly found the perfect balance between layering and paring down. With so much going on his tunefulness it is a wonder he can pull it off with such a gentle smooth polished sound.
As a composer, Selcer, in each song, utilizes many techniques and variations in his instrumentation. "Save Yourself" flows like a stream. Selcer picks out an interval of electric guitar notes that make you want to bob your head to his speedy delivery. "Colors" has an alluring percussion thing going on and Selcer fills this one with his honey smooth delivery. "I'm Goin' Back" has a hearty acoustic guitar strum and clever picking and handsome bass run beneath cooing sustains.
Mellow lead guitar gently pushes us into "I Would Be With You." Selcer rings emotive notes out of his electric like an artist applying just the right colors and brush strokes. His melodic line is wide, warm, and embracing, and, in a Beatles' fashion, becomes the sonic structure of the tune. Contrast that with the ripple of notes in the following track "In An Instant" and you have an artist who can do a lot with acoustic and electric guitars.
"With You" has more of Selcer's electric guitar flights of fancy. It sure is nice to hear someone use advanced guitar ability to conjure something this pleasant. Selcer has the freeness of a jazz musician, his notes going wherever he wants them to, easeful, carefree, the melodic phrase not tethered to some limited pattern or colored by harsh, heavy timbres.
"Colors Reprise" gives us another heaping spoonful of the magic on his previous track "Colors." "Fallen" offers more of Selcer's nimble, persistent acoustic guitar notes making an irresistible rhythm while fulsome backing coos pull you right into this musical world. The lead guitar notes are a separate interval and pattern and it contrasts well with the acoustic colors.
The singer-songwriter in Selcer poured on a heavy sense of cool on "Say You Will." It kicks with assertive piano and dollops of palpable bass notes. The groove cannot be denied as this piece moves forward. Selcer sings in an easy going chill vibe while organ chords swirl and percolate around him as he boogies on.
Selcer adds a rain effect to "Outstanding" but it's the abundance of sprightly melodies that give off light. Selcer closes out the album with "I Would Be With You(Reprise) and its washy accordion chords beautifully augment the singer-songwriter's farewell words. His timber is wider here as he lays out his philosophy of going for it.
Selcer has done himself proud. The tracks on Don't Forget About Me were individually written over the past decade and there's one even older. These songs have been developed with care and thoughtfulness over the years and Selcer has delivered all of them with his flare for detail, solid musicianship, and sonic clarity. Add in guest players Andy Solberg, Mike Migliozzi, Chris Billias, Dave Scandurra, Dave Rizzuti, Rich Calogerro, Jimmy Ryan, Manolo Mairena, and Hatrack Pat Gallagher and you have an album well done.