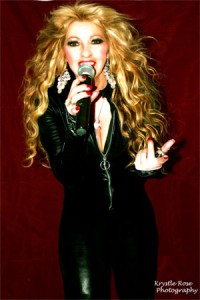 Dianna Martin is on a roll. The single mom and skin care business owner has just come off an eight week string of gigs with her ten month old band, Skin On Skin. "We're taking a little bit of a break to learn new tunes and to discover what we all sound best in," Martin said. "We're starting to find our niche."
Martin and Skin On Skin have been using a keen marketing plan. "We're doing something right," the singer said. "We're starting to get a really good following. Facebook is a wonderful marketing tool. We work a lot through Facebook. All of our gigs we've gotten on our own. We haven't used anyone."
Martin laments the demise of some of her local clubs during the current economic crisis. Michael's Pub in Tyngsboro, Massachusetts was one of her band's regular stops until its recent demise. "We were on the verge of becoming the house band over there," she said, "which was a beautiful club. We drew really well in there." Yet, there didn't seem to be interest on other nights, even the groups that Martin termed "the really good bands" couldn't get anybody out there. "Everybody chose to go to the Boathouse all the time," she added.
Skin On Skin play everything from heavy rock to Motown, Shinedown to The Four Tops. Their following includes a younger 20-something crowd that goes out often as well as a 30-plus crowd. Skin On Skin perform a Pink tune and many others that appeal to a younger generation of music fans.
"We've got an extensive list of songs to cater to every room that we go to," Martin said. "We've been playing pretty consistently. It's more of a southern New Hampshire type of thing, but a few in Mass. We're trying to hit Mass a lot more at the moment. There's a lot of clubs in Mass."
Martin is a familiar face and voice to local area club goers, having fronted the extremely popular group Mystriss and the hugely successful band The Heat. Martin has been singing professionally for many years. She launched her career in her 20s with a show band called Deziah, a Diana Ross tribute that traveled in and out of the United States. "Nobody danced. Everybody just watched," Martin said.
During those days, Martin's heart and soul were crying out to sing rock and roll. She grew up in Massachusetts and then Virginia Beach, but she has been back up in New England for 20 years. "I've been doing this for a while, and I'm loving it," she said.
Her current group, Skin On Skin, suits Martin's personality because they are mature professionals without drama. "We're not dramatic people," she said. "We don't have drama going on. We do what we have to do to the best of our potential. I'm working with some very good musicians. I'm blessed with these guys. They're awesome."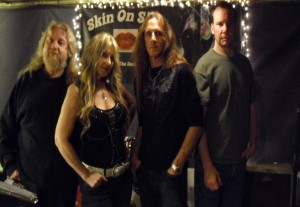 Skin On Skin can be found at The Haluah in Nashua where Martin been singing, in band or another, for years, Chapanga's in Milford, New Hampshire, Uncle Eddies on Salisbury Beach, and The Chop Shop in Seabrook. "We started out at The Mammoth Road Club, another club that has closed, but it was a good place to start," she said.
Martin named her band Skin On Skin because she is a skin care specialist, and she often has her hands on other people's skin. Beauty is her business.
"It's a name that nobody forgets. Everybody remembers this name," she said. "And everybody likes the name." Audiences usually don't know that her skin care business inspired the name but rather form a different association. "Let them think what they want. As long as they remember the name," she added.
Martin formed the band after she met her bass player, who was switching from the blues scene to rock bands. They advertised for the other two players. They instantly found two musicians and they were able to start out immediately. The band is guitarist, Pete Early, who can play almost any instrument; bass player Kevin Keene who has played in many area bands and has released a CD; and drummer Chris Harris, a newcomer to the band who has played in the Haverhill, Massachusetts area. Because the guitarist and bass player have solid backgrounds in blues, Skin On Skin might just show up at some area blues jams to introduce themselves to another audience.
Martin recently purchased a video camera, and it has already become a major marketing tool. She set it down at a gig, capturing a clip of Skin On Skin performing Ted Nugent's "Stranglehold," which has been popular on the web. Skin On Skin had just finished learning the song only hours before they taped their performance. More videos are on their way from the same gig.
If Martin looks aglow in the video, she probably owes it to her Pelham, New Hampshire salon and spa business, Skin Perfect By Dianna. Martin uses a scientific process that removes dead, dry skin and draws out the skin's natural minerals. "I have a very good clientele. I'm very blessed," she said.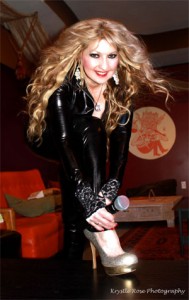 Many of Martin's clients go out to see her band at night. Likewise, at her gigs she meets people who, upon inquiring about how good she looks, become her new clients. "The two businesses do go hand in hand now," she said.
Martin said that recording original music will be the next step for Skin on Skin. Guitarist Pete Early and Martin both have several original songs under their belts. They have friends who own studios that have Pro Tools, and they are shooting for a full length ten song CD.
"There are originals coming," Martin said.
http://www.facebook.com/diannasong?ref=tn_tnmn#!/pages/SkinOnSkinRocks/106725039410955