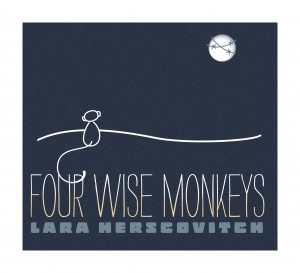 Lara Herscovitch is a breath of fresh air into the New England music scene. Her music can be at once intense, alluring, dangerous, and mysterious. She is driven by forces inside her and her music is an outlet for her immense glimpses into our turbulent age. Every track on her latest CD, Four Wise Monkeys, has an exotic feel that you don't find on too many singer-songwriter CDs.
"Let Us Begin," with its sing song pace, opens the disc, and finds Herscovitch pressing her vocal notes into the listener's consciousness with their assertive inflections. She stretches her timbre and range so each note makes a firm impression. Herscovitch handles all the vocals and all the acoustic guitar while producer John Jennings plays everything else. His organ chords and piano tinkling give this song an arc that Herscovitch climbs boldly with each line she sings. The effect shows strength in the voice while reinforcing a song of courage.
The spoken word song "But For The Grace" features Herscovitch's chirpy talk listing statistics and poetry with a near hypnotic directness. Her vocal takes this one into a darker place and then reemerges to tell of what she has seen in the darkness. She is the hip bohemian poet one moment and the next she's the assertive vocalist with crystal clear timbre in her range. Jennings plays a smoky organ melody and an edgy lead guitar that cuts through the mist like a knife.
"Mississippi Lullaby" gives Herscovitch another avenue to drive her voice down. She lilts her way through this with a bright color and breezy pace. This draws the listen in by making you want to find out what she's so positively engaged in. "Time" pits Herscovitch's vocal against a lovely string instrument and she ties the instrument in loveliness. She slows it down, becomes meditative, delves deeper into the emotional impact of her voice, a nice artistic flourish.
An accordion fills out "Better Left Unread," a beautiful piece with Herscovitch's voice graceful, gliding along an even paced melody. She captures the sense of unanswered questions about an important personal situation that never came to pass. With each pass of accordion notes and each verse she pushes out into the unknown, allowing the listener to feel more of the depth in her lyrics.
"You Are Beautiful" is a feisty number with guitars, bass, organ, and drums building up tension until Herscovitch is ready to unleash her rock solid sustains. This one is a slow boil rocker, funky in its groove, serious in the singer-songwriter's soulful delivery. It has adult contemporary radio hit written all over it. It makes you want to follow along to the words to find out what the drama is all about.
Herscovitch strums a solid accompaniment to her vocal lifts on "A Circle Drawn." It's a song with an inner core of oomph in the instrumentation that the singer can launch her vocal sustains from She jumps fearlessly into her chorus, a dose of confidence augments her natural vocal beauty. You just can't wait for those moments when she holds a note.
Sure to be a favorite cut for many, Herscovitch covers the Johnny Cash classic "Folsom Prison Blues." Down tempo, you can really enjoy each nuance from Jennings' upright bass. It is chockfull of easeful low end notes. His light touches on the electric guitar grace the song's edgy surface. Yet, it is Herscovitch who, while making the song her own, truly engages the listener. Her thoughtful lamentations really make you think about the role of female as the killer who shot a man in Reno just to watch him die.
Herscovitch sings with a sense of emotional ebullience on "From A Bridge." She carries her message in a warm embrace of her own carefree delivery. This ability to let loose, emote, let the song pour out of her makes it a winner. It's a jaunty paced number and this singer is unafraid to hopscotch across the natural territory cut out for her by the music.
Title track "Four Wise Monkeys" is a cool anthem, calling people to do anything but not speaking, seeing, hearing evil. There is a boldness in Herscovitch's delivery here that engages and involves the listener. She is almost hypnotic in her lyrical delivery and the edgy but alluring rhythms conjure a tribal feeling. The singer-songwriter in Herscovitch is calling people forth to come together to do something about the evil that they see in the world. This will probably be one of the coolest songs released in the New England music scene this year.
Herscovitch is a singer-songwriter who has grown into a superb ability of expression over the course of five discs. She brings much needed intensity and vitality into New England's music scene.