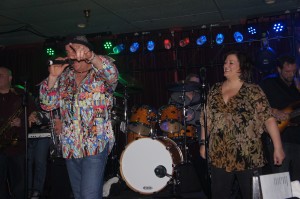 Souled Out Show Band returned to their regular haunt of Whippersnappers in Londonderry, New Hampshire last Saturday night and kept the dance floor crowded. Whippersnappers' co-owner Mark Belanger is also Souled Out's band leader and he has put together a good mix of professional musicians for his outfit.
Souled Out focus mostly on horn band music, but they have stretched their interests in Chicago into clever selections that fit right into their grooving, swinging sound. Santana's "Cool" and Christina Aguilera's "Ain't No Other Man" and Cee-Lo's four letter word hit single were just three of the out of the box songs that came off with a hefty dose of horn blaring sensuality.
There was a lot of power in the three piece horn section and the lead guitar work was simmering. Lead singer Kevin Desmond had a smooth timbre that lent itself well to many of the horn songs, such as "Only The Beginning" by Chicago. The band's other lead singer, Donna Salviati, had great chemistry with Belanger each time he put down his saxophone to do lead vocals with her.
While "Hold On" by Sam And Dave had a good groove going on in the rippling bass notes, Salviati and Belanger showed their cool way of blending together. Salviati's raspy timbre drawls with an uncanny swagger, giving her the sound she needs to pull off R&B classics. She was also a good disco queen singing "Hot Stuff" by Donna Summer.
Guest vocalist Sandy Casey sounded like she should have been a discovered pop star long ago. She had clarity, power, and purpose in her vocal work. Her highlight of the evening came when she delivered Alicia Keys' hit song "Some People Want It All." Casey delivered it with a silky smooth rise in the high notes and she came off as a force to reckoned with, making the song something that could reach listeners on an emotional level. She also delivered the good later in the evening during Journey's "Don't Stop." Casey just nails those high notes made famous by Steve Perry.
The ensemble work of Souled Out Show Band also stands out. They played with a palpable synergy on Stevie Wonder's "Superstition" and many others. It was during those numbers when the music just moved forward like something large that could go anywhere it wants. It also helped that lead guitarist Marc Smith played with a fiery urgency, giving some extra spark. You should've heard him near the end of show when they played "Purple Rain" and "25 Or 6 To 4." His guitar was on fire amidst the raging, racing horn section, like a bonfire that casts its glow on everything around it.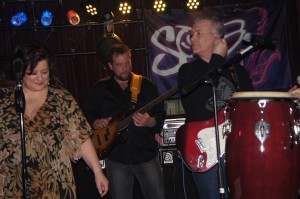 Lead singer Kevin Desmond is also a fantastic percussionist and he put a lot of extra flavoring to The Doobie Brothers' "Without Love," another fun number that lead into the Doobie's classic "Chine Grove," featuring Smith's lead guitar humming through.
Kid Rock's "Summertime" was another out of the horn band box. The whistling lead guitar, thumping groove, and easy going vocals showed Souled Out, as they often do, adding just the right touches to each song. Bass player Tom Eliot carried the groove well on The Jackson Five's "I Want You Back" and Michael Jackson's "Thriller." "Thriller" was another fantastic ensemble number with each band member contributed something cool to this sprawling Jackson hit from the 1980s. Percussion made it more danceable. Andy Verdi's keyboards kept it jacked up with washy sounds. And Kevin Desmond gave it the kooky narration.
Some of the evening's best ensemble work came on the numbers "Pick Up The Pieces," "Late In The Evening," and "Leave Your Hat On." The horns were feisty and sharp on "Pieces," jubilant and celebratory on "Late In The Evening," and sinfully swaggering on "Hat." Yet, through it all, the whole band turned these tunes into something larger than life with all of their busy techniques.
Souled Out Show Band performed their perennial crowd-pleasing theatrical rendition of Meat Loaf's "Paradise By The Dashboard Light," with Belanger and Salviati assuming the roles of the male and female lead singers. Singers and player filled in all the rock and roll musical nuances complete with girls from the audience dancing on stage.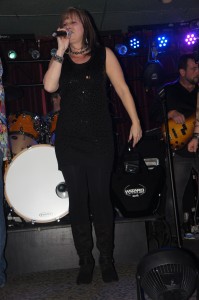 "Play That Funky Music" got a good boost of rhythm from drummer Russ Magnuson, a versatile skins smacker who could be credited with a lot of the never ending dance fever.
Aside from Belanger, horns included Matt Johnson on tenor sax and Steve Price on trumpet, and it was quite the busy horn section. The horns filled out much of the sound, and their magic was greatly missed on a plodding, robotic, wooden interpretation of the modern rock hit "Paralyzer."
If you like to listen and dance to groove oriented music you are already familiar with, you cannot go wrong with the Souled Out Show Band. They prove this every time they play.