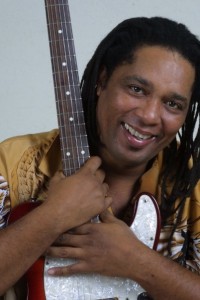 Willie J. Laws is the man. There's just no doubt about that. The Texas to California to New Orleans to New England transplant is one of the jewels in the local areas music scene. And New Englanders are blessed to share their stages and to come out to see and hear the man who has opened for B.B. King, Koko Taylor, and Etta James. After getting assistance from Ron Levy, Doug Woolverton, Ephraim Lowell, Philip Pemberton, MoeJoe Marino, John Guregian from Blues Deluxe at Umass Lowell, and his publicist Joan Debow, Laws has become a local household name.
Originally from Taft, Texas, Laws served in the Navy from 1979 to 1985. It was growing up in Texas with a lot of musically inclined relative that influenced his early love of music, including distant relative Billy Preston. "I had that around me," said Laws, who got his first guitar when he was 8 years old. During his teen years, Laws started playing school sports, but picked it up again two years before he left the Navy.
Boredom at sea was the impetus that made him pick up his guitar. "When you're not standing watches or working, there is definitely a lot of time to kill because you ain't going anywhere," he said. "There were a few guys in my division that played also." Because Laws and his band mates were playing acoustic on an aircraft carrier, there was no noise issue for his shipmates. "The noise I made paled in comparison to F4's and A7's taking off the deck and landing on the deck."
Laws developed a passion for lyric writing in his early days. "I've written a lot of my own material over the years," he said. "Let's face it, cover tunes are great and everything. Somebody already did them. Somebody's already making money off those. I like to write my own things, life experiences and different things that happened to me."
Lyric writing is only a fraction of Laws' creativity. His modes of expression come not only from his music. He is also a painter of visual arts. He just started up again after a few years away from the paint brush and his new painting of the "the three kings" is getting a lot of notice on Facebook.
Laws' musical gifts likely come to him from a natural listening ability. He learned a bit of Spanish living in Texas, some Japanese in the Navy, and a little German on tour. "Because I am a musician, I hear the tonality and inflections in different languages," he said. "My ear really picks up on that. That's what really helps me speak and understand different languages. I hear the musicality of the language."
After Laws finished his six year hitch in the Navy, he moved to San Diego at the end of 1989, then to New Orleans in 1994, and then to Las Vegas. In San Diego he was working five to six nights a week, serving in three house band gigs. By then, he was fronting his own bands that went by the name Willie J. Laws Band or The Willie Jaye Band.
"That really, really helped me to strengthen my vocals, strengthen my chops, playing my instrument that many nights a week.," he said. At The Bacchanal Laws got to open a show for B.B. King, which started a new chapter of opening for name blues stars. After starting to feel like a big fish in a small pond, and missing home, he moved to New Orleans, where he lived until 1998.
In New Orleans Laws became a regular at the House Of Blues and Tipitina's, Jimmy Buffet's Margarita Ville, and all along Bourbon Street. The late great Eddy Bow and Dr. John's drummer the late Herman Earnst became friends of Laws. It was also during this time that Laws had opened up a lot of show for Etta James and B.B. King, whom he had already opened for in other cities.
"I have known them for years and had established relationships with both," Laws said. "Etta, I opened up for her one night, and I just had something going on, this really positive energy happening. I put my guitar on the floor and I did this thing like Prince does in Purple Rain. I did the same thing at the House of Blues in Vegas. I go back stage, and Etta's back there, and she goes, 'Damn Willie J, I love ya but you're gonna make mama work tonight. I loved her very much. She always encouraged me."
B.B. King, Albert Collins, and Laws' godfather the late Philip Walker, were all huge influences on the way Laws plays and sings. "I learned a lot about being on the road from being with Philip," he said. Laws said they all influenced his playing and singing styles. "Freddie King, Albert King, B.B., if anyone's going to start playing the blues, that's who I suggest listening to first, the three Kings," he said. Laws added if anyone wants to get into playing Texas blues or Chicago Blues, then they have to listen to those genres.
Laws plays a lot of Creole and Zydeco music and was going to tour Europe with the late Beau Jacque but Jacque, at age 45, died of a heart attack . The disappointment was heart rending, as Laws had appeared with Jacque at the prestigious New Orleans Jazz And Heritage Festival only months earlier.
Laws eventually made his way to New England a few years ago and was able to get his name out through working with Ron Levy, and Roomful Of Blues members Philip Pemberton, Doug Woolverton, Mark Earley, and Ephraim Lowell.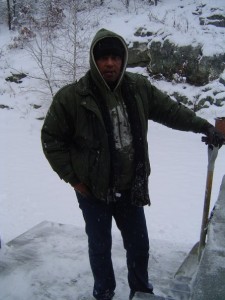 Laws came to New England to be closer to his eight year old daughter and also closer to another daughter in Syracuse. "Both of them are within five or six hundred miles of each other. Living in Texas and growing up in Texas, five or six hundred miles is like going around the corner."
The guitarist-vocalist took a couple of years off from the music scene to focus on personal matters, but he soon got bored and frustrated without his live shows. "I was not a very happy camper without playing," he said. "That's what I do. That's who I am. I tried to change myself because of the way the business is. It's a very, very frustrating business and it's very hard to make a living, especially these days, as a musician. I've pretty much been making a living at it for a little bit over 20 years. Even though I love it, I love performing, it gets to the point where it can be very, very frustrating, especially when you have no representation. You booked it yourself. You're managing your own affairs. You don't have that team in place that takes you to that next level."
Los Texmaniacs is a band Laws has worked with, after connecting with their leader Max Baca in San Antonia, and he contributed to their About Time album. Their cojunto music and Tejano music is indigenous to south Texas where Laws grew up. Accordion driving, Los Texmaniacs features Baca playing his Mexican 12 string guitar called the bajo sexto.
"They're field songs," Laws said. "It's kind of like what blues is to the black man, the cojunto was to the Mexican-American that was working in the fields, hard labor. Eventually, bass got added, the drums got added. When the horns got added, it took a turn and it turned into Tejano music." Los Texmaniacs refer to Laws as the "big gun" when they take him out on the road for big shows. "Max and I blend well," Laws said. "The bajo sexto and my electric guitar, the way Max and I play together, the combination of those two instruments, we make a really good sound."
For his current area appearances and recording, Laws has been laying down his own blend of authentic hard core blues with elements of funk, R&B, and rock. He takes this direction from where Freddie King was heading shortly before he died. "If you listen to a lot of the Shelter Records recordings, a lot of that stuff produced by Leon Russell, that's a direction Freddie King was heading, still keeping it predominantly blues at the roots but those elements of funk and those elements of rock, that's really what Texas music is all about."
Laws said Texas has always been about variety, as its musical history shows it is bombarded by Cajun French Creole to the east, Mexican music from the south, and jazz elements coming from the northeast. Adding these other elements to his blues makes him more viable at getting rooms. "I'm not rich, but I'm still eating," he said. "I'm still playing. It's working out pretty good for me here. The people here in New England have been so gracious and so wonderful to me. I'm accepted pretty much everywhere I play."
Laws plays many rooms from South Shore to New Hampshire. "I love it. I love it to death," he said. "I love the weather, believe it or not because when you're in Texas it's frigging hot, man. Past May, oh baby it's on. The heat is on. Around Corpus it's very, very humid. I like the rooms here. I like the taverns, and the feel of some of the more intimate type places. I like the vibe up here."
Laws recently competed in the International Blues Competition in Memphis, under the auspices of the Massachusetts Blues Society, where he ran into a lot of old friends. From an African American point of view, Laws is very concerned about the state of the blues.
"My people have totally abandoned it, especially the youth, the young African American youth. It's really upsetting and disappointing to me. I don't even know how to explain it." Laws pointed out that the genre was started by African Americans in the deep south at the beginning of the last century but was abandoned by them when blacks tried to remove themselves from racial stereotypes of the past. In the 1960s and 1970s, the African American community wanted to remove themselves with anything attached to the stigma of the old Uncle Tom era, dancing, black face, bug-eyed, big teeth smiling imagery.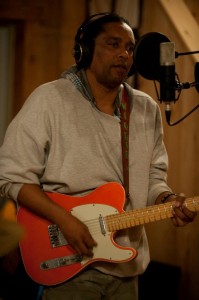 "They tried to escape anything that had to do with that image," Laws said. "What they didn't realize, though, in escaping from that, they totally distanced themselves from an intregel part of our culture, which is our music." The roots of the music was blues which was born out of the feelings of black generational suffering as expressed by what was born as a new genre in the 1930s
"We've got the market cornered on the feeling of the blue," Laws said. "There's nothing wrong with that. It's just two different experiences. I'm sure if the white man was out there in the field getting his ass beat to shit, he'd probably be singing some blues too."
Wishing that more African American youth were interested in blues music, Laws did something about it. He joined an educational mission to reintroduce the genre to school children. Under the auspices of the House Of Blues Foundation, a blues in school program invites schools within a 50 minute radius of any House Of Blues locations. "We put on a show about the history of the blues with narration and music," Laws said "I've been involved with that since 1996. I first started at the one New Orleans. In Vegas, I was a narrator and musical director."
Laws is currently recording tracks at Mountain Bliss Studios in Candia, New Hampshire with Roomful Of Blues drummer Ephraim Lowell and his former bass player Mickey Maguire. The guitarist-vocalist-songwriter will eventually combine the tracks from Mountain Bliss with ones he's recording at Blue Cat Studios in San Antonio to complete an entire album. He's hoping to have an album out in the fall. For this future, Laws only wants to keep doing what he is doing and hopefully gain greater popularity to make more money.
"In 1974—the same year Nixon stepped down—what musicians were making then, is what they're making now," Laws said. "The reason for that is there's guys who go and play in these clubs for $50 and some beer. So now these club owners, well they think they can pay everybody like that. And you have a lot of guys out here, this is what we do. This is our living. And for a club owner to come to me and offer me a hundred and fifty dollars for a whole band is very rude and just a slap in the face."
www.myspace.com/williejlawsband
Share on Facebook

Follow me on Social Media!