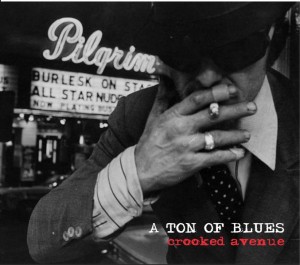 After receiving a lot of notice and a lot of success on the greater-Boston music scene, A Ton Of Blues have documented their authoritative stomping blues sound on their debut CD Crooked Avenue. This four piece blues outfit take an aggressive approach to presenting many authentic forms of vintage blues music. Listening to them makes you feel like an old friend is sharing his vast record collection with you while they keep your foot tapping to a driving beat.
There is a lot going on in each song by A Ton Of Blues. They always make you feel a lot of motion in their material. Opening cut "I've Got To Let You Know" features Scott LeBlanc's blues lead guitar snaking around a shuffling beat. His notes range from nice and greasy to gritty and real. Vocalist Spud Kelly has that raw raspy voice that expresses the range of human emotion. Kelly keeps this one in a smooth, almost drawling delivery. On other cuts here Kelly gives things more of a screamy blues edge.
In "This Thing I Do," Kelly's backhanded kiss off to a former partner, he keeps more emotive in the vocal department without changing his technical delivery. As the story goes, getting his heart broken was a blessing in disguise because it freed him up to form a blues band, and that is the thing he does. Kelly puts heart and soul into this number, finessing his backhanded gratitude with smooth soulfulness. Guitarist LeBlanc peels off plenty of blistering melodic phrases, and his smorgasbord of pedals from Celestial Effects likely had much to do with his groovy tones and exuberant range. Bass player Jeff Lorenzen gets busy on this tune, becoming almost melodic on his four string.
Slow burner "Salt And Sugarcane" lets its boiling tension eventually boil over on the surface with feisty guitar and bass squeezing forcefully upward until they blow the lid off. LeBlanc then grinds out seriously deep and meaningful guitar phrases while Lorenzen shadows him with a easeful flow of bulbous low end notes.
While "One Day' skips along to a peppy beat and bright sunny guitar chords, the amicable sound belies the tale of a man down on his luck. Kelly's flexible timbre lets him make light of his scenario, like he's taking it in stride. Self-restraint is Kelly's calling card here in this look at a three-dimensional personality. This singer doesn't try to show off any vocal gymnastics. Rather, he relies on his personal finesse to make sounds like "One Day" sound cool. Blues is all in the feeling, and you get the distinct feeling of how this person feels about his life, working hard day after day to barely keep his head above water, something many can relate to currently.
"I Won't Be Your Fool" funks up the blues sound as wee bit. You'll find yourself tapping your toes to drummer Al Clark's feisty, unflappable, pushy beat. Aside from being the best dressed drummer in New England blues, Clark puts feeling and inspiration into his snappy skin smacks. He would have to to play with such an aggressive and ebullient styled blues outfit like this one.
"When It Comes To Love" get a special Clark jaunty beat approach, just the right drum smacks to keep it classy. Over this rhythmic tick are LeBlanc's scratchy guitar chords, nice and gritty. But you soon find yourself listening again more closely to Clark's succinct beats as he puts them in the tightest spaces with Lorenzen's low end. It's uncanny how tight this rhythm section locks into a structured groove while simultaneously giving LeBlanc room to scatter his guitar talents around them.
"Sweetie Pie" is one of those call and response blues numbers that gets a blissfully free, emotive chorus from the other guys in the band. The musicians stretch out during the instrumental portion. LeBlanc's guitar phrase has a raw earthiness inside its carefully crafted chord structure. The rhythm section keep a barrelhouse groove under the spiffy guitar lines and hipster vocal.
"Colleen" gets a heaping dose of Mississippi Delta Blues, both acoustic and electric style. Dobro notes gently tug the ear into this piece. Then, things take a turn for the aggressive. A grinding guitar phrase LeBlanc cranks out is real down and dirty. His Celestial Effects pedal probably has a lot to do with the spiffy, spiraling phrase during the break. Dobro chimes in once again to make you feel like you're gathered in someone's front porch in the summertime in 1937 talking about the troubles of the day.
A Ton Of Blues have come up with a fine document of their fresh, exciting, and adventurous interpretation of vintage blues styles. There is never a dull moment with this band, either live, on disc, or in their ever rising career.