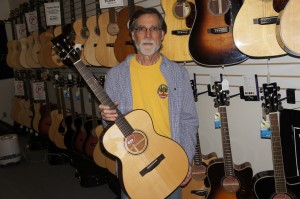 Carl Strathmeyer has owned The Minor Chord instruments and accessories store in Littleton, Massachusetts for two years. In that time he has built up a solid clientele that extends to musicians all over New England who descend upon his shop to play instruments from his upscale inventory.
Strathmeyer and his wife Andrea bought the store in November 2010 from Bill Brown who originally opened up the shop in 1984. Formerly located in Acton, now in Littleton. Talking in one of his lesson studios, Strathmeyer's grey beard shows his experience, and the warm, considerate tone of his voice reflects his love of music and his interest in helping musicians.
"I've been a musician all of my life but not in the retail business. I'm a reformed high tech guy," Strathmeyer said. His family history includes a lot of retail, and he spent a good share of his time growing up running cash registers and stocking shelves. Strathmeyer went into high tech where he worked on marketing, dealing with distributors and supply chains.
"Everything kind of came together," he said. "It's music and it's business and it's retail and marketing." Things have been going fairly well for the new shop owner considering the economic crash of 2008. "It's starting to come back. The mom and pop music store is not dead," he said.
Strathmeyer said independent stores like his have advantages over huge national retail chains and internet stores. At his store, customers can see, feel, and play an instrument, which they cannot do over the internet. The huge nationals have a general inventory while the mom and pops can specialize in more unique instruments. The level of service is better at the smaller stores too.
"We're all musicians here. Nobody here is on commission," he said. "If you walk in here, you're going to get honest advice, fair prices, competitive prices, and good quality instruments. We won't sell anything we won't play ourselves. You won't find any hundred dollar acoustics here."
Strathmeyer attributes The Minor Chord's success to "hardheadedness," pointing out that the previous owner kept it going since 1984. "He kept working at it. My wife and I are the same way," he said. "We're in this business because we want to help people make music. It's a labor of love, and hopefully we'll make some money along the way."
Strathmeyer said his customer base is divided into two camps. One group are the local students and first time learners. "So we try to keep a stock of good student instruments," the merchant said. "I don't have any trash stuff, hundred dollar guitars, but very reasonably priced, good playing student instruments, electric likes Ibanez and acoustics, mostly Yamaha. We have a line of entry level wind instruments. We have all the supplies for those folks."
The Minor Chord, Strathmeyer said, stocks several lines for the adult serious player. He sells the upper end of the line of Yamaha, Martin, Taylors, and David Webber guitars. The Minor Chord is the only licensed dealer of David Webber guitars east of the Mississippi. The local dealer also offers these products at reasonable prices.
"These instruments are two to three thousand dollars on our rack, and you can expect to pay four, five, six thousand dollars at some other store for similar quality." The Minor Chord also sells the better grade electrics to the serious players, like the Fender American line and the classic Fender tube amplifiers.
The serious adult players have been known to drive to The Minor Chord store in Littleton, Massachusetts from all over New England to try out and purchase high end products. Strathmeyer can tell all kinds of stories about musicians who come down from Maine or up from Rhode Island. He likes to tell his customers how David Webber builds his guitars individually with "special chunks of wood so there's no two that come out of his shop that are exactly alike."
A guitarist from Central Maine came down to see a David Webber guitar after calling to ask Strathmeyer to put it on hold. Two days later, that guitarist was playing the guitar in one of the teaching studios at Minor Chord, and after an hour he bought it.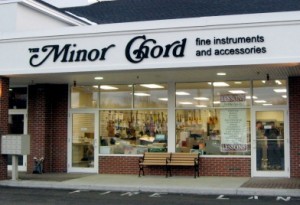 "So there's a guy who drove six hours round trip because we had the guitar he wanted," the shop owner said. Strathmeyer once received a call from a South African musician who asked him to hold a Martin guitar. That musician from another continent stopped by The Minor Chord when he was in New England on business and purchased the instrument.
"That guitar is now back in South Africa," Strathmeyer said. "We've got customers coming from all over because we've got nice instruments."
Other community music stores usually don't have as many unique instruments. Minor Chord customers can try a few guitars, which Strathmeyer compared to tasting wine. "They all have different tones, slightly different sizes and shapes, neck profiles, cross sections, neck dimensions. If you're playing an instrument, some of them are just going to work better if they feel more natural in your hand and sounds like you imagine it should sound."
Aside from a few used instruments, Strathmeyer features all new, interesting instruments, and he owns them outright. The Minor Chord does not function as a consignment shop. "All those instruments you see out front, that's my money, my personal money."
Strathmeyer inherited a loyal customer base when he and his wife purchased the store. He has built on that through his website and by working with local music booster clubs that support student learners throughout Littleton and all of its contiguous towns, Carlisle, Concord, Acton, Boxboro, Harvard, Ayer, Shirley, Pepperell, Westford, and Chelmsford.
"If we get much farther in those directions then it starts becoming the local territory of some other mom and pop music store," he said. "There's like one store in a little circle of a half a dozen towns." A half hour away from Minor Chord are University Music in downtown Lowell and City Music in Leominster.
Strathmeyer markets The Minor Chord through different mediums, depending on which of his products he is selling. Local shoppers will come to a local store for reeds, cords, and lessons. So he advertises those in a small shopper newspaper. He also works face to face with his local music booster clubs, buying ads in their concert programs, and contributing gift certificates to their fundraising raffles.
To reach his regional customer base of advanced players, he relies on the web and radio advertising on 92.5 FM The River(Adult Alternative Album).
Strathmeyer closed this interview out by saying that big box stores don't always offer the best products for the money. Unlike huge department stores like Walmart, music instrument retail is a whole different world. He referred to offers on the websites of the big music stores.
"If you click on that offer on their website and follow it, it says 'This offer isn't available on certain products, and the list of certain products is a mile and a half long. It's a bait and switch kind of thing; get you into the store, and then you look for the things you really want to buy, and all of them are off limits. So maybe you're going to walk out with a store brand-not so good-el cheapo that they wanted to get rid of in the first place that you're going to be really unhappy with."
The bottom line, says Strathmeyer, is that he can beat their prices and offer better quality. In fact, his customers cannot touch any of the instrument until he is convinced he's dealing with a professional musicians who knows how to handle the instrument. He also makes sure that the customer isn't wearing garments like studded leather bracelets or belt buckles that can scratch up a guitar.
"We're not going to hand it to just anybody," he said. "We're going to get a sense that you're a decent player before we hand you a two thousand dollar guitar. And we're going to ask you to take care of it because one of our customers is eventually going to go home with it. So, you're going to get a new guitar, not a shop worn, torn up, unsupervised, somebody coming in and making a mess out of it."
Quality products and honest advice is Strathmeyer's edge at The Minor Chord.