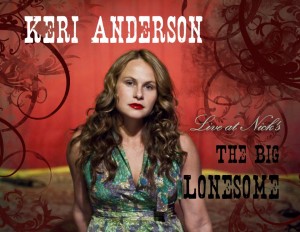 Wow! What a voice! Keri Anderson must be an intimidating person if she can sing as powerfully as she does. That might be the first impression a listener gets when he first hears Anderson's raw, earthy, powerful voice. On her live CD release, Keri Anderson And The Big Lonesome Live At Nicks, the young lady belts it like a son of a gun.
Anderson opens her disc with "Josephine," a song she has co-written with her acoustic guitarist Rocky Kramm. The two have come up with an ear-grabbing roots number. Aside from Anderson's powerful, rangy vocal, the song has true grit in its craftsmanship. Kramm's hearty picking style is chockfull of soul and feeling and upright bass player Paul Chase adds a lot of down to earth, fulsome, natural low end notes. Chase gets into such a groove with drummer Jeff Armstrong that makes you can't help but tap your foot or bob your head to their very palpable beat. Paul Buono injects cool jazzy electric piano that glues your ears with another layer of attractiveness. The tune puts all of these elements into a song that kicks butt while moving forward with a muscular stride. "Josephine" can probably get airplay on all kinds of radio stations.
That is the other amazing thing about this band and their live disc. The rootsie songs they have crafted are so adeptly performed that the transcend genre. Fans of everything from acoustic rock to blues to earthy 20th century jazz vocalists will find a good home in Anderson's songs and selective covers.
Kramm ushers in "Nothing Moves" with his acoustic guitar digging deep into some edgy, plucky notes that ring with authentic grit. Anderson and her boys play this one down tempo, taking their time, creating a somber mood that makes you feel the quiet sadness. The smooth low end runs from Chase and the fluid motion piano notes from Buono turn this into a sound portrait. You feel you're listen to classy music from a bygone ear even though it is new original material from a young songwriter. Anderson doesn't belt it out here because she doesn't have to. Just a tender application of her vibrant timbre and tone can carry a listener through these haunting images of a forbidden love.
"Fine Toothed Comb" comes grooving in on a wave of Craig Rawding's greasy, honky tonk harmonica cries. The band is breezy, jazzy here, and that freedom in their feel leaves lots of room for Rawding to get expressive, like a master blower laying out a colorful, soulful movement of music all from one instrument. Anderson gives out a husky, deep jewel of a performance amidst the tastefully, carefully constructed tune around her.
"How Bad Is Your Hell" finds Anderson vocally hop scotching and tap dancing around a funkier beat. She croons in a bluesy, mournful wait but in a hurried, energetic manner to jump through the hoops put up by the band around her. It is really cool how she manages to finesse those tricky spaces in the song with her vocal fiber intact.
A cover of Skip James's "Devil Got My Woman" allows Anderson to control the direction of a blues classic with the wide vocal timbre and tones at her command. Mississippi Delta blues is another genre this band can tackle with their adventurous, imaginative acoustic players, just right electric piano tinkling, and Anderson's deeply felt in the gut husky vocal and fearless belt. Keri is like a one woman black southern church choir.
The players chug along with locomotive combustion in their cover of Big Joe Williams and Memphis Minnie's "Black Rat Swing." This is delta blues served with an old fashioned Texas swing. Rawding makes his harmonica sound a like train whistle coming round the tracks while piano, drums, and upright bass make it swing with muscular authority. Anderson's voice is so well-suited to this tough mama blues number that you wonder if she was genetically engineered by a mad scientist or if she sold her soul to the devil to be able to push this forward with volleys of husky barks and growls.
"Hemingway," another Anderson original, comes in on a thick, moody bush of Kramm's acoustic guitar feistiness. From there, Anderson vocally sashays her way into the listener's consciousness. Her distinct timbre is oddly and pleasingly suited to this song about a writer from the Jazz era. If you see any of Anderson's publicity photos she even looks like a beautiful star from a bygone era. Here, on "Hemingway," she takes you to yet another time and place. With a hint of Spanish guitar in the picking style, this ode to the writer and his world comes across like a portal in a time machine. This entire live album plays out with the sonic polish of a studio work due to the advanced recording abilities of Worcester's most personally popular producer Roger Lavallee. Lavallee does true just to Anderson's voice and to each player.
Keri Anderson are a force to be reckoned with in New England's growing roots music scene. With that voice and that musicianship, you will be hearing more of them soon.
Keri Anderson is on Facebook.