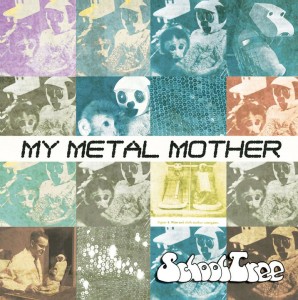 Lainey SchoolTree reveals another layer of her musical talent on her recent full length CD release My Metal Mother. SchoolTree wrote, arranged, produced, recorded, and performed everything on it. The woman shows signs of genius in her ability to conceptualize an entire album and in her skill at fleshing it out. This work is a far cry from her musical comedy work as a partner in The Steamy Bohemians.
SchoolTree has come up with engaging, involving keyboard and synthesizer melodies and many lush, textural, atmospheres and sounds capes. Her girlish, silky smooth vocal glides over these tracks with an indescribable, inexplicable ease. It is hard to predict what level of success SchoolTree will have in marketing this product. She would need to have contacts outside the usual realm of rock music venues and local rock radio programs.
Yet, in a more perfect world, artists would succeed on the strength on their talents and products alone. SchoolTree's product is as good, if not better, than a lot of other techno, synth-band, and electronica artists who have shown up on the national radar. Opening with "After You're Gone" SchoolTree shows herself a master of dynamic shift. Her electronically filtered voice intros the number down tempo until boom, her vocal, beats, and melodic textures open up like a caterpillar turning into a butterfly. Then she locks you pleasantly inside her brighter world like a Venus flytrap. This is likely the one to be picked up by local radio.
Next up is the peppy, upbeat melody of "You Never Go Through." This knobby bass line driven ditty challenges SchoolTree to constantly stretch her range, timbre, dynamic, tempo and everything else at the drop of dime, or the drop of a downbeat, backbeat. She also carries you through on the emotive level with ambivalent feelings she explores as the song progresses.
Emotion and instinct are still the most important tools for a songwriter. Even one using electronics and synths. "Foreverish" is a girly-girl call for her lover to be permanent. Aside making her vocal as lush as the synths surrounding, SchoolTree walks the listener through her melodramatic anxieties about the current guy. Her voice fulsome, clean, and fetching each time she holds a note. She also finds the perfect moments to punctuate the instrumentation with her vocal and her vocal with her adept instrumentation.
"Let You In" plays out at a restful tempo, necessary after the peppy pop melody driven ditties preceding. The beat is down tempo, meaningful, pushing the song forward with muscularity. SchoolTree's lilting vocal forebodes something in between uncertainty and insecurity, and she brings you along with sweet cooing that spirals upward in momentarily brighter colors. Slowly hypnotic, you'll find yourself humming along by the end.
SchoolTree, with minimal technical enhancement of her voice, sashays her way through the twists and turns of "Ordinary Life." Singing in this manner over light electronic percussion, she carries message and momentum on a vocal lift that only those with true pipes can manage. She also coos in harmony with her own voice during some digital programming, resulting in fine textures of techno magic.
"Disappearing" finds SchoolTree lifting her voice upward with a powered course of action. You can almost picture her voice climbing the scales. She makes this all sound effortless as she finesses the musicality out of each note. Her piano accompaniment, understated, gentle notes that punctuate the song and the emotive lyrical flight, resonate with significance each tinkle. Every note makes you feel like it's taking you some place special.
Oddly endearing, "The Orange Grove" pulls you in with rippling keys and lovely coos. From there, your ears are glued to a trance-like electronic low end and percussion. SchoolTree's percussive backbone enables the layering of single keyboard notes with swashes of synthesized waviness. You can almost picture the song's structure while you enjoy it note for note.
SchoolTree closes out with her title track. "My Metal Mother" has an industrial core that makes you picture large metallic doors opening to allow a new life form to crawl out. Mildly reminiscent of what Alan Parsons Project does with synths, the music tells a story, just like a great composition. Science fiction movie theme music must have inspired at least some of this tune. Aside from its tuneful allure, it makes you picture a team of robots toiling away symmetrically in unison. SchoolTree's rangy vocal gets dreamy and atmospheric as she explores the vocal options that can accompany her new age melody.
By the time this CD is over you'll be left wondering what just hit you. Even if you're not quite sure, you'll know it's damn good.

Follow me on Social Media!