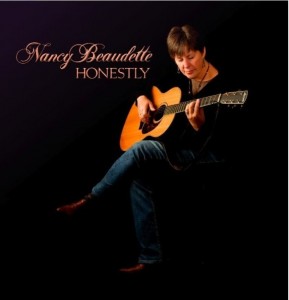 Nancy Beaudette delivers her gritty singer-songwriter CD Honestly with a grittier backing band behind her. Beaudette prefers her message to come across with pluck and verve and with some edge in her guitar. There is a funkiness in her twists and turns and edginess in her acoustic guitar picking. There are authentic country roots in the songwriting style and in the fine instrumentalists who support this unique singer-songwriter.
"A Million Reasons" opens the disc with Beaudette's silky fluid voice riding over stop-start rhythmic pattern in the guitars below. She injects a sprightly, spirited feeling into this love song. It moves forward with a bounce in its step and guitarist Scott Rossley pays out a generous, sparky melodic phrase.
The acoustic guitar solo piece "Good Time For A Change" is a quiet, peaceful tune about new beginnings. Beaudette makes you feel the sweet sorrow, the ambivalence of something being over with the potential a new future brings. Her acoustic picking style and Graham Greer's acoustic picking style bring out a lot the guitar's natural beauty, brittle notes that ring out with meaning while she reaches artistic vocal heights in the spaces opened up by the sparse accompaniment.
"I Lost The Star We Wished On" has a snappy drumbeat going on, a pushiness in the forward country roots motion that finds Beaudette gracefully taking her time vocalizing over it. The contrast between rhythmic snap and vocal ease highlights each. Beaudette sounds at once silky smooth and message assertive.
Beaudette's title track "Honestly" showcases the vocalist's ability to finesse a melody by singing alongside a viola by Eileen Beaudette and acoustic guitar and sounding just as vibrant and fulsome. It's a joy to hear her hold one of her silky vocal notes. The arrangement here is a subtle yet clever balance of the three strengths of voice, guitar, and viola, resulting in a forlorn sense of loss and endurance. You can't help but feel the overwhelming emotion in this title track.
"Something Beautiful" is a pleasant vocal melody wrapped snuggly in a country roots swirl of twangy guitar, banjo, mandolin, and organ from guest player Lauren Passarelli, and a rolling flow of meaningful drum fills from Steph McAlear. This one is simply fetching in its wholesome Americana flavoring and in the skill of the players. It would make a great movie theme song, when the protagonist has a eureka moment of realization that he has more going on than he previously understood.
"Hard Times" is another Beaudette piece with Americana flavoring. Guest Greg Lee's banjo and dobra playing paint it slightly country while lead guitarist Nicholas Seguin locks you in a honky tonk atmosphere. Beaudette's vocal here has a quality of lift off and of a swooping back down to give twisty appeal. The embracing chorus grips the ear while giving a sense of the hard times Beaudette sings of. It's uncanny how she renders the emotive quality of her song, letting you feel it for yourself rather than hitting you over the head with it.
With only her acoustic guitar and Graham Greer's lap steel for sparse accompaniment, Beaudette makes you feel it on "Cold." The very word "cold" has new meaning in the way she sings it out, sustains it, and lets it hang in the air for a few moments. The feeling of loss she conjures must have been overwhelming when she wrote this. Each chorus pulls you deeper into what was going on as the singer hides nothing in her vocal sustains. Gracefully, Beaudette switches gears to her warmer, joyful "My Heart Is Yours." Right away, this one will make you feel better as you relate to its fulsome love for the right person, the person who only needs to be himself.
Back into heartbreak territory, Beaudette sings forlornly over a lonesome piano melody on "It Finally Took Losing You." Sweeps of vocal texture create an atmosphere of sadness, and this ambiance, once again, pulls you into the singer's entire world of loss, reflection, and courage. The lushness in her voice is unique, fetching, and effective. Jon Vezner's piano and synthesized strings have that larger than life quality you can get from the right combination of a few instruments played together just right.
Two-step energy abounds in Beaudette's grim labor song "When The Last Whistle Blows." The vocal and musical textures are warm and embracing even though it's a message of uncertain futures for many who lose their factory jobs. The musical joy belies the truth of the situation yet makes it more heart rending. Centered on newly laid off employees who go out on the down, their night of fun and glory, we know, will not change the fact that tomorrow will find them all jobless. The musical side, while conveying their courage, makes clear they are marching toward a bleak future for themselves and their families. You cannot help but feel the sorrow that comes from being tied to a job that can easily vanish. Beaudette's song craft will carry you along. Steph McAlear's drum work is irresistible, Brian Buchman's fiddle may make you reach for a tissue, and Scott Rossley's throbbing low end march will force you to meet the fate alongside these workers.
Baudette's "I Think I'll Buy A Christmas Tree" manages, thankfully, to not sound tied to the holiday season. This gives it a universal feeling that anyone can feel about a certain time in their lives. The singer-songwriter arrives at another ambivalent state. She has mixed emotions that come across well in the persistent acoustic guitar strum and knobby bass notes.
Beaudette closes out with "One Step Closer Than Yesterday." Here, she has only her acoustic for support and the bare bones approach let her launch her vocal techniques into a higher artistic plain. She just lets the emotion pour out, her voice having a smooth fibrous texture that envelops all around it, warmly, freely.
Beaudette has come up with an impressive singer-songwriter CD in Honestly. In good form here, Beaudette's song craft is top of the line, her voice marvelously endowed with texture and feeling, and she brought along fine players to flesh out her creative vision.