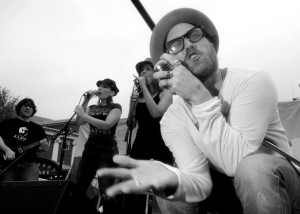 OldJack formed on a fluke back in 2008 when Dan Nicklin was putting bands together for recording projects. He ended up with a nine-piece band that features three female backing vocalists. OldJack, in its current form, has been together for two years, with Nicklin and bass player being the consistent members. Nicklin was looking for an outlet for some songs he had written. He got people together for what was intended as a one off thing, and everybody involved had so much fun that it just clicked.
"The idea has always been that the band will be whatever group of musicians is available to play that show," Nicklin said. "For the last nine months, I've had my friend Nate playing acoustic guitars with the electric guitars. For the year prior, we had a keyboard player, an organ player who played with us. Sometimes people come, sometimes they go. The idea has always been not to stress out about that."
After playing the first five shows, Nicklin looked at his guitar player and said, "We need girls. We need three female background singers." The guitarist had been dating a singer who had two friends and so he could make that happen. "Eventually, we ended up with the three girls we have now," Nicklin said. The three are Kelly Davis, Christie Beaulieu, and Emily Belastock.
OldJack also features guitarists Hugh Wyman and Derek Feeney, drummer Jason Meeker, and bass player Ryan Peters as well as Nicklin as lead vocalist. And that's not bad considering Nicklin was a producer who was busy with Boston band Miss Pigeon and numerous Hip Hop acts when he got sidetracked by OldJack, which came out of his quest for a big, raw sound.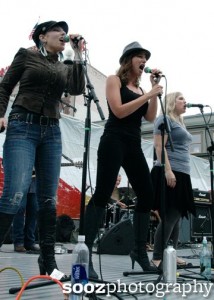 "I'm a sucker for music," Nicklin said. "I don't have any one particular thing that's like 'Oh my God, that's exactly what I want.' I love all different styles and sounds." The size of his line-up, two guitars and three girl singers, gives him a lot to work with. "It affords us dynamics more than anything. We can be enormous, or we can pull it back, or we can give you a wall of sound. We can provide you with a nice sweet harmony. I think those are important things, especially harmonies. It's kind of all about that."
Nicklin feels that his band has never arrived at the size he ideally wants to have. If he had it his way, he'd have an acoustic player, two electric guitars, and organist, a pedal steel player, a percussionist, and a horn section as well as his girl background singers. "Then we'd actually be pulling off what it is I think about," he said. "That would work for me."
OldJack participated in last year's Rumble band contest in Boston. OldJack initially lost on night one, but the winner of night one had a schedule conflict and had to back out of the Rumble, putting OldJack back in the competition. Then they went all the way to the finals. "We had actually lost our night by like a point and so they had to bring us back," he said. "We had a fairly storied run, I guess you'd say. We became the underdogs all through it."
Aside from some New York City gigs, OldJack has been pretty much a locally focused band in the city of Boston, where they play one to four gigs monthly, no mean feat considering the city's competition. Nicklin's new plan is to spread out to other New England cities. "Being a really strong Boston band is a really hard thing to do and a lot of us have taken that on as our challenge. Boston has a band on every corner, and every musician who's in Boston is in three bands. It's incestuous. Boston's such an amazing city for music. It's one of the best cities in the country for music, I think."
Yet, next month, OldJack will land at the Mohegan Sun in Connecticut on May 2nd and back to Somerville to play Radio on May 12th before tackling some outdoor events this summer in Georgetown, Lynn, and Hingham, Massachusetts. "The idea for the summer is just play those outdoor shows, play those nice shows, rather than be indoors, and that way when we come back in the falls, and people want to go back inside, we're looking to play back inside again."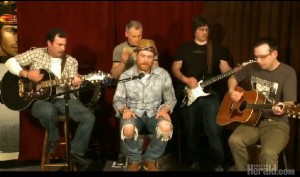 Nicklin isn't sure why OldJack's retro sound appeals to the young people who fill his rooms. "I know a lot of young people who love coming to our shows, love our energy and what we bring forth live," he said. "My songwriting is lyrically very much about life and that little bit of hope that keeps you going. I think that's ageless. If you're young, and you only listen to electronic dance music, then my band's probably not going to appeal to you. But if you're young, and you grew up on your dad's Neil Young record collection and you love Joe Cocker, you're going to think we're the greatest thing ever. I don't know if that's a needs things more than it is a musical taste thing."
Nicklin said the band doesn't pay anybody's bills; it's a passion thing. The front man doesn't spend much time analyzing his band's style. "I don't know that we're thinking about 'is that our sound or not' because it's our sound once we start playing it, I guess."
Nicklin has always written the lyrics while OldJack as a whole flesh out the songs. Sometimes a band member will come in with an idea and OldJack will work with it. "One of the guitar players can walk in with a riff one day and then we'll just jam the riff out for a while. If everybody's feeling it, I usually write words fairly quickly. Within the first hour of rehearsal, we've probably written songs."
OldJack has a list of 15 covers for their Mohegan Sun show that they have whittled down to the five they're going to play. They're going to cover Neil Young, Jenny Lewis, Fleetwood Mac, and Eric Clapton. "We cover 'Oh Well.'"
OldJack recently released a single called "Take A Bow." Nicklin wrote that song a year ago. It was the fifth original song he ever wrote; Old Jack had been kicking different arrangements of it around the can for a while. The band had also wanted to record a second single with producer Will Dailey after working with him previously.
"Will came in and we fleshed out an arrangement that everybody can kind of live it," Nicklin said. "I think we've played that song five different ways. We've had the Steely Dan version of it. We've had the rock and roll version of it. Finally, we kind of settled for this Motowny sound to it."
"Take A Bow" was recorded and mixed in two days. Working with Will Daily was a plus for the band. "He and I get along really well. I push him. He pushes me, Nicklin said. "The relationship seems to work. He's so talented. There's a beauty to working with him. If he wants you to flesh out something, he can just grab the guitar. They keys are the same way. He's been around a lot of producers throughout his life When you're working with him, you're working with a lot of the people he's worked with in the past, so there's a lot of wisdom there."
Next up, OldJack plans to release a song called "Radio" to honor the new Somerville club named Radio. The owner of the new club was the booking agent at an another club that booked OldJack for a residency. "Radio" was originally intended for an entire compilation of songs called "Radio" by local bands. "Hugh showed up for a guitar line for 'radio.' He played it, and I knew exactly what it was going to be the second I heard it," the singer-songwriter explained. "There was just something about it. We all got together and then the chorus popped out."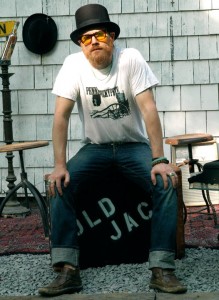 OldJack are going release their singles on white enveloped disc, a hundred copies at the release show. They're not going to make another hard copy of the single until potentially it appears on an album. "If you don't come to the show, you'll never get a hard copy of the song," Nicklin said. "Pressing records is so expensive. I know that there are those people who care about having a music collection because I'm a music collector. I spend an exorbitant amount of money on record day buying limited edition stuff. I love handling music and holding music so for those people it's why I'm doing it."
OldJack released a five track E.P. last February 2011 and a three track last October. The band is also 17 tracks into a 22 song album that they're trying to record. Nicklin predicts that, with two babies coming to the band this year, it will not be released until next spring. "We like all the material so the next step is to release it," he said. "Rather than give you what we think are our ten hits, for people who care about our records, we're going to give them a big body of work."
Nicklin said OldJack will only release a hundred copies at $50 a piece for a three record set on vinyl. Everybody who doesn't buy a hard copy will have to download the material from OldJack's site.
Aside from the recording project and spreading their gigs out to the burbs, Nicklin doesn't have a long range plan charted out. "If I'm the captain of the ship, then my job is to point it in the direction of the wind," he said. "Whatever the journey looks like on the way, I guess, will be whatever it is. The music is what keeps us moving."