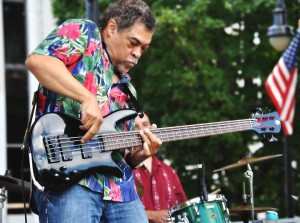 Angelo Mullen has been plying his bass skills in northern New England for decades. Mullen is not a huge gear head, but he does have a few devices in his bag of tricks and does like to talk about them.
These days, Mullen works as a substitute fill in bass player. He uses two axes, a five string Spector and a Fender Jazz bass. The Spector he has has DR strings that give a bright tone for when Mullen is playing rock and roll and funk music. Mullen uses flat wounds on his Fender Jazz bass for the softer sound of an upright when he plays blues and jazz.
Mullen uses some effects pedals with his basses. He has the Zoom Multi-effects pedal mostly for flange and chorus effects. He also relies on a Pog Octave Divider. "You have the normal frequency of a string. You pluck it and it has that normal frequency," Mullen began. "Maybe to give it more bottom, I might want to double and do an octave lower. To make it nice and full, I use a lower octave simultaneously with the same string. It gives it a doubling effect, like a 12 string guitar. That's what the octave divider does. Not only does it do an octave lower, it also does an octave higher. If I'm doing a heavy rock and roll song, and it's very riff oriented, then you want the higher octave because it makes it sound like a guitar and bass are playing at the same time."
Mullen said that it provides a nice synth effect needed when he's playing in a power trio because there is no keyboard player to fill out the sound. "If your guitar player drops out to do a solo, you don't all of a sudden to be empty," the bassist explained.
Mullen runs those effects through a Combo Bass Amp made by Hartke, a Hartke 3000 Head with four 10 inch speakers in a single cabinet. The self-contained until is on wheels so Mullen can simply roll the hundred pound amp into a room. "Everything's there and it's a nice warm full sound," he said.
The bass player emphasizes that strings are one of the most important things to his playing techniques and genre choices. He said each player has to find strings that express the tonality that they prefer. Mullen prefers his DR round wound strings, even though they cost more.
"Where most strings run about twenty bucks a pack. These run about thirty five. But they're very expressive," he said. "I can get a tight sound or I can make it sound like the bass player from Yes by cranking up the treble. It's a wide range of sound that you can get out of these DR strings. Round wound strings were what Yes' Chris Squire used on his Rickenbacker to get that real growling, punchy sound."
Mullen said that many progressive rock players use Roto sound. "That's what gives them what people refer to as a piano string sound," the bassist explained. "Amplifiers you can tune and stuff but to get a fat sound or a thin sound, the strings I think is what defines if people can hear your notes. I want people to hear the notes I'm playing. I don't want muddy strings or muddy sounds."
When playing blues, Mullen prefers to use his Fender Jazz, which is one of the standard bass guitars for blues and jazz. "I'm trying to get more of that upright bass tone out of it," he said. "Being a Fender you just sort of approach the way you play it a little bit differently than you would a rock guitar. It's a mental thing." Mullen doesn't need his effects pedals in the blues. The music is too pure.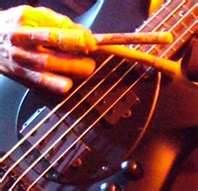 Mullen does study the tricky, challenging bass methods of the prog-rock players. Tony Levin, who plays for Peter Gabriel, is an inspiration for Mullen. Mullen is particularly intrigued by the way Levin uses "funk finger," cutting the tips off of drum sticks, taping them to his fingertips, and so instead of plucking the strings, he's hitting them with his tiny drum sticks. "You can't play fast with it, but it's an interesting sound," Mullen said. "He's a real innovator when it comes to bass sounds."
Mullen breaks bass playing down to two schools of thought. He said there are bass players like Geddy Lee of Rush and Chris Squire of Yes who are very melodic, playing lead roles in the music. "They're not traditional hold down the bottom bass players," Mullen said. "There are other bass players who are more concerned with holding down the bottom and the tempo and getting more of a feel." Mullen used to teach himself the progressive material because it was creative. It also taught him to approach music from a different perspective.
Lately, Mullen has had a new bass guitar inspiration. "I would listen to Stanley Cark or Jaco, but nowadays I'm listening to more Pino Palladino. That's the style I like. Palladino really just lays it down. He finds a groove and stays there. He's in that pocket." Mullen noted, though, that Palladino can play intricately too, reminding that Palladino played with The Who as well as John Mayer Trio. "He can play lead just as fast as any bass player," Mullen said.
Mullen pointed out that local musicians have to compensate for not having as much of a budget as the big name players. "They get so many endorsements," Mullen said. "We try to emulate with foot pedals what those guys run through a thousand dollar PA system. I'm spending $200 on a pedal to try and get that same sound. I'm spending a hundred and fifty bucks to get the sound of a thousand dollar piece of equipment."
Pedals, Mullen said, give a player a different sound to highlight or augment the bass part. He pointed out that funk bass sounds like bump-bump-bump-bump but that it might sound like womp-womp-womp if the bass player is adding an extra layer of texture with an envelope filter. "That's just adding an extra layer of texture that makes people's ears perk up," he said. Mullen uses a Bassballs envelope filter when he's playing George Clinton style funk material.
"I found equipment that I know lasts and gives me the sound I need and I don't really go searching for a whole lot more. That's more of a guitar player's world," Mullen sound.
Angelo Mullen is available on Facebook.