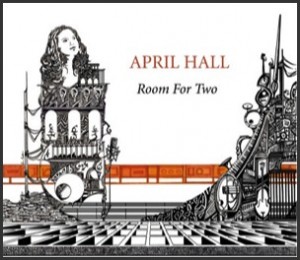 April Hall has been on the Boston jazz scene for many years. Her unusually rangy, scintillating voice easily fills the open spaces on her latest CD Room For Two. Room For Two is about having two musicians on each track, Hall and the instrumentalist who plays a duet with her, one voice and one instrument, to great musical effect .She can pit her vocal against a booming bass rhythm and provide the sole melody line with just her voice. Hall has selected the perfect personnel to accompany her, each with their own emotive tones.
"Amazing Love" opens the CD with an easeful interpretation of the vocal melody line. Hall presses her vocal out over the gentle strumming from Gray Sargent's acoustic guitar. She can at once sustain a note and move it up or down the scale. An instrument onto itself, Hall's voice finds the right moments to reappear in the song. After Sargent's brief interlude, her vocal seemingly comes out of nowhere, full of emotion, full-bodied, and lush with tones.
"Honeysuckle Rose" gets its palpable rhythmic backbone from bass player Marty Ballou. Yet, it's the way Hall rounds the curves in this snappy low end groove that gives a winning charm. She jumps right into the open space created when the player pauses. And her wringing out the supple vocal notes in the closing bring to fore another spoonful of bright, shiny sweetness.
Caressing the heck out of a vocal melody line is Hall's specialty. "To Whom It May Concern" is a case in point. Hall's breathy eloquence brings in a sophistication only matched by the soft, unstudied emotive piano tinkling by Tim Ray. Listening closely to how Hall rides the verses, it's as if she's carefully measuring how much gustiness to put inside her sustains, and she never misses her guesses.
"I Want To Be Happy" comes into the listener's consciousness with hip, percussive touches from Les Harris Jr.'s drum set pieces. An emotive wallop comes from the way Hall belts out one verse then swiftly sings the next set of verses at the same pace as those speedy fulsome drum notes.
"Black Coffee" is a song about nervous insomnia and sleepwalking. Hall embodies and personifies the song's frustration. She drawls out the anxious wakefulness with easeful, down tempo sustains and phrases. Her sudden switching from gentle crooning and cooing to belting out a single line quite effectively conveys the emotional pain behind the sleeplessness. The voice makes you feel the lonely longing. Knobby, wooden bass notes from Mark Poniatowski form the steps that Hall steps over. Each low end note connotes its own sense of frustration and weariness with their deeply felt tones.
A pop sensibility informs Hall's interpretation of "You've Changed." Shades of Broadway and old time radio classics mark this examination of a fading love with an accessible brightness. You can almost picture Hall as a 1940s starlet singing this at a piano inside a posh nightclub in a black and white movie. The least jazz influenced song on Room For Two, "You've Changed" could easily find a place on modern radio play lists. Hall gives it a straight-forward earnestness rather than color in the vocal melody lines with shadings of tone and timbre. Instead she lets the piano do most of the sprightly talking while she sings over it like a pop singer with jazz training.
"The Best Thing For You" finds Hall once again employing her arsenal of techniques. She vocally tap dances her way around a palpable bass line like an old pro. She fills each subtle line with meaning, infusing her delivery with brightly sustained notes. And boy can she pick the right low end man for each of these duets between voice and bass. Bass player Marshall Wood gives this tune plenty of moody energy. He plucks nimbly enough to make the bass sound like a polite singer with a lower register, staying humbly away from the vocal melody while simultaneously supporting it.
Anticipation builds from Les Harris's melodramatic drum work on "Spring Can Really Hang You Up The Most." Hall's sensational vocal highs are enough to match wits with the drums. She just milks every nuance out of her lyrical possibilities. You can hear high notes, emotive tones, a rich timbre, bright ranginess, sensual sustains, and a whole lot more in her phrasing. She has a good thing going on in her ability to ride her range up into the higher notes and then to move around up there in the stratosphere, spreading her talents and qualities generously before riding it back down. Hall makes you feel how much she longs for a better season in one's life.
Tenor sax joy from husband Tom Hall introduces the ears to the assertive "Gee Baby, Ain't I Good To You." Duet with a tenor sax might be a challenge but Hall doesn't show any signs of being matched. She lets Mr. Hall strut his own stuff around the open space before she does her own sophisticated zigzagging with the melody line. She can suddenly rise her vocal pitch to contrast with the breathy organic brass instrument and that sharp distinction is where her talent lies.
"I Guess I'll Hang My Tears Out To Dry" finds Hall and guitarist Gray Sargent in perfect communication. Hall's voice unfolds as softly as a ball of yarn while Sargent applies a gentle, affectionate strum that accommodates tastefully. Much emotion then pours out of what on the surface is a subtle application of voice and guitar but in actually is quite effective and moving.
The jaunty "My Baby Just Cares For Me" finds Hall singing with a lilting, springing lift. She joyfully tosses each lyric up in the air with a slight adjustment in her range and catches it mid tempo and tosses it again. This allows her to fill each word with feeling so that the listener is experiencing the story on an emotional level while following the flow of notes The joy in the words Hall sings are perfectly matched by the lyrical meaning. Mr. Ray's piano melody is another treat for mind and heart.
Accordion melody from Joe Barbato inspires the listener on Hall's closing track "That's All." Hall rides over the bouncy instrumentation with a gliding vocal. And the contrast between her glide and Barbato's bounce highlights the strength in each. Hall moves her vocal along with just the gentlest push and the effect forces you to listen carefully to her phrasing, to savor each bit of it.
Hall succeeds greatly at creating duets with musical instruments. Room For Two is an ambitious, impressive, and very pleasing effort. If Hall is this good in a live concert setting, she will surely be a top draw at any jazz club. Aside from Hall's voice and the musicianship, Room For Two comes with a booklet of descriptive motion poetry by James Cudworth that enhances the musical experience by making the songs appear in your imagination even more strongly.