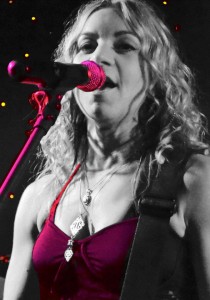 Many times we hear someone comparing one singer to another. Some people try to describe what a local singer sounds like by comparing her to a national star. This attempt to put a name on something varies in effectiveness. Every singer is unique so it is hard to understand what a person means by saying this local singer "sounds like" that nationally recognized vocalist.
Let's begin this examination by staring with New Hampshire home girl Lisa Guyer. The common comparison for Guyer is Janis Joplin. I have lost track of how many times I've heard someone say "I love going to see Mama Kicks, Lisa Guyer sounds just like Janis Joplin."
Personally, I don't hear that much similarity. To me, Joplin had a bit of a nasally inflected vocal while Guyer has more of a throaty growl. I think I do know where that comparison comes from. The power. Guyer has a rocketing voice that might actually remind people of Joplin's belt. Guyer, like Joplin, can also reach deep inside herself to pull out something emotional that makes her sound real. Check her out when she sings "Georgia" with Mama Kicks. Also: Check out Guyer's cover of "Damn Your Eyes" off of her 2000 CD Leap Of Faith. Her power is all coming from a throaty assertiveness. Compare that to Joplin's recording of "Piece Of My Heart," in which Joplin sounds like she her breathing technique involves her nose, giving her voice a tad of shrill in her fiery delivery.
The comparison that I get the most kick out of is when music fans compare Lowell's Jen Kearney to Stevie Wonder. This one makes me shake my head in wonder. Simply put, Jen Kearney is not a black man. Granted, both Kearney and Wonder sing with a bit of rasp and they both play keyboards with a tone that reminds of clavinet. As far as that goes, I can understand the comparison as a point of reference, a way of putting a name to something. If a music fan likes Stevie Wonder, he is likely to enjoy listening to Jen Kearney And The Lost Onion.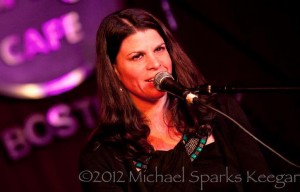 Yet, Kearney has a husky feminine voice while Wonder has a lighter masculine rasp. Kearney also has a much heavier funk element in her keyboard playing and songwriting than Wonder ever did. Wonder is more Motown and pop influenced than the funk soul sister Kearney. The lady also has a plethora of Latin rhythms that Wonder never really explored too deeply. And although Wonder writes socially conscious lyrics, Kearney wrote a concept song about the Chinese Year Of The Ox.
Contrast Kearney's song "Gentle And Precise" from her 2009 release The Year Of The Ox to Wonder's "Superstition." Not only are Kearney's rhythms more Latin influenced, her vocal approach is breezy even though her timbre has some edge. Wonder unleashes a burst of twisty lyrics with a more lightly accented timbre.
I respect every music fan's right to describe a local artist's sound. If Kearney fans feel they're giving a good description by comparing her to Stevie Wonder, I can see where they're coming from. However, I'm going to have to dismiss that comparison out of hand. To my ears, Kearney sounds far removed from Wonder.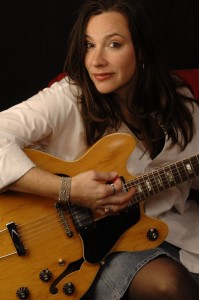 Salem, Massachusetts is home to the profoundly talented singer-songwriter Erinn Brown, a somewhat folkie, funky, R&B artist who plays out solo, duo, trio, or as a front person of her Erinn Brown Band. Everyone who knows Erinn Brown knows of this comparison. "She sounds like Bonnie Raitt. If you want to get an idea of what Erinn Brown is like, think Bonnie Raitt."
But does this comparison work? Only so far. Brown's songwriting is heavily influenced by Raitt. Her voice, though, is only similar to a point. Brown's smoky West Virginian accent may remind people of Raitt's bluesy rasp, especially as it's combined with the songwriting influence. But it's probably another instance of music fans giving a name to something by comparing it to something more familiar. Brown may be closer in style and timbre to Raitt than Pat Benatar, Sarah McLachlan, Stevie Nicks and many others. Yet, when Brown sings into a microphone, it is Brown's voice coming out of the speakers, not a Bonnie Raitt impersonator.
Brown, on her original "Love Is A Peace Of The World,", reveals a silkier timbre than Raitt who, to my ears, sounds rawer and raspier on her new CD's opening track "Used To Rule The World."
Moving right along we come to the phenomenon of youthful blues and soul vocalist Alley Stoetzel. Stoetzel is a highly schooled lead vocalist who can perform all sorts of curious vocal gymnastics. She partly names her bands after herself, Alley Blues and Soul Alley. She has been compared to many famous female vocalists from the soul-blues-funk-R&B category. The comparison that stands out the most is Tiny Turner. A Stoetzel fan once wrote her that she shouldn't include Tiny Turner on her list of artists she is similar to. This fan felt that the comparison was way off and was concerned that it would confuse people as to what Stoetzel sounds like.
While there is no need to be an alarmist, Stoetzel, in my view, only comes so close to Turner. Stoetzel's take on "Proud Mary" has the volume and power that many associated with Turner. Yet, the home girl has a sweeter timber than the raw and raspy Turner.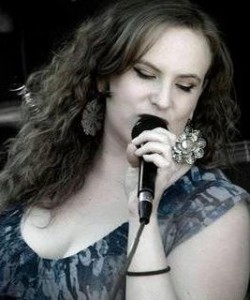 Yet, in equal numbers on each side, local music fans will argue this back and forth without resolution. Any professor at Berklee College Of Music or the New England Conservatory will tell you that the concept of colors and tones dictates that the interpretation depends on the individual listener. A chord is either major or minor. A singer is either on key or off. A musician either hit's the right or wrong note. But, there is no such thing as being wrong if you feel a singer reminds of another singer.
Personally, I think a voice is like a fingerprint. Each is somewhat, however slightly, different from everybody else's. That is why I don't think it is technically accurate to say that singer A sounds like singer B. There may be a similarity in that two singers may sound closer in timbre and tone to each other than say Shirley Temple.
No artist really likes to be compared to another. What is art is if it is not individual and distinctly unique? Some deal with it better than others. But, they will always be dealing with it. There is really no vocabulary words to describe a sound. This gets into what Elvis Costello once said: "Writing about music is like dancing about architecture." And he was right. Music has to be heard. Reading about it can only carry you so far, no matter how talented a writer is, and most of us can't write as descriptively as Mark Twain.
As much as I try to be sensitive to people with true talent, I do use these kinds of comparisons. It gives a reader an idea what an artist sounds like so they will get interested in a particular local artist. I would rather get a reader interested in an artist than be so overly sensitive that I miss a chance to win her a new fan. If I know someone open to local music likes Janis Joplin, I'll tell that person about Lisa Guyer. If they like Stevie Wonder, I'll mention Jen Kearney And The Lost Onion. If they like Bonnie Raitt, I'll them about Erinn Brown. And if they like Tina Turner, I'll tell them about Alley Stoetzel. It can be decided at another time if the new fan agrees, in whole or in part, with the comparison. The important thing is that a local artist has a new fan.
For those of you who are wondering 'what about the male singers?' Well, what about them? Seriously, I don't hear the comparison thing as much about male vocalists. Everyone had a MySpace band page that listed who the artist sounded most like. Yet, conversationally, I usually hear people making comparisons between the local and national women artists. I'm not sure if it's a latent sexist thing, a subconscious tendency to diminish women in this industry as they are unfairly, subconsciously diminished in others. Maybe a woman's voice subconsciously reminds us of our mother's in some collective unconscious way and hence the tendency to go home by comparing the unfamiliar to the familiar.
I know it's time to stop writing when I've gone into Freudian and Jungian psychology. If this highly opinionate piece has gotten you interested in Guyer, Kearney, Brown, and Stoetzel, then I've done my job. Oh, Erinn Brown spells her name with the letter n twice and Alley Stoetzel's last name rhymes with pretzel if you're asking about her over the telephone. I now have to go pick up my girlfriend Donna at the bus station. Her voice reminds me of sweet clarinet melodies in 1920s jazz.