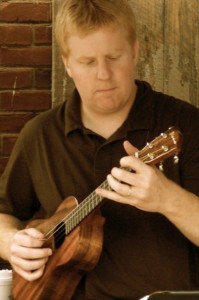 Jeff Buckridge recently experienced a major revelation in his life. The Boston Horns guitarist discovered the joys of ukulele playing while on a vacation in Hawaii. Now, several months later, has a band called Jeff Buckridge's Uke Joint that's been playing gigs in the North Shore area of Massachusetts, during nights off from The Boston Horns, of course.
Buckridge saw two kinds of ukes in Hawaii, a tourist ukulele, something that looks like a ukulele but was unplayable and the real instruments that are popular there. The guitarist was overwhelmed by the uke's popularity on the island, so he bought one. "Just like you might find a finely crafted guitar at a music store, you can find a three thousand dollar ukulele if you really want to pay that," he said. They are real instruments, though. Uke players in Hawaii take it seriously and own hand crafted ukuleles.
Being a music teacher and a guitarist, the ukulele became Buckridge's summer instrument. When heading out to the beach or a lake, instead of grabbing a guitar, he grabbed his ukulele to play. "I just developed a relationship with it, an escape from the guitar," he said. "When you play guitar professionally, often it's competitive. There's so many good players out there and you're always trying to improve. It almost stops being just for fun. Ukulele was more like just enjoying playing the instrument and playing songs that I like."
Clearly, Buckridge cannot use his ukulele in the funky Boston Horns. Bu it did go from hobby to legit side project when he started playing it live at Salem Farmer's Market and Beverly's Farmer Market in the summer time. Other than a couple of wedding songs, he had never really played live with it. Buckridge played his ukulele with a looping pedal to make it sound like he was more than just a solo instrument. He called the experience Loopuaele
"I would play the chords, do a song, add melodies and improvise on top of it," he said. "It was fun. People dug it. "I actually had some interest from a few different people to see if we could play it at a gig."
Needless to say, Buckridge didn't get the kind of Saturday night club dates to bring the roof down with his uke. He got afternoon and Sunday night gigs and decided to put a small combo together to be able to play this kind of music.
He recruited bass player Ed Spargo, drummer Brendon Byrnes, and singer Megan McKenzie. Before he knew it, Buckridge was booking gigs for his Jeff Buckridge's Uke Joint throughout the North Shore, playing everything from Louis Armstrong to Michael Jackson. Chianti's in Beverly, Minglewood Tavern in Gloucester, Pig's Eye and The Seaport Cafe in Salem are the usual stops for Jeff Buckridge's Uke Joint.
"I figured it would be a different and unique thing that nobody else was doing," he said. "There's a little bit of a novelty to it. But I thought that the sound was unique enough that people will want to hear it." The four-piece have just recorded their debut 5 song E.P. to introduce themselves to a greater number of listeners to the group.
The ukulele has caught on like it has never had before in Buckridge's lifetime. The instrument had a heyday in the 1920s and then in the 1960s with Tiny Tim. The recent fascination with the ukulele have come from different sources.
YouTube features a ukulele player named Jake Shimabukuro who has received 10,000,000 hits for his ukulele arrangement of "While My Guitar Gently Weeps." Shimabukuro went on tour with Jimmy Buffet for further exposure. Ten years ago, a ukulele version of "Over The Rainbow" was used in recent motion pictures like Adam Sandler's "51 First Dates." Pearl Jam front man Eddie Vedder recently released his own ukulele album on CD call "Ukulele Songs." Buckridge's band plays an original from that collection.
After the ukulele became popular, YouTube became the publicity vehicle for all the hobbyist players. "Some people, that's all they do. They record themselves and put themselves on YouTube. But there's some really talented players out there," he said.
"Nowadays you go into Guitar Center and you see a whole wall of ukuleles there," he said," where they used to have one or two hanging on the wall. But now, people are taking it seriously. If you go into Music Emporium in Lexington, they have a whole wall of ukuleles."
A high end guitar shop, Music Emporium sold Buckridge his intermediate level Pono ukulele. "It's a good store if you want really high quality stuff," Buckridge said. "It's not practical for people who are just starting out to go there." There are numerous ukulele manufacturers and lots of handmade independent makers. Major guitar companies like Martins and Collings also make ukuleles.
The Bay state has interest groups like the Ukulele Union in Boston who hold monthly meetings, concerts, and conferences. "I went to a couple of the meetings just to see what it was all about," Buckridge said. "Turns out, it was a lot of beginners and amateurs who really like playing but they're not people who are seeking to be professional ukulele players. In each of the groups there will be a couple of really good players. A lot are just hobbyists."
Buckridge found that those fun interest groups were not for him. His involvement with the instrument leans toward professional interest. His wide range of jazz, rock, everything from Django Reinhardt to The Beatles to Led Zeppelin. Yes, he plays a Led Zep tune on his uke. "Originals tend toward the jazzy and melodic, rhythmic," he said. "Certainly, the jazz influence is there and there's a lot of improvisation."
Buckridge said the recent YouTube ukulele sensation was like The Beatles appearing on Ed Sullivan's show made kids want to play electric guitars. "There's something about the ukulele that makes it look like anybody can do it," he said. "It's not an intimidating instrument at all. Quite frankly, it's easier to get started on uke than on guitar or any other instrument. It's small. It's four strings."
For the foreseeable future, Buckridge would like to get his four-piece into art galleries for afternoon shows and other such light venues.