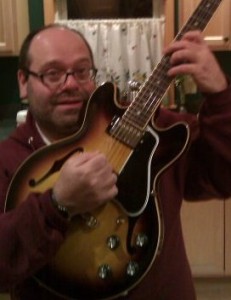 Guitarist Joey Vellucci has kept himself busy on the New England music scene for 30 years, gigging almost every weekend. He also composes scores for film and television. Yet, the jazz-rock-pop-blues-funk-OK, he plays everything, artist has always flown under the radar, never attracting the attention of the press. Until now. Vellucci discussed his intriguing career in depth.
"Besides my regular club dates, I've been writing new material, recording it for another CD that I'm going to put out soon," Vellucci said. "I would like to get out of the club atmosphere and do it in a theater, if possible." Fall is the expected release date for this disc that will feature him in a five piece, guitar, bass, drums, vibes, percussion, and piano. The eclectic batch of songs will include smooth jazz, gypsy jazz, bluesy, and classic jazz. Vellucci doesn't put boundaries around his music when he's writing and recording.
"I try to keep a real open canvas when I sit down," he said. "I never know what I'm going to write. It should be interesting. If you go up on my website, I've got about 55 tunes that I've recorded. The instrumental ones are some that I'm going to do on this next CD." Vellucci wants to take a band into a studio and play the whole thing live for a producer.
His Joey Vellucci Trio has been playing steady gigs since 1999. Yet, he's worked steady every week since 1982. "My own thing, it's been busy. Knock on wood," he said. "I haven't had many weeks off. It's been consistent. I fly a lot of times under the radar. As much as I try to promote gigs, the press has completely ignored me for years."
Without press and with the club scene struggling for years, it's a wonder how Vellucci has stayed busy for all these years. "I don't know. It's just been like a word of mouth thing," he said. "It's such an unusual act, that you play every style of music. No matter who's in the audience, they eventually get to hear stuff that they like. I've done concerts and colleges and stuff like that, and it works everywhere. They get to hear something that they like. That's been my secret recipe for years. If you go in and just play one style of music, I think, it's really, really hard. People get bored fast. There's so much entertainment competition. There are I-Pads. You have to catch them off guard and give them something a little bit different to keep working."
Vellucci tries to pick music that appeals to him, figuring that if he likes something, others will too. He has many memories from his 30 years playing out. One sticks out. A few years ago Vellucci was playing at the Red Rock Bistro on his birthday and his girlfriend had brought a big cake. He was performing Marvin Gaye's "Let's Get It On." In the middle of that song he talks to the audience to tell a story. That night he talked about his how he has been dating a woman he dated when he was younger and didn't see her again for 20 years until they reconnected. Vellucci dropped to his knee and he proposed to her.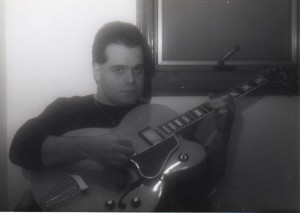 "It turned into a fun thing that night. It was just real special," he said. "We got married a year later." His wife is very supportive of his music career. "It's a business and we treat like any other business. During the day, I'm always e-mailing or scheduling. I also book bands too. I'm recording. I try to leave time at night for family time. A lot of times my wife comes with me to the shows. It's been very good."
For many years, Vellucci had worked a day job while playing his music at night which put a strain on his health. He was a software engineer for 1995 to 2008. "It was too much. It was killing me," he said. "I'd work (his day job)40 to 50 hours a week; gig three to four nights a week."
The guitarist-composer supplements his income by writing music for television and film, which brings in paychecks every quarter. He has a publishing deal with Heavy Hitters, company that began in Boston and moved to New York City before relocating to Hollywood. Vellucci composed a bar scene score for the Stephen King movie "Rose Red." HBO has also been a client of his scores. With those big connections Vellucci got to play some gigs in Las Vegas and San Antonio.
His most interesting gigs were afloat, ships, ferries, and steamboats. He also had quite a few in various places everything from strip malls to strip clubs. Needless to say, he is well-connected throughout New England. "I've met many people over the years, definitely," he said. "Networking is very important, keeping good relationships and doing a good job, just giving them what they want and listening and approaching it professionally. They'll call you back again. I never make demands. I just give them what they want and they'll reuse you. Most of it's from word of mouth."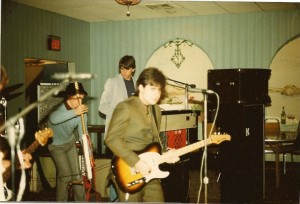 Vellucci is a life long Boston area guy, now residing in Medford, formerly living in the North Shore. His music education began growing up in a musical family and by listening to a lot of records. Yet, he didn't actually play an instrument until his 18th birthday. His cousin Sal Baglio of The Stompers gave him his first guitar and within a month Vellucci wrote ten songs on the guitar, formed a band and started gigging.
"My first gig I ever did was this nightclub in Somerville called Jaspers." he said. "It was one of the rock rooms of the day. My second gig I played The Channel opening for The Stompers, and I just went on for there."
Vellucci learned to play the guitar quickly because he always wanted one and he spent a lot of time daydreaming about the instrument. "I kinda knew how I was gonna play the guitar before I had a guitar. When I got the guitar, it was just a matter of getting over the physical hurdle of playing. Once I was past that, it all kind of came together, and I was doing it.
Share on Facebook

Follow me on Social Media!