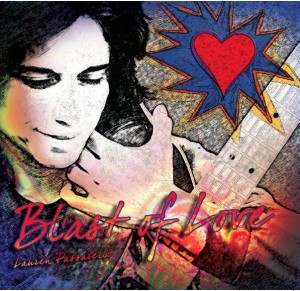 Lauren Passarelli just released her Blast Of Love CD, and it's a blast of fun tunefulness and deep, thoughtful lyrics. Playing all of the music on her disc, the singer-songwriter-multi-instrumentalist's greatest strength is her ability to create ambient, atmospheric soundscapes with her guitars. Just the lightest touches is all she needs to set the mood and build a feeling.
Opening with "Come Be Loved," which utilizes poetry by Kate Chadbourne, finds Passarelli's slightly edgy, breezy vocal gliding just over the surface of her organic electric and acoustic guitars' intertwining intervals. The guitarist continuously pays out interesting tones in her unusually accented notes. Then you refocus on her special voice. She certainly has a distinct voice, beautiful, chirpy, and warm, and with a timbre that can only be described as crisp and restrained.
"Essential One" is a beautifully expressed admiration for a significant other. Dual melody lines make a statement through contrast and keep the ear glues to what's going in those strings. Passarelli seems to find her own natural, unique sound as easily as breathing. She would need something distinct instrumentally in each song as her voice is so distinct. Listening to her coos and picking styles is uplifting. You feel her voice and guitar at work bringing you some place pleasant.
Passarelli's dreamy, dizzying chorus on "Leaps And Twirls" pulls you into its upwardly spiraling feeling. She picks the gentlest of notes and creates a mood. Pleasant keyboard, sounding like faux accordion, adds a swaying sensation here and the musical ambiance expresses the joyful love exuberantly.
Co-written with Elizabeth Lorrey, "Don't Look Down' is marked by sweet vocal harmonies and a flinty guitar line making a background spark. Well-placed low end and percussion fill things out with a fulsome zest and Passarelli phrases a significant arc on electric.
"I Love You Because" features some nifty mandolin picking and tasteful wooden acoustic guitar resonance. Subtle touches are Passarelli's thing. Here, she pinches out plenty of warmth and exuberance from her guitar. Over the melodies she lays out a lush vocal, easily finessing her voice like a dancer finding the right spaces between those acoustic guitar notes. Her electric braces everything with a less is more approach, her notes resonating with a tone that speaks more than the actual notes.
Singing words from a poem by Emily Dickinson, Passarelli turns "Feel For Me" into something that sounds as poetic as these lyrics. There's a mild and effective funky beat under a buzz guitar line and lithe electric piano work. The songwriter keeps the low end low and that creates open space for her guitar and piano. Half the pleasure is following these song structures.
"New World Of Adventure" is a sweet, bumpy ride of a love song. Passarelli uses her percussion and low end to push this forward with a touch of whimsy. Vocally and on electric piano she whips up a jaunty pace underneath the expressions of affection. Joyful guitar notes dot this landscape of love and it's another victory for Passarelli's creative stride.
"Leaf Feather Wing Stone" gets its wind from a wide feel in the electric piano. Passarelli creates a wide arc here, and she sings with a sweeping range in her vocal approach. The listener will feel snug in the songs warm embrace while being swept up and onward on a summer's breeze.
Title track "Blast Of Love" engages with brittle, hypnotic guitar lines. Passarelli croons this one assertively and she maintains her creative balance between smooth, flowing vocal and snappy guitar notes. She also harmonizes quite well with herself and simultaneously builds a narrative arc in this cool love song. Her guitar phrase is icy cool and has a voice of its own.
"Maine Moon" is a perfect, lovely blend of acoustic guitar, bass, and percussion. The music is at once light and profound. Light touches on strings and skins produce the ambiance for Passarelli to apply her slippery timbre to the rustic feel of the natural sounds. A haunting, effective background vocal brings forth another layer of emotion with its simple coos.
Passarelli gets more rockin' on "Wish Upon Me." Her drum beat is kicking the piece forward while her guitars, bass, and keyboards are pumping out an up tempo sweep of melody. Her electric guitar phrase is a slow boil persistence of electric energy. She sings this one with a pop energy that keeps things moving with a sense of adventure.
"The Sea Road" essentially a poem by Kate Chadbourne, gets a heaping dose of vocal lift. Passarelli builds this one up at a take your time pace. Yet, she's constantly moving upward. Her mesh of softly picked electric, adeptly tapped low piano notes, and lush vocal created another pleasant musical atmosphere.
"Galaxy Eyes" mixes a dose of greasy guitar lines, nimbly picked and finessed, with more of that unique vocal timbre. Passarelli has made a trademark out of making more sound with fewer instruments and fewer notes. On "Galaxy Eyes" she weaves another ambient texture with the tones that ring out from notes and chords she plays.
"Let The Music Begin" celebrates the beginning of a romance and life partnership. Passarelli recorded a banjo track in the background and some kind of faux accordion in the fore. Both played to perfection, and the contrast between them, brittle banjo notes and the wide electronic sweep, is another trick Passarelli has up her sleeve. It creates an essential travel space for her voice, which she rides with perfect appreciation.
Passarelli remains interesting in her musical colors right up until the end of her disc. Closing track "Heart Of The Sky" has a pseudo-cello effect that makes a haunted, lamented feeling, reaching the listener on an emotional level. A steady drone out of one note creates an instant backbone. Then, a mix of tasteful instrumentation, tones, and timbres creates the musical equivalent of a delicious fruit salad.
Whether using others' poetry or her own tender, thoughtful lyrics, Passarelli weaves alluring, engaging sounds in each track. This Blast Of Love CD is a blast for serious musicians who will enjoy hearing what the composer has come up with. It will also go over well with anybody who likes to near nice songs that come from the heart of an honest songwriter.