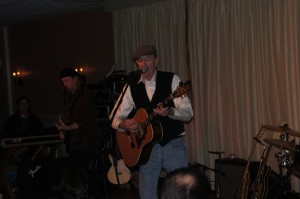 It does happen now and then that an opening band turns in a much better performance than the headliner. Last night at the Bull Run Restaurant in Shirley, Massachusetts was such an occasion. The main attraction was Danny Klein's cheesy, atrocious J. Geils Band tribute act Full House. Boy, did those guys fail to do justice to their source material. More on that disappointing experience later. Focusing on true art must come first.
Marty Nestor saved it from being a dreadful night. His 40 minute set provided serious well-crafted tunes that were executed by his fine acoustic rhythm guitar playing and his three top notch backing musicians. He opened the night with his original "The River Will Run Through It," a number marked by Nestor's smooth powerhouse timbre and his solid, folksie, amicable guitar strumming. Maintaining the balance between driving rock and folksie appeal was Nestor's force of nature vocal approach. He carried the entire song up and down the story arc on the strength of his voice. His blazing band also set the song on fire with generous offerings of energy and talent.
On his next original "Tell Me What You Want," Nestor got more raspy and the song got a solid backbone from the profoundly solid and tight rhythm section, bass player Jeff Root and drummer Kim Miller. These two didn't just lock into a groove. They provided, deep, meaningful muscle for the vocals, acoustic guitar, and lead guitar to sail over. Speaking of lead guitar, you should've seen and heard Doug Vennard on his electric. The guitar wizard played with consistent, unusual power in every song.
Nestor put it across with a hearty vocal rasp and his hefty acoustic chords on "JimmyJohnJohnny," a tale of a nasty young bully who gets his comeuppance. The song also came alive on the strength of Root's hearty bass rumble and Miller's adept drum fills. The electric guitar chewed up the scenery at points; Vennard's phrasing was just a run a of endless energy.
Nestor took on some classic blues and rock and roll. He went into the old Bessie Smith number "Nobody Knows You When You're Down And Out." He played some nice vintage style blues on his acoustic while a two-step beat compelled you to tap your toes to its thumpy ride. The electric guitar layered waves of fiery heat over the country blues rhythm. Yet, it was Nestor's amicable delivery that made it happen at the microphone. He has a chirpiness in his timbre that keeps things earthy, real, and accessible.
Vennard's lead guitar prowess let him whip up a phrase that rang in and out of the soundscape like the haunting twang in a western film score on "Sweet Little Angel." That was only the beginning. Nestor gave this one a haunting, contemplative narrator vocal style. He sounded like a cowboy delivering his final soliloquy before a glorious gun battle. There was just an epic quality to this one that forced you to follow along and imagine your own dramatic scene to it.
Nestor and his men closed out with Elvis Presley's first ht single for Sun Records, "Mystery Train." The drums and bass kicked up quite a hootenanny, and Nestor dove right into this early rock and roll song with his earthy, aggressive vocalizing and hearty, assertive strumming. The band made you feel the train coming around the track while Nestor made you feel it pulling into the station with his personable voice and gentlemanly stage presence.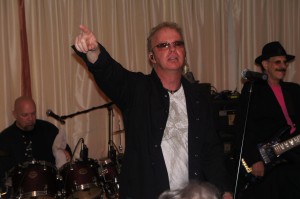 Danny Klein came on next with his God awful, sucks beyond redemption, J. Geils Band rip off, Full House. It doesn't matter if Klein is one of the original members of the J. Geils Band. If he had more respect for his source material, he would've hired better players to perform it. Klein likely didn't earn as much of the money pie as his Geils band mates so he probably does this routine so he can still make some. Sort of like Adam West picking up a few extra dollars by appearing at car shows with the Batmobile.
Klein and his cronies were off to a bad start from the first song. "South Side Shuffle" didn't have the right groove. 'Love-itis" lacked energy and felt strained, like the players were trying to keep up with each other. I felt uncomfortable watching the front man walk out into the audience. That is a privilege reserved for the famous, and as he isn't that good a singer, I felt embarrassed for him. He should have served the song instead of serving his own ego.
On many tunes Full House played overly up tempo to compensate for not being able to work on subtle things. "Come Back" was one tune they played fast and probably hoped nobody would notice it was missing the true urgency of the original.
Full House had much difficulty when playing material from Geils' later year. They just didn't have any finesse on the pop-oriented stuff. "Love Stinks" and "Centerfold" brought back pleasant memories of senior year high school and freshmen year college. Yet, both songs felt way off. Klein and his pack of mediocre players were just muddied, not precise and pop energetic. Their rhythm in "Centerfold" was way off and unrehearsed. The keyboardist sounded clunky on his chords during "Freeze Frame," like he wasn't quite sure how to play it, and he had to think quickly where to land his hands.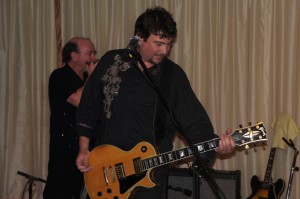 "Give It To Me" was dull, plodding, frustrating the true Geils fan who'd like to get into the primal energy of the original. And as Full House is a tribute to a band named after their guitarist, it is strange that Full House's guitarist was mediocre and unremarkable. His phrasing was horribly off during "Wild Man." Where did Klein find this guy? True Geils fans would've went into mourning if they had heard his clumsy, abbreviated version of the lead guitar solo on "One Last Kiss." Screwing that one up really made this personal. Get off the stage, jackass.
The only Geils song that came close to the original's energy was "First I Look At The Purse." Fitting, as that is probably Klein's motivation for playing with a group of lame musicians. He doesn't have to pay them much. This band did manage to give new meaning to the Geils' song title "Must Have Got Lost." They sounded lost and confused for the two and a half hours they played without a break.
Rosy Rosenblatt is this band's harmonica player. He must have lost self-respect when he joined. His "Wammer Jammer" was unrehearsed and barely reflected a fraction of his true talents. He badly needs to cleanse himself by playing a lot of gigs with Erin Harpe. Immediately.
Sadly, the Sanctuary title track was delivered with no passion. The Full House guys failed to capture the chorus chant groove and instead shouted the word "sanctuary" like a bunch of angry drunks in an alleyway.
There were moments when Full House came close to acceptable. Yet, they were only close and those moments were too far few and in between. It should be a crime for a J. Geils Band tribute group to play these flawed, pale renditions anywhere in New England. It is hard to believe that the other former members of the now defunct Geils line-up actually sanctioned this posse of poor players. This is the kind of band they make you listen to in hell for all eternity.
Martin Nestor is available on Facebook.