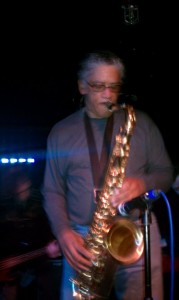 Last time I visited this topic about places I enjoyed hearing good music and dining on good food and beverage, I received an interesting assortment of responses. One was a booking agent disappointed that I didn't mention his name as the person who created the blues program at one of the rooms I mentioned. Another was a guitarist who tried to convince me to include a venue that he knows I don't favor due to crowd disinterest and loud conversation. A third musician commented that a few of the rooms I mentioned were impossible for him to get a booking in. He received a rebuke from a couple of singers and some advice from a busy guitarist on how to overcome those obstacles. Finally, a promoter wrote me to say that there is "a gaping hole" in my article because I didn't mention a Somerville venue that she frequents.
My last article about "venues that don't suck" was merely an off the top of my head recollection of many greater-Boston area restaurants/music venues. It was incomplete, as can be expected from any off the top of the head recollection. Almost immediately after I posted it, a torrent of additional rooms and experiences came into my head all at once. Here they are.
One of my favorite rooms in the area is the historic Grog in Newburyport, Massachusetts. I can just feel the history in that room and I've always loved its old-fashioned charm. The last time I went I caught the Sunday night jam hosted by its timeless front man Parker Wheeler. Wheeler had Amadee Castenell in tow who added his own special swirls of horns. On keyboard Wheeler had brought in Tom West, one of the area's better known Hammond Organ players. That Sunday night jam always has incredible energy and there is just something so funky about that basement bar/venue. The second to the last time I caught the dynamic talents of that incredibly beautiful singer Elle Gallo. Gallo got funky on her originals, standards, some Grace Potter songs, and her perennial closing favorite "Over The Rainbow."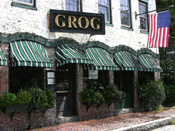 A short walk away from the Grog is Newburyport's other really interesting nightspot, Glenn's Cool Bar And Restaurant. The upscale restaurant has incredible food and the bands will knock you socks off. Last time around, I caught the Kit Holliday Band with Curtis Jerome Haynes on keyboards. Holliday handled the smoky jazz vocalists from the early 20th century and then mixed in blues, some modern funk, R&B, and anything else real she likes to wrap her voice around.
Heading west into Haverhill is Mal's Lounge, upstairs from George's Restaurant. You actually need to take an elevator up to the third floor venue, which I thought was really cool. The room is nice and clean and spacious and the bar is huge. I've seen Luther Guitar Jr. Johnson there the first time I went. It was a good time, except for an annoying middle aged couple who kept shoving their flashing, light up bunny ears on everybody in the room. My second time there was to review Diane Blue's CD Release party. Now that was a party. Blue had Jimmy "Two Suits" Capone on saxophone and Timo Arthur on guitar. "Two Suits" is a non-stop laugh riot, and Arthur played some truly gripping lead guitar phrases. If you don't enjoy Arthur's guitar work than you need to have the wax blown out of your ears. If you don't have fun at a gig featuring "Two Suits" as the co-host, you need to check your pulse because you're probably dead.
Back up in New Hampshire is the Press Room in Portsmouth, the bustling seacoast city that has more of a Boston feel in the streets than the rest of the Granite State. I cannot recall the name of the few people I saw in there, as I was just stopping by on the way to places like The Music Hall and Seacoast Repertory Theater. I do remember that the Press Room is by and large a blues-roots venue and the few times I stopped by, it had classy musicians who knew how to play blues right.
Epsom, New Hampshire is home to the Circle 9 Ranch, a place that teaches you how to line dance before bringing on true country and western talent like Shana Stack. The one time I stopped by this establishment, Stack and her band played fulsome, dynamic renditions of traditional and modern country and rock and roll with country-honky tonk influences. The Circle 9 Ranch is one of the largest local venues around. It is actually a wide open, old-fashioned dancehall that's been retooled country style. It is not a bar, but I did manage to rustle up a good cup of coffee from their mess hall. The regulars there were dang friendly folks from the greater-Concord area, where you can still find real, honest to goodness small town people. If you like country, this slightly north of Manchester hoedown will be worth your drive.
The Bay State has the most to offer simply by its sheer size. The city of Boston, as you know, is home to its own version of the Hard Rock Cafe. The Hub's take on the national chain offers a comfortably spacious function room for its music program. I went there to catch A Ton Of Blues perform with a few other bands. Aside from everything looking good and sounding good, I was delighted to find that everything tasted good. We munched on a huge plate of nachos that had every detail just right.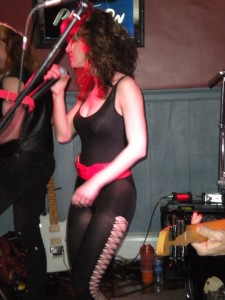 Stoughton, Massachusetts is the home of The Last Shot sports bar. Don't let the "sports bar" tag fool you. The Last Shot is owned and operated by a professional gentlemanly fellow who keeps it much more upscale than what you'd associate with sports bars. Granted, there are about a dozed TV sets tuned into the Boston teams. Yet, the walls are shiny and polished and the acoustics work well in the band area. I saw the Pat Benatar tribute Fired Up, which was a hell of a good time. All that kick ass lady rock from the 1980s, "Hit Me Your Best Shot," "Fire And Ice," and "Heartbreaker." Fired up featured Suzie Hatton and bass player Richie Sulloway, both of whom honed their talents to get a lot of details just right. I remember having a tasty burger at the Last Shot and their coffee was really good too.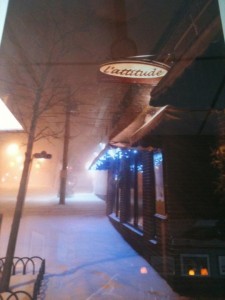 Cranston, Rhode Island is the location of "L'Attitude Modern Eatery, the venue where Donna and I saw Travis Colby's Wednesday night gig simply titled Travis Colby And Friends. One of those friends was trumpet player and Colby's Roomful Of Blues band mate Doug Woolverton. The two, with drummer Mark Teixeria, played a lot of classy, jazzy, bluesy renditions of many modern favorites. "Lovely Day" by Bill Withers is the tune that stands out the most in my recollections. I can still remember Woolverton singing the refrain gently into his trumpet microphone. Aside from Colby and his gang, the food was outstanding. I had a simple meatloaf with potatoes and gravy and I enjoyed the savory gravy so much I wanted to order three more for the road.
Located in Woonsocket, Rhode Island is the intriguing Chan's Chinese Restaurant. Chan's. aside from having incredibly good food, features a large and lovely listening room where owner John Chan features some of the finest blues bands, jazz bands, and rock bands in New England. Despite its size, the listening room is actually kind of intimate. There is a flow to the length of the room and the stage is open on all sides. I felt so apart of the experience when I saw Doors tribute band Through The Doors there a few years back. I also couldn't get over how good the food is. Just when I thought I loved Chinese food, Chan's brought me to an even higher level of appreciation.
Well, gentle readers, that was just a few more I thought I'd share with you. Please feel free to keep suggesting more rooms for me to check out. I doubt I'll be able to get to all of your suggestions any time soon, but I'll see.