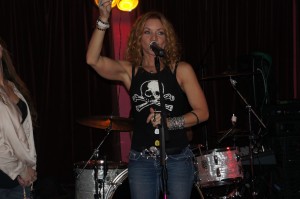 Musicians and music fans are always asking me about the places I go to to review live music. Bands and their fans cannot possibly find time to check out every venue out that's out there. Some never move beyond their local watering holes. Most don't want to go a place for the first time until they're sure it will be worth their time and money. So, lend me your eyes and I will write about every good room I've been to that I can think of off the top of my head. As I usually keep things positive, I will say this is a list of venues that don't suck.
Let me start up north in my home state of New Hampshire.
If you haven't already been to the Village Trestle in Goffstown for their Saturday night bands or their Sunday afternoon presentation of the Wantu Blues Jams, you're missing out on something truly special. The Village Trestle could be the new Rynborn, especially when the economy gets closer to its previous strength. On Saturday nights, the Trestle has hosted Lisa Marie, The Tokyo Tramps, Arthur James, and Rockin' George Leh. Some of the more local bands like Common Knowledge and Dead Undercover are just as talented if not as commonly known outside of New Hampshire. Almost as important is the food. The Village Trestle offers up some of the tastiest burgers I've ever had the pleasure to devour. I'm talking about Samuel L. Jackson level tasty burgers. Just the right amount of meat, grease, and fixings. I always go for the double cheeseburger because I'm a hungry boy when I'm taking notes on a band that I'm digging.
I recently checked out the newer blues room Memphis BBQ & Blues in Milford. Brickyard Blues Band rocked the room with their fine selection of standards and originals. And, the kitchen makes fine pulled pork sandwich that went really well with the sauces offered. General Manager Chuck is a stand up guy and he makes sure everything is comfortable for his patrons. I expect good things to come from this establishment in the years ahead.
When I'm in the mood for more rock and roll and danceable R&B music, I head over to Whippersnappers in Londonderry. You have probably seen Whippersnappers on Mama Kicks's website. Mama Kicks is the gold standard in New England cover bands. Front woman Lisa Guyer will deliver a moving rendition of "Georgia" while you take advantage of Whipps' Two For Twenty Dollars menu. I usually have the chicken Parm meal while I'm getting into Mama Kicks, Souled Out Show Band, and many other fine cover bands. Whippersnappers hosts the lively music acts Last Kid Picked, Tigerlilly, Ript, and Never In Vegas.
Heading into Massachusetts you can check out The Tap in Haverhill. The Tap offers home brews that easily rival brand names and their food is good. The Tap has a nice dining area with a deck outside overlooking the Merrimack River for summer music entertainment. I've seen Throwdown Blues Band, Cindy Daley, and Track44 outdoors and I've seen Cookie Pierce's band The Sugar Shakes in the upstairs lounge. The Tap is simply a good experience for anybody who has taste in the finer things in life, like home brews and blues.
The Acton Jazz Café, owned and operated by the lovely and talented jazz singer Gwen Vivian, offers the finest food, home brews, and jazz and blues. You have just got to experience this room. It's décor. It's bar. It's sophisticated staff. It's food. Words simply cannot describe it. It is an experience. The music offers everything from The Love Dogs to Chris Fitz Band to Delta Generators to Booty Vortex. Ms. Vivian clearly has an eye and ear for detail and she has kept this jewel of a room going through thick and thin.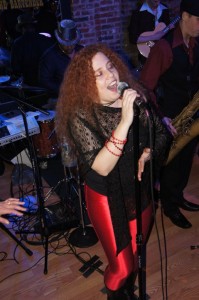 The Village Smokehouse in Lowell is a room I've only visited once. I was there February 2011 to see Booty Vortex do their disco thing. I remember that Booty Vortex sounded great in the long, cavernous old building and that the food was good. Lowell is also home to The Back Page where I saw the Erinn Brown Band. The band played exceptionally well and the room was very comfortable. The Back Page also hosts other fine blues talents. Mr. Nick plays there on occasion too.
The Palmer Restaurant is Andover offers a lovely room, part of a very nice restaurant. I saw the explosive talents of Dirty Blonde there, and I recall the food being exceptional. The Palmer was just one of those experiences of enjoying an upscale band at an upscale location.
Heading out to Worcester. I've been to the funky vibe rooms The Lucky Dog, Ralph's Diner, and Tammany Hall. All feature original band showcases and all three bring in quality indie bands. The Lucky Dog hosts the Green Street Music Series, a program that essentially rounds up the best singers in town and puts them in front of a dynamic house band for tribute concerts that honor classic rock heroes of yesteryear. Ralph's Diner is where I saw the Steamy Bohemians and where I discovered the over the top prog rock band Ellis Ashbrook. Ralph's too has tasty burgers that go well with the bottled beer in their stock. Nothing fancy. But very good in its kitschy, down to earth appeal. Tammany Hall is where I recently experienced the double bill Custard Pie and Gilmour's Breakfast. Tammany Hall is a room that attracts music fans who really dig this kind of talent and that vibe made it an even cooler experience.
Sterling, Massachusetts is home to the ever growing in popularity Black Sheep Tavern. The Black Sheep is home to the Sunday Bah-Jam hosted by the abundantly talented and superbly cool A Ton Of Blues. Not only will A Ton Of Blues and many local artists like Fran Dagastino rock your Sunday afternoon, booking agent John Ippolito brings in some of New England's finest. In fact, the last time I was there the Bah-Jam featured Chris Stovall Brown and Madeleine Hall. The Black Sheep also whips up a damn good pizza. The owner, Kokes, had a vision for what he wanted to do there and he is doing it in style. The vibe is incredible.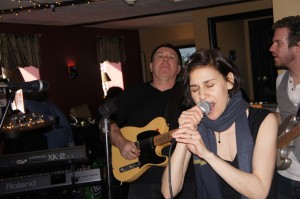 The Greenfield Grill out in Greenfield, Massachusetts was where I saw the prog rock band Birds Of Prey. Not only was it a night of fine musical performance, the food was good too. A dining area sits on one side of a function room. The other side of the function room sit's a band stand. In between is a wide open dance area. The acoustics were perfect for the prog rock Birds Of Prey to unpack their sophisticated melodies and odd time signature grooves and rhythms. I remember having a good burger there too.
Let me swing back to the North Shore. The Rhumbline, Captain Carlo's, and Latitude 43 in Gloucester all had that distinct North Shore charm. The Rhumb Line is like an all night dance marathon party when they have reggae and or anything danceable. It is also a fun listening room when they Lisa Marie in one of her many duos. Captain Carlo' has serious musicianship going on, either outside or in, and Latitude is where I saw an over the top reggae band, on a Thursday night.
The city of Boston is one of my favorite places to visit. Aside from the New England Aquarium, Museum Of Fine Arts, Old Ironsides and a hundred other historic landmarks, Boston has a couple of great rooms to check out blues. The Beehive on Tremont Street is an upscale dining experience to begin with. Throw in Blues On Sundays with host and keyboardist Bruce Bears and his eclectic guests and you have one hell of a Sunday night. They offer fine burgers and fine wines and fine everything else too.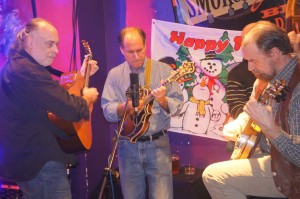 One of my favorite rooms to review a blues band and to have a Samuel L. Jackson level tasty burger is Smoken' Joe's BBQ & Blues in the Hub's Brighton neighborhood. Not only does Smoken' Joe's offer every blues act from Peter Parcek to Lydia Warren, Professor Harp to Mr. Nick, they have the best damn andoullie burger. There is nothing to compare to that special smoky flavor while I'm listening to Peter Parcek pay out a rippling, live wire guitar phrase or Professor Harp blow a cool, wavy line of old school harmonica notes. People keep asking me why I review so many blues bands there. The answer is simple. I like it there, especially those andoullie burgers. I once stopped by on a Sunday night and discovered the folky bluegrass musician Geoff Bartley. Bartley and his friends did some amazing things on their acoustic instruments and the speed they play at amazes.
Moving down to South Shore, I have been to The Next Page in Weymouth. I saw Gil Coreia on one occasion and Lisa Marie with Paul Speidel Band on another. The crowd was appreciative of those blues acts and that made for one funky good time vibe. Mari's Place in Quincy was another fine room. I cannot remember the name of the band I saw there, but I remember enjoying the over feel of the room.
There are far too many venues to recall all of them off of the top of my head. I will be adding more to each paragraph as memory calls more rooms to mind. I'm also sure many of you will be politely reminding me of rooms you've seen me at that I neglected to include here. I'm looking forward to everybody's feedback.