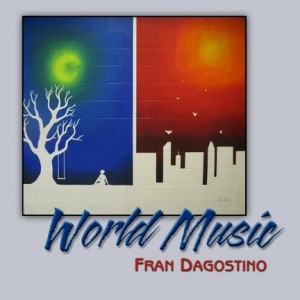 Fran Dagostino's experimental, progressive, and transcontinental CD World Music should not be overlooked by fans of adventurous explorations of song possibilities. It also features a lot of good guitar playing. World Music is Dagostino's compilation of songs he has recorded with musicians from all over the world.
Opening track "Redemption" was written by Icelandic composer Einarus. Dagostino was selected to record the guitar parts to accommodate what the young composer had in mind. Dagostion's lead guitar phrase penetrates the atmosphere with long stabbing sustains while the Einarus low end and synthesizers unfurl their own magic around him.
"Ziti's House" was composed by Dagostino by his own self. Dagostino conjures a more compact, sectioned guitar phrase on this one. The guitarist picks a lot of high notes, swiftly moving his fingers from one to another. He goes gentle when pressing out his sublime notes, as if he's savoring each one, giving it room to breathe. Dagostino' flight of fancy here will certainly take his listeners on an out of body experience.
Australian composer Neil Porter turns in his own solid performance on vocals and acoustic guitar on "Blown Away." Dagostino adds his own special twist on the lead guitar phrase underneath Porter's mesmerizing voice and lyricism. The lead guitar shimmers brightly in its self-restrained, sublimated place.
Track four is another tune by Einarus. The Icelandic songster gives Dagostino the leeway to press out another series of exciting lead guitar notes. Here, the guitar leans toward hip expressions within its lengthy, extravagant sheen. You can almost picture Dagostino bobbing his head in a club while he plays this, as opposed to other tracks here where he seems like a scientist fitting the precise amount of guitar isotopes into a composer's framework.
"Where Do We Stand" by American singer-songwriter Scott Carmichael features tender, sensitive acoustic guitar strumming and a vocal honey flowing smooth. After adding bass and programmed percussion, Carmichael left it to Dagostino to contribute the tune's lead guitar phrase. Dagostino turns in a mid-tempo, elongated phrase that gives an extra edge to this piece. Some of the intervals of lead guitar notes approach magic in their slippery smooth delivery. It is one of those moments when musician and instrument are one. The emotion in the man becomes the emotion shimmering out of his electric guitar.
British recording artist Slim Girl Fat created lush vocals, supple piano and synth, and poppy drums on her piece "Pillow Talk." Dagostino recruited his local band mate Bryan Bishop to sing harmonies and play bass guitar. The voices work well together in this pop-rock medium while the low end is a comfortable brace of the instrumentation that Slim Girl Fat constructed. Dagostino's painterly lead guitar just glides in and barely kisses the surfaces of the song.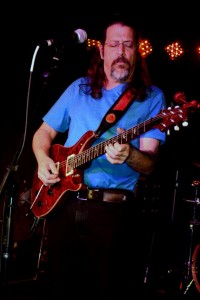 Track seven "Shufflerbones" is more of a rocker. Written by Miami's bass player Drew Hoper, the low end here is heavy in tone yet flexibly moves forward. Seattle drummer Perceptual Vortex is equally heavy duty in his skin smacking, yet he too has a force of motion going on. Over that palpable rhythm section, Dagostino walks his dragon on a leash guitar phrase. He plays his six string like it can blow up buildings with its fire breathing nostrils but prefers to hold it back with merciful restraint.
"Stepping Down" is another composition from Dagostino's Icelandic friend Einarus. Dagostino wails on his lead guitar parts amidst the Icelandic's framework of bass, drums, and keyboards. That lead guitar sound pierces the Iceland night with incisive phrasing and penetrating intervals of notes. The works with Einarus are the most adventurous on this World Music CD. Just listen as Dagostino's phrase fades out while the piano continues its icy ride to the finish.
South Berwick, Maine singer-songwriter Adam Clarke contributed his tune "Lead With The Heart." His dry vocal delivery gets an over the top accompaniment from the Fran Dagostino Band with California pianist Patrick Feehan tinkling his own special interval of the ivories. Quite gripping, this one grabs your ears with its lead guitar and piano work and never lets go until its over.
Singer-songwriter Ed Hannafin lives just down the street from Dagostino. His vocal on "Let Your Blues Come Down" is earthy, rootsie gravel. Foreboding in tone and timbre, Hannafin gets a mighty assist from Australia's Neil Porter on bass and drums. Porter puts in a nice thick broth of low end groove and beat under the singer's forceful acoustic guitar. Meanwhile, Dagostino envelops it all with an organic acoustic slide guitar, stretching blues notes in tasteful, ear-catching fashion.
"Wrong Way Home' is another contribution from Australian songwriter Neil Porter. Porter has the appealing vocal style, acoustic guitar, and midi drums in tact. The lyrics are world weary while the voice delivering them are almost Tom Waits gruff and low. Dagostino pays out a high frequency lead guitar phrase alongside it all, framing as well as accompanying it.
Another Australian singer-songwriter Nolan Wynne delivers a pitch perfect song "Solitude" on vocals and acoustic guitar. Dagostino, aside from playing a rhythm track, adds the fire down below with his, as always, incendiary guitar phrasing. Dagostino closes out his CD with "Wayfaring Stranger," a song written by a Utah woman known only as Mystified. She conceived the multi-layered song, sings in a mesmerizing coo, plays haunting piano, and she leaves space for Dagostino to sound off on his electric guitar.
Dagostino can surely be credited for working on something big. He had been exchanging tracks with these international recording artists for a long time. That his guitar playing can be heard on recordings as far away as Australia and Iceland as well as New Jersey and Utah proves his value as a studio partner. Dagostino sells copies of his World Music CD at his various area club appearances.
Fran Dagostino Band is available on Facebook.