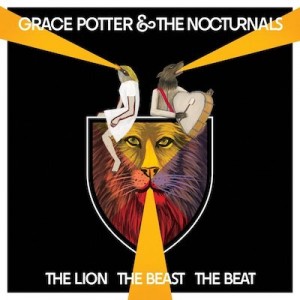 Grace Potter And the Nocturnals dropped another CD loaded with Potter's vocal heft and musical adventure. Each track is loaded with bracing guitars, driving drums, and Potters aggressive vocalizing. The Lion The Beast The Beat opens with its explosive title track, a call to releasing oneself from all kinds of built up tensions in one's life. We know exactly what she's talking about when she sings out "Run but you can't hide from the heat." Potter belts this one out like she's a wild animal escaped from a cage and her Nocturnals follow suit with explosive guitars and drums.
"Never Go Back" plays around a programmed drum track that is as grooving as anything out of the 1980s. Yet, the band plays serious music around it. Potter's mellotron coos with sublime allure while lead guitarist Scott Tourney picks out a moody, tense melodic phrase for Potter to purr over.
Potter sings of an inexplicably doomed love affairs on "Parachute Heart" utilizing a gentle vocal approach. Her voice sails over the music and through her lyrics with the subtle touch of a country and western sad song. Tournet adds a lap steel melody that makes this song a crossover keeper. "Stars" features more lap steel and a string section. The added texture from the classical players makes this song even more gripping, and it already benefited from Potter's bright, clear vocal launch during the chorus.
"Timekeeper" gets it groove from hand claps, a clock, and Potter's piano. She sings this one like a power ballad with Tournet's Wurlitzer chords keeping her afloat with their lofty heft. An emotionally affecting song, this one keeps you glued to its mesmerizing rhythm and it makes you feel the sands of time passing by.
"Loneliest Soul" is built on rumbling grooves, catching the ear with Potter's graceful Wurlitzer work and piano. There's also a breezy rush of sound flying by built out of guitar and a cooing chorus. This one should definitely become a radio hit for Potter. It compels you to listen up.
Potter has a way with sexual metaphors and she uses it well on "Turntable." Her chorus includes "I will be your record/And you will be my turntable." Another line about putting your hand on her Hi-Fi adds to the sultry scenario as Potter belts out this adventurous come on song with total abandon. It's not as sexy as "Paris" but it does come close.
"Keepsake" is about a guy who won't let go out of his trophy girlfriend. Potter's usual combo of gutsy vocals and powerhouse organs supported by driving guitars, bass, and drums get a little assist here. Her Casio injects sweet bleats and drummer Matt Burr's creative use of a trash can lid bring in another dimension of groove. "Runaway" has a stabbing drumbeat that punctuates like crazy while Potter and her boys rock out. This song erupts with voice and guitars in the unique song craft way Potter always does her thing.
Grinding, circular guitar intervals pull you right into "One Heart Missing," a tune of unrequited love. Tournet injects a constant string of creative picking, offering up bristling notes that give this song its hearty edge. Potter takes her time here, swaggering just over the beat as she unveils her pain and isolation.
Subtle tweaking they call Kubrick Noise pulls the ear into "The Divide." Expressing her need to see an arc in her life and career, Potter and her boys sing and play a steady, stomping march into their horizon of sound. This one turns on sweeping slabs of hard rock grooves and Potter again applies her fire full throttle at the microphone.
Potter and her gang include four bonus tracks on their Super Deluxe Edition. "Roulette" rocks out in that familiar classic rock influenced flight of melody and purposeful stride that makes you feel these tunes should have been famous in previous decades. "All Over You" is a mesh of guitar techniques from three different players and multiple Big Room Drums. Interestingly enough, Potter adds a touch of surf guitar. A re-do of "Stars" features more acoustic instrumentation and a duet with Kenny Chesney . A new country version of "Ragged Company" from Nothing But The Water features Willie Nelson. His timbre alone is enough of a match for Potter's persistent force.
This Super Deluxe Edition included a DVD of a Potter set from last year's Lollapalooza festival. Needless to say, Potter is strikingly gorgeous on stage. She moves, sings, and plays with the energy of an untamed animal. Viewing it gives a strong visual of her talent as you see her gifts at the organ while she eases her way through down tempo ballads. Her two stuffed tigers on either side of the band's set up symbolize her fierce nature. The Nocturnals are the crack team up there with her making sure everything goes right musically during Potter's strut. Visible on stage but conspicuously missing from her latest lineup is the pretty brunette bass player. Perhaps Potter, continuing her ascent, didn't want competition from another female. Regardless, the DVD is an impressive documentation of Grace Potter & The Nocturnals in the live setting