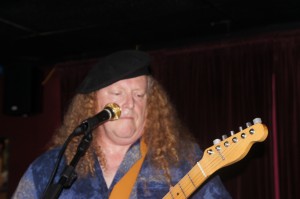 The Michael Fioretti Band with special guest "Sax" Gordon Beadle played another of their gritty, funky R&B shows at Whippersnappers in Londonderry, New Hampshire last night. From the opening number until the end of their second set, MFB and "Sax" Gordon unleashed all sorts of cool licks and challenging melodies.
Fioretti and "Sax" can catch an audience off guard with their sudden shifts in dynamics and tempos, and that is what makes them a cool band to check out. In the opening piece, Fioretti played gentle high pitched melodic phrase while "Sax" intermittently stabbed into the groove with hot sax shots. Instantly switching gears, "Sax" had things swinging, with mighty bursts of tenor sax. Simultaneously, Fioretti, completely mastering his six string, squeezed plenty of tone out of each note.
Fioretti has a cool vocal style, a flow of raw, unadorned emotion in each number. Organic, real, he is simply one of those singers who can make you feel what the song is about. This approach goes hand in hand with "Sax" and his blaring like an unfettered force of nature horn business. Whatever genre or style they went into, Fioretti could easily glide into a twangy, old-fashioned blues that shimmered in its hard jangling sound while "Sax" darted around the guitar melody with well-place horn shots for a danceable R&B feel.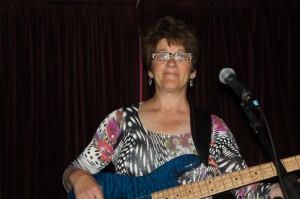 "Red Sky" found "Sax" blowing a mournful line that made it seem his horn was crying out with true emotion. Veteran bass player Sandy Martin pumped out a steady low end. Her bass sound was always fulsome and always right in the pocket. Drummer boy John Medeiros Jr. too made a difference in this outfit. He kicked everything forward with his punchy, sophisticated techniques.
The quartet turned "Put A Little Love In Your Heart" into slow R&B number, taking it easy on the groove and riding the beat. Fioretti's vocal loaded itself with soulful expression and exuberant range. Soon enough, "Sax" came in with a soft line that highlighted the tune's inner core. Segue into "Memphis Woman Fried Chicken" and the four launched into snappy, upbeat, mid-temp R&B with notes as greasy as the fried chicken Fioretti was singing of. If that wasn't cool enough, Fioretti and company went into B.B. King's "Accept My Love," another blues number that Fioretti and "Sax" Gordon traipsed across with deliciously greasy, slippery notes.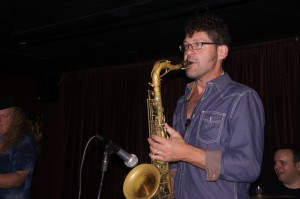 The second set found Whippersnappers' owner Mark Belanger on stage with his own saxophone. Yes, the venue owner is a professional, working musician. How cool is that? After the rhythm section worked up a locomotive size chugging groove, Belanger and "Sax" traded licks and Belanger briefly soloed at one point, showing what the melody was all about. Belanger strutted his stuff with high notes that he stretched out, sustained, until he made them cry. But playing in unison with "Sax" resulted in some of the evening's most high octane moments.
Fioretti was more rocking in the second set. Effective playing techniques underneath his soulful belting brought many numbers to life. He turned "Iko Iko" into an R&B flavored ballad thing with a playful riff he had going on. It's uncanny how far this guitarist can take a traditionally known song and turn it into one of his own creations. After he reworks the dynamics, tempos, and structure, he lets it rip with a flurry of guitar riffs that define the coolness of his selections.
In all seriousness folks, there is something special about this combo. Fioretti, Martin, and Medeiros with "Sax" Gordon Beadle offer up a heaping dish of cool R&B, user-friendly blues, and whatever else they can stuff into their meat pie. Whippersnappers in Londonderry, New Hampshire is always a good place to catch them, as owner Mark Belanger loves to get up on stage with good players, which is unlike other venues where the owner might not be very nice to good players.