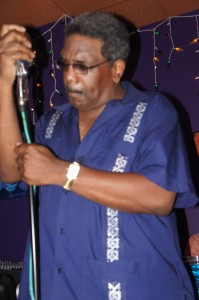 It was one of his strongest performances in recent memory when Professor Harp made another return appearance at Smoken' Joe's BBQ & Blues in Boston last night.
Harp came right in with a harmonica melody that rode from high down to middle range all the while incorporating intervals of notes that sounded like they're singing to you. Harp's band solidly shadowed everything he did. The low end man, "Dr. Feel Good" Bruce Thomas, kept a steady thump in the groove. That extra punch kept things moving forward. Drummer Mike Labelle maintained the appropriate pace for each song throughout the show.
Guitarist Tom Williams played all kinds of tasty licks, brittle, fat, dry, greasy, notes that brought you south of the Macon County Line. Boy, that guitar man sure got into his riffing and phrasing, pealing off sharp high notes like nobody's business. On west Chicago blues numbers, Williams spread his lead guitar notes far and wide while the professor did his gutsy vocal thing. The Professor blended his earthy, rootsie harp lines perfectly with the guitar when needed, resulting in a fetching, emotive sound.
At other points Professor Harp combined his harmonica with a harp microphone to make it sound similar to the power of a B3 Hammond organ.
During a Slim Harpo number the boys captured that special laid back groove, while Harp nailed the deeply felt, soul-filled vocal, feeling and technique coming together. His harmonica work found him taking the instrument back in time to an old school style, lilting harp notes that made their way merrily over the mercurial groove being laid down beneath him.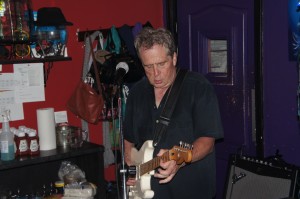 Harp and his men played "A Knife In My Back" with R&B technique but with it's feeling squarely in the blues. Williams and his guitar put out tender licks to augment Harp's heavy delivery and raw emotion. Some other nice touches included an oldies R&B called "Marie-Marie" where Harp rocked his harmonica. He also got his harmonica notes blowing up a storm on Al Green's "Take Me To The River."
The band got things going in the second half with Freddie King's "San Jose" and some surf-rock. On the jump-blues number "It Just Comes Natural" was a cool call and response number between Harp and Williams. Williams picked some classy blues riffs around the groove, his notes tap-dancing over the jump-blues beats.
The groove grew mighty powerful on Eddie Floyd's "Knock On Wood." It was another example of Harp making his harmonica sound like a B3 with his harmonica technology. And his voice towered, that booming baritone, rich with experience and emotion, years of working in these genres and years of life experience, all came pouring out of this bear sized man. He even broke from the lyrics to tell a tale of a night driving over a bridge in Mississippi.
Another Harp original, Eine Fur Herr Schmidt, was an ode to one of the Professor's earliest influences, George "Harmonica" Smith. And quite a tribute it was, with mighty melody and chords from the mouth organ, swirls of harmonica notes that spiraled around the room with a life of their own, backed by a chunky groove, like there was no stopping them. The rich consistency, as always, were inspiring to the imagination, heart, and soul.
"That's What You Do To Me" had an easy going groove full of take-your-time guitar lines and Harp's generous vocal expressions. Moving onto some Little Walter, Harp whipped up some mighty train sounds with his joyful melody. The number progressed like a smooth train ride through the plains and prairies. That all came before some danceable Magic Slim tunes and the Sonny Boy Williamson tune "One Way Out" that got a little of the Allman Brothers version mixed in. Whichever way they blended the two versions, tt got people on their feet.
Harp closed out the evening with "Henrietta," written by Native American blues man Jay Miller. Drummer Mike Labelle, who steered the four piece through the night, slow boiled a lazy summer afternoon beat that Harp and his men layered all sorts of tasteful notes over.
It was another good evening for the professor and another good show at Smoken' Joe's BBQ & Blues.