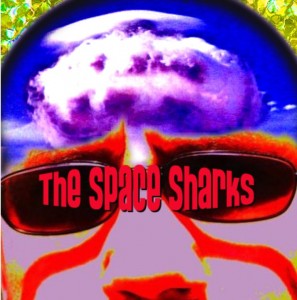 The Space Sharks recently released their debut CD. It rocks hard and it rocks with precision. All nine tracks are killer. The Space Sharks function as a trio with a backing singer for good measure. Guitar, bass, and drums are constantly on a speedy forward momentum. Fans of driving guitar rock will definitely dig this disc. Offering diverse hard rock idioms, the disc often feels like a breath of fresh air with lots of nice touches marking the soundscapes.
"Run For Cover" opens the disk with Lonnie Richards's piercing guitar stabbing into the listener's consciousness with a fevered pitch. His frenetic, wild phrase suddenly turns into a wider sound, even sharper, clearer, cleaner. Bass player Bob Bergeron keeps it chugging along with locomotive force while drummer Mike Martino pounds those skins like he means business. Over all this Richards belt his lyrics in a classic rock influenced howl while backing vocalist Brian Harrigan shadows him in the echoing chorus.
Richard mellows on "Falling Down" with his acoustic laying out a gentler mellow mood melody over his sprinting lead guitar. He also sings this one in a smoother timbre. Yet, the song still has The Space Shark's trademark solid body and rushing flow. The lead guitar rides the landscape like a Tomahawk Cruise Missile, zeroing in on a target and traveling with laser guidance.
"Sound Fantastic" gives off a free, swaggering hippie vibe, layering the blistering guitar and sturdy bass over an even funkier groove from the drums. This use of funk groove shows that Space Sharks are not limited to hard rock idioms. They can rock out using all kinds of bottoms and beats.
Richard offers up more acoustic rock guitar on "Fools." He sings in a dreamy, early 1970s Pink Floyd influenced manner. His phrase pokes its head into the soundscape with a pushy, squeaking exuberance. This song's shift in dynamics comes at just right the time on the disc, offering a breather before the band goes crazy again.
"Sunshine Girl" finds drummer Mike Martino bumping the song forward with a unique feisty twist on how he follows his own beat with a secondary smack. There's also plenty of edgy guitar phrasing darting in and out and lots of bopping bass.
Constructed solidly, "Satellites" utilizes an easy going start to set an eerie, contemplative mood. The guys keep this one in that mid-tempo travel lane that allows them to layer over it a sharp guitar phrase and Richard's mellow vocal timbre; the guitar phrase reaching you on an emotional level with its thoughtful zigs and zags.
"Apocalypse" is another neo hippie mellow vibe song from The Space Sharks. They take their time unfurling the guitar phrase while the rhythm section trots along with that extra wedge of talent to make it interesting. "Spinning Round" finds drummer Mike Martino playing something part classic rock and part Native American war drum. Richard's flute darts in and out of the groove with sweet notes trailing in his wake. He switches to guitar to play another version of the melody, opening another dimension in the tunefulness of it all.
"Perfect" closes out the album with Richard applying a light touch with his mellow vibe acoustic playing and smooth, easeful vocalizing. His brittle electric picking emerges in spirited spikes. The rhythm section guys Martino and Bergeron add their own thick wedge of oomph under the melodic organ flow. The individual parts come together to form a song that will bare repeated listening.
The Space Sharks have made an impressive debut with this CD. It will be interesting to see where their musical journey takes them in the years to come.
www.myspace.com/thespacesharks